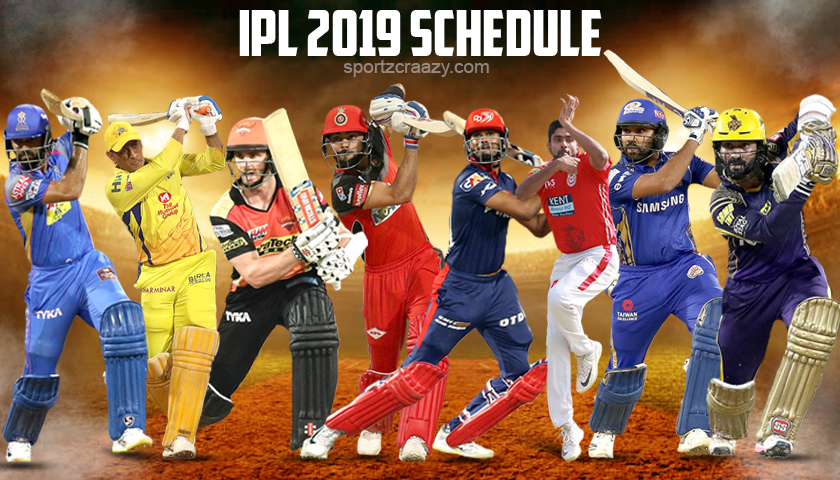 IPL 2019 Schedule & Venues: After a long waiting, today on 19th Feb 2019, BCCI and IPL governing council has finally announced the IPL 2019 schedule for the first two weeks and subject to the announcement of the Lok Sabha 2019 election dates.
There could be nothing bigger than general elections in the country and IPL governing body understands the complexities and security threats the biggest T20 league could face. After this announcement, BCCI made it clear that this IPL season will only be held in India, not in any other alien land.
This is made because the Indian general election will be held between April and May 2019, so there was a pressure on BCCI to complete this mega sports event before the 2019 general election of India.
This season of IPL 2019 is set to begin from 23rd March 2019, which is very early as compared to the other season of IPL.
The IPL 2019 schedule ( March 23- April 5) is as follows:-
IPL 2019 Schedule | IPL 2019 Matches (23 March to 5 May)
| Match No. | Date | Day | Match | Time (IST) | Venue |
| --- | --- | --- | --- | --- | --- |
| 1 | 23-Mar | Sat | Chennai Super Kings vs Royal Challengers Bangalore | Evening | Chennai |
| 2 | 24-Mar | Sun | Kolkata Knight Riders vs Sunrisers Hyderabad | Afternoon | Kolkata |
| 3 | 24-Mar | Sun | Mumbai Indians vs Dehi Captials | Evening | Mumbai |
| 4 | 25-Mar | Mon | Rajasthan Royals vs Kings XI Punjab | Evening | Jaipur |
| 5 | 26-Mar | Tue | Delhi Capitals vs Chennai Super Kings | Evening | Delhi |
| 6 | 27-Mar | Wed | Kolkata Knight Riders vs Kings XI Punjab | Evening | Kolkata |
| 7 | 28-Mar | Thu | Royal Challengers Bangalore vs Mumbai Indians | Evening | Bengaluru |
| 8 | 29-Mar | Fri | Sunrisers Hyderabad vs Rajasthan Royals | Evening | Hyderabad |
| 9 | 30-Mar | Sat | Kings XI Punjab vs Mumbai Indians | Afternoon | Mohali |
| 10 | 30-Mar | Sat | Delhi Capitals vs Kolkata Knight Riders | Evening | Delhi |
| 11 | 31-Mar | Sun | Sunrisers Hyderabad vs Royal Challengers Bangalore | Afternoon | Hyderabad |
| 12 | 31-Mar | Sun | Chennai Super Kings vs Rajasthan Royals | Evening | Chennai |
| 13 | 01-Apr | Mon | Kings XI Punjab vs Delhi Captials | Evening | Mohali |
| 14 | 02-Apr | Tue | Rajasthan Royals vs Royal Challengers Bangalore | Evening | Jaipur |
| 15 | 03-Apr | Wed | Mumbai Indians vs Chennai Super Kings | Evening | Mumbai |
| 16 | 04-Apr | Thu | Delhi Capitals vs Sunrisers Hyderabad | Evening | Delhi |
| 17 | 05-Apr | Fri | Royal Challengers Bangalore vs Kolkata Knight Riders | Evening | Bengaluru |
| 18 | 06-Apr | Sat | Chennai Super Kings vs Kings XI Punjab | Afternoon | Chennai |
| 19 | 06-Apr | Sat | Sunrisers Hyderabad vs Mumbai Indians | Evening | Hyderabad |
| 20 | 07-Apr | Sun | Royal Challengers Bangalore vs Delhi Capitals | Afternoon | Bengaluru |
| 21 | 07-Apr | Sun | Rajasthan Royals vs Kolkata Knight Riders | Evening | Jaipur |
| 22 | 08-Apr | Mon | Kings XI Punjab vs Sunrisers Hyderabad | Evening | Mohali |
| 23 | 09-Apr | Tue | Chennai Super Kings vs Kolkata Knight Riders | Evening | Chennai |
| 24 | 10-Apr | Wed | Mumbai Indians vs Kings XI Punjab | Evening | Mumbai |
| 25 | 11-Apr | Thu | Rajasthan Royals vs Chennai Super Kings | Evening | Jaipur |
| 26 | 12-Apr | Fri | Kolkata Knight Riders vs Delhi Capitals | Evening | Kolkata |
| 27 | 13-Apr | Sat | Mumbai Indians vs Rajasthan Royals | Afternoon | Mumbai |
| 28 | 13-Apr | Sat | Kings XI Punjab vs Royal Challengers Bangalore | Evening | Mohali |
| 29 | 14-Apr | Sun | Kolkata Knight Riders vs Chennai Super Kings | Afternoon | Kolkata |
| 30 | 14-Apr | Sun | Sunrisers Hyderabad vs Delhi Capitals | Evening | Hyderabad |
| 31 | 15-Apr | Mon | Mumbai Indians vs Royal Challengers Bangalore | Evening | Mumbai |
| 32 | 16-Apr | Tue | Kings XI Punjab vs Rajasthan Royals | Evening | Mohali |
| 33 | 17-Apr | Wed | Sunrisers Hyderabad vs Chennai Super Kings | Evening | Hyderabad |
| 34 | 18-Apr | Thu | Delhi Capitals vs Mumbai Indians | Evening | Delhi |
| 35 | 19-Apr | Fri | Kolkata Knight Riders vs Royal Challengers Bangalore | Evening | Kolkata |
| 36 | 20-Apr | Sat | Rajasthan Royals vs Mumbai Indians | Afternoon | Jaipur |
| 37 | 20-Apr | Sat | Delhi Capitals vs Kings XI Punjab | Evening | Delhi |
| 38 | 21-Apr | Sun | Sunrisers Hyderabad vs Kolkata Knight Riders | Afternoon | Hyderabad |
| 39 | 21-Apr | Sun | Royal Challengers Bangalore vs Chennai Super Kings | Evening | Bengaluru |
| 40 | 22-Apr | Mon | Rajasthan Royals vs Delhi Capitals | Evening | Jaipur |
| 41 | 23-Apr | Tue | Chennai Super Kings vs Sunrisers Hyderabad | Evening | Chennai |
| 42 | 24-Apr | Wed | Royal Challengers Bangalore vs Kings XI Punjab | Evening | Bengaluru |
| 43 | 25-Apr | Thu | Kolkata Knight Riders vs Rajasthan Royals | Evening | Kolkata |
| 44 | 26-Apr | Fri | Chennai Super Kings vs Mumbai Indians | Evening | Chennai |
| 45 | 27-Apr | Sat | Rajasthan Royals vs Sunrisers Hyderabad | Evening | Jaipur |
| 46 | 28-Apr | Sun | Delhi Capitals vs Royal Challengers Bangalore | Afternoon | Delhi |
| 47 | 28-Apr | Sun | Kolkata Knight Riders vs Mumbai Indians | Evening | Kolkata |
| 48 | 29-Apr | Mon | Sunrisers Hyderabad vs Kings XI Punjab | Evening | Hyderabad |
| 49 | 30-Apr | Tue | Royal Challengers Bangalore vs Rajasthan Royals | Evening | Bengaluru |
| 50 | 01-May | Wed | Chennai Super Kings vs Delhi Capitals | Evening | Chennai |
| 51 | 02-May | Thu | Mumbai Indians vs Sunrisers Hyderabad | Evening | Mumbai |
| 52 | 03-May | Fri | Kings XI Punjab vs Kolkata Knight Riders | Evening | Mohali |
| 53 | 04-May | Sat | Delhi Capitals vs Rajasthan Royals | Afternoon | Delhi |
| 54 | 04-May | Sat | Royal Challengers Bangalore vs Sunrisers Hyderabad | Evening | Bengaluru |
| 55 | 05-May | Sun | Kings XI Punjab vs Chennai Super Kings | Afternoon | Mohali |
| 56 | 05-May | Sun | Mumbai Indians vs Kolkata Knight Riders | Evening | Mumbai |
| 57 | 07-May | Tue | Mumbai Indians vs Chennai Super Kings | Evening | Chennai |
| 58 | 08-May | Wed | Delhi Capitals vs Sunrisers Hyderabad | Evening | Visakhapatnam |