Most Wins Against KKR
The two times champions Kolkata Knight Riders fondly called as KKR, have had their share of positives and negatives. While they have always tried being consistent under the leadership of legendary players like Sourav Ganguly, Gautam Gambhir, Dinesh Karthik, there were teams who still tried to misbalance the winning streak of the SRK led franchise.
Below mentioned are five such times who have Total Wins against KKR in IPL.
Top 5 Teams with Most Wins Against KKR
1) Mumbai Indians- (Played- 25, Won- 19)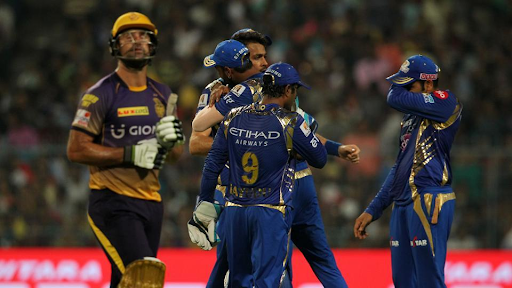 Most Wins Against KKR: Four times champions Mumbai Indians have never failed to impress. Their squad looks completely balances with the kind of players as well as the supporting team they have. The team is backed by legends like Sachin Tendulkar, Mahela Jayawardena, Anil Kumble and players like Rohit Sharma, Jasprit Bumrah, Hardik Pandya, Keron Pollard. No wonder their stats mostly remains on the positive side. The one such time they love to play against is KKR. Mumbai Indians have the record of most winnings of 19 wins in total 25 games played.
Read More: Most wins against CSK in IPL
2) Chennai Super Kings- (Played- 20, Won- 13)
Total Wins against KKR: Chennai Super Kings is yet another elite team of the cash-rich league in cricket. Mahendra Singh Dhoni has always managed to maintain the team's winning streak. Players like Dhoni, Dwayne Bravo, Ravindra Jadeja and Suresh Raina have been the pillars of the yellow team. Players like them, the team was sorted in all the departments resulting in a higher winning ratio. Against KKR, the team has played 20 matches and has a winning ratio of more than 50 matches by 13 wins.
Read More: Most Wins against KXIP in IPL
3) Royal Challengers Bangalore- (Played-24, Won- 10)
Most Wins Against KKR: Despite never winning a single IPL title, the team is power-packed with one of the greatest living legends ever. Players like Virat Kohli and AB de Villiers are single-handedly enough to smash any of the teams worldwide. Individually both the players have ground-breaking records, in terms of runs, fielding, catches. Other players like Yuzvendra Chahal, Moein Ali, have also been of great importance when it comes to making their team win. Among such teams is KKR. RCB has won 10 times out of 24 matches played against KKR.
Read More: Most wins against RCB in IPL
4) Delhi Capital (Played- 23, Won- 09)
Total Wins against KKR: Delhi Capital might have struggled to be on and off in form, in all the seasons they have played. In the 12 seasons of the IPL that have been played before this, the Delhi franchise has finished in the top 4 of the points table thrice. Though they have topped the points table twice (2009 and 2012), in the last six seasons (2013 – 2018), they have consistently finished outside the top four after the league stage. While KKR being their favourite to play against, out of 23 games played, the team has won nine of them.
Read More: Most wins against SRH in IPL
5) Rajasthan Royals (Played- 20, Won- 08)
Most Wins Against KKR: The Royals haven't been lucky lately. They have struggled in finding consistency so far. Their performance in 2019 initially was quite on track however, the points table doesn't quite do justice to Rajasthan Royals' performance that the team delivered. Despite finishing the campaign second-last unlike RCB, they weren't outplayed in most of their matches. In fact, with a little more luck and teamwork they could well have made it to the playoffs.
There's no denying that the Rajasthan Royals were competitive for the most part. Rajasthan lost five of their first six matches, and the only lopsided result in those defeats was the one against Kolkata Knight Riders. While considering the rest of the matches the team played against KKR, the team has won 8 matches out of 20 played
Read More: Most wins against MI in IPL