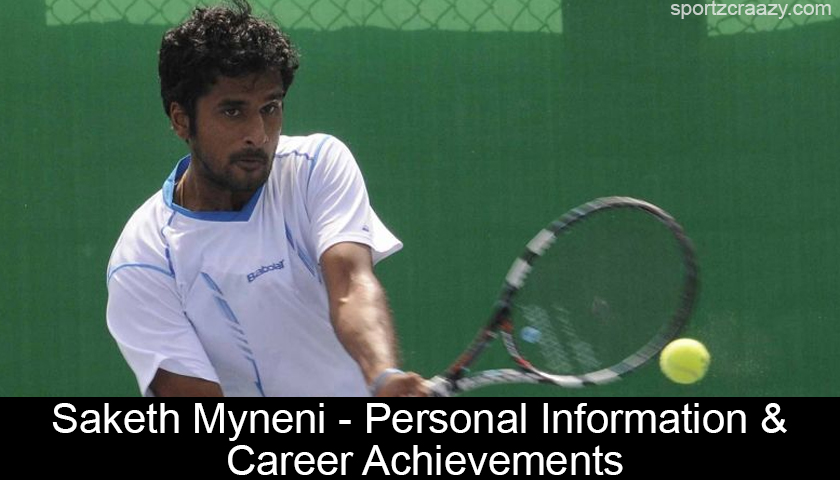 An Introduction to Saketh Myneni
Saketh Myneni has established himself as one of the tennis players of note in India and has been able to do so only through the extraordinary amounts of skill he possesses for the game. A player that descended onto the playing not a long time ago, he has managed to make tremendous progress in a short period of time and has wasted no time in making himself one of the most well-known names in Indian professional Tennis.
Hailing from Andhra Pradesh, this player slowly and steadily paved his way to success, as he underwent a lot of training in order to become one of the very best tennis players in India, though one must say that he had a lot of talent to be with, as before turning professional, he won a lot of junior tournaments and was one of the best junior tennis players in India.
image source
One of the greatest Indian professional tennis players, Saketh has been recognized by the nation as some of the best tennis talents to come out of the country in some time, as he is now known across the entire world for being one of the most talented players to be active in the tennis field.
One of the most amazing facts about this player is the fact that he has been conferred with the Arjuna Award in the past. The Arjuna Award is one of the most respected and honorable sports awards in the entirety of India and is only given to those who have made the most efforts into making India famous as the abode of some of the very best sports talent in the world.
A right-handed, two-handed backhand player, he has become a prime example of the best ways to use the style.
Personal Information Of Saketh Myneni
image source
Saketh Myneni was born on 19th October, 1987, in Vuyyuru, India.
He started playing tennis from a quite young age, as he started playing tennis from the age of 11, and tennis is a quite common game for the young boys of India. When playing locally, he was found to be one of the very best players in the town, and soon went on to compete in his school.
After completing his schooling in his hometown, he moved to Hyderabad to be able to get the sports opportunities he needed in order to become known.
After he moved, he quickly became known as one of the most phenomenal players in the city and was soon picked for a sports scholarship, a fact that was not much of a surprise, as even then he was one of the most talented players for miles around, no matter where he went.
He was selected for a sports scholarship at the University of Alabama, a quite respected institute in the USA.
Famous Tournaments Participated in
image source
2014 Incheon Asian Games: One of the excellent examples of the adaptive playing capacity of Myneni, he not only displayed excellent skill on his own but also managed to get in perfect rhythm and sync with Sania Mirza to be able to win to the Gold for India. This match brought quite a lot of fame to both players, as both of them displayed awe-inspiring skill and teamwork on the field.
2015 ATP Tour Vietnam Open: A match where Myneni performed particularly well, he defeated opponent Jordan Thompson in a series of quick and decisive matches, and amazed the crowd by winning both the rounds and going on to win the tournament.
2014 ATP Tour Doubles Kolkata, India: A match on home soil, he defeated series after series of opponents with partner Sanam Singh. One of the best proofs of the fact that he has excellent teamwork, and can adapt to the playing style of just about anybody, this match was one of the very best for the members of the team, as both performed excellently, determined not to lose face on home soil.
Also Check ;