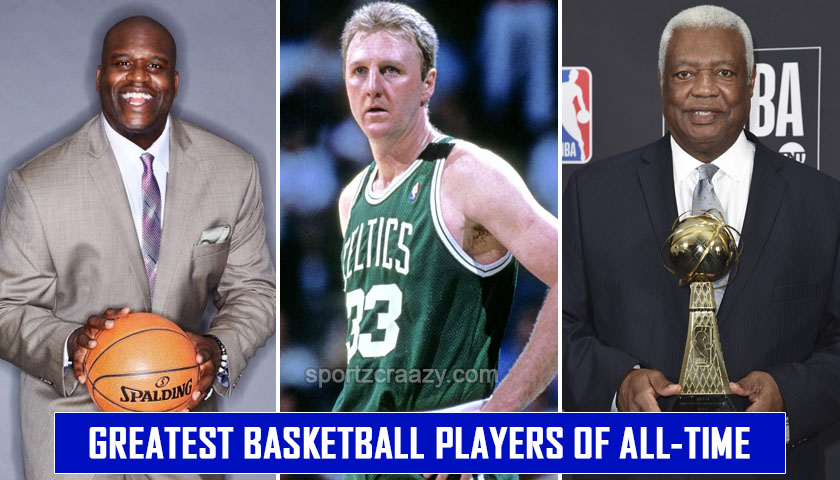 Basketball is a game of extreme stamina and skill. And this game is so popular that almost all the people throughout the world love to watch this and they all have the dream to meet their favourite players in their lifetime. The all-time Greatest Basketball Players are as follows.
#1 Michael Jordan
1984-93, 1995-98 Chicago Bulls; 2001-03 Washington Wizards

30.1 PPG, 6.2 RPG, 5.3 APG, 2.3 SPG

6 x NBA Champion
Michael Jeffrey Jordan is a renowned former American professional basketball player who played 15 NBA seasons, Jordan led the Chicago Bulls to six NBA championships and proved to be the best among all. His tremendous talent and skill brought him the title like Air Jordan or His Airness. Jordan was born on 17th February 1963 in Brooklyn in New York.
He used to play Basketball, Baseball and Football in his school days. He faced difficulty to get selected in the basketball team in his school life as his height was 5 feet 11 inches. And his friend who was taller than him got into the team very easily. He became so dedicated that he didn't watch back again in his career. The total career of this man is full of rising games.
He has brought so many awards and accolades in his career by his talent that he became the best player of basketball for all time. In spite of facing so many controversies about gambling and about his personal life, he didn't get extinguished for a single moment and this is the way a champion should act and he is the real champion and surely one of the Greatest Basketball Players of all time.
#2 LeBron James
2003-10, 2014-18 Cleveland Cavaliers; 2010-14 Miami Heat; 2018-20 Los Angeles Lakers

27.1 PPG, 7.4 RPG, 7.4 APG, 1.6 SPG
LeBron James is a very well known basketball player of all time and he has so many achievements in his pocket. He was born on 30th December 1984 and he is an awesome professional basketball player in America. He plays for Los Angeles Lakers in NBA events.
He has gone through a very disturbing childhood as his mother was just 16 years old when he was born and his father had a long criminal record and was not in their family. They had to struggle a lot just for living in their life. They didn't have any stable profession or steady work.
So his mother decided to give him away to the family of Frank Walker who was a basketball coach and he started learning basketball to him at the age of 9 years only. He has brought so many awards and accolades for his teams throughout his career. So he is considered to be the face of the NBA by everyone. Recently he got married in 2014 and he is considered to be rising star in NBA books.
#3 Kobe Bryant
1996-2016 Los Angeles Lakers

25.0 PPG, 5.2 RPG, 4.7 APG, 1.4 SPG, 1.4 3s PG

5 x NBA Champion
Kobe Bryant is a well-known basketball player in American professional basketball game. He was born on 23rd August 1978. His parents were also NBA players. He was named after the famous beef of Kobe and his middle name 'Bean' has come from his father's nickname, 'Jellybean'.
He started playing basketball at the age of 3 years old. And Los Angeles Lakers was his favourite team throughout. So this 6 feet 6 inches tall player has played throughout his life for Los Angeles Lakers only. He was really dedicated to this team a lot. He has won so many awards and recognitions for his team throughout his career. His hobby was music and he was so keen to have music in his life that he released his solo album in the music sector.
So we can call him multi-talented too. So this man has the proper dedication, skill and passion in life for his career as well as hobbies to pursue and these qualities have taken him so high in his life.
#4 Bill Russell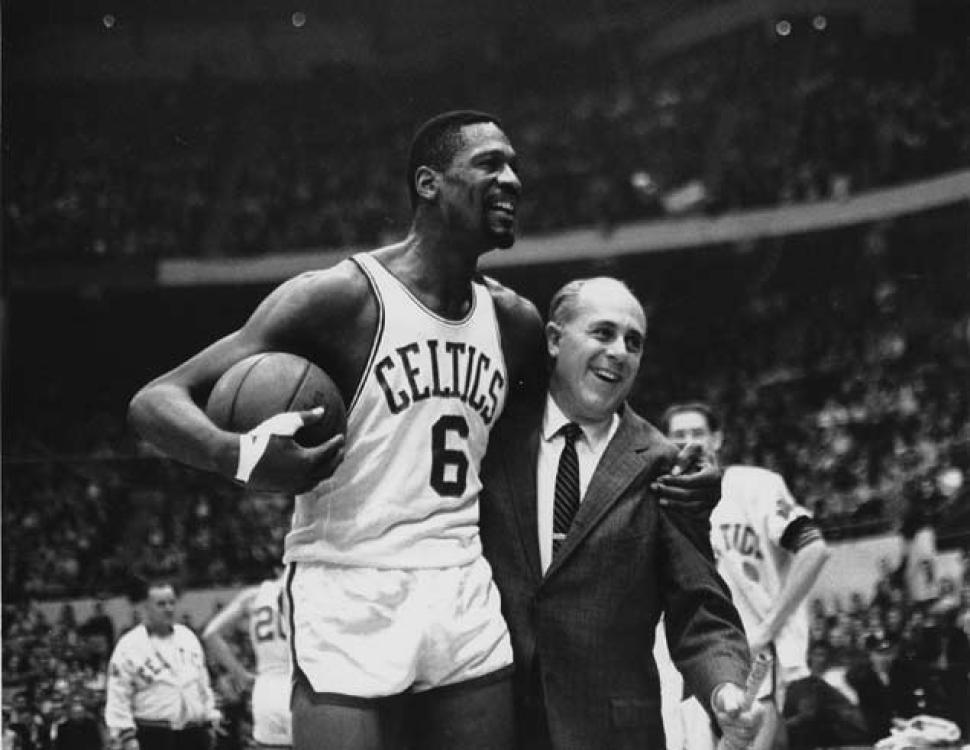 1956-69 Boston Celtics

15.1 PPG, 22.5 RPG, 4.3 APG

11 x NBA Champion
Bill Russell was born on 12th February 1934 in Monroe in Louisiana. He is kind of a legend in this game and really well known for his extraordinary skills. Bill Russell and his family used to face a lot of racism problem throughout his life. His father faced a lot of problems to continue in the gas station as all other employees were white people.
And in another incident, his mother was told to go back home and change the clothes by police as her clothes were white woman's dress. He used to work in a paper factory as a janitor which is treated as a Negro job.
These consequences made him a strong man and for that, the people call him stern and hard man. But he has a very strong personality and also he will be remembered for his awesome basketball skills. He was so much famous in his days that a statue of him has been made in Boston to give him tribute for his enormous contribution to the NBA.
#5 Magic Johnson
1979-91, 1996 Los Angeles Lakers

19.5 PPG, 7.2 RPG, 11.2 APG, 1.9 SPG

5 x NBA Champion
The original name of Magic Johnson is Earvin Johnson Jr. He got this name because of his extreme talent in the game. He was born on 14th August 1959. He used to help his father to do their regular work including garbage collection. So the children of his neighbourhood used to call him 'garbage man'. Then he started to grow himself as a good basketball player and got ready to shine.
He has brought so much goodwill to the teams he played. Currently, he is the president of the Los Angeles Lakers and handling the post with a great personality. He was a very powerful man during his playtime and also during his official serving days right now.
This was our list of 5 greatest basketball players of all time who had been shining throughout their lifetime. And basketball is indeed a very enjoyable game which can give pleasure to all types of people including all ages. A basketball court is a place where normal people also feel attracted sometimes in spite of having no idea about the game. So people get some other level of fun during this game.
The kind of excitement this game generates is ecstatic. So the utopia of the basketball game creates a vibe of positivity towards the people who are associated with this and also who are enjoying the spectacular basket moments.
Also Check: