WWE universe called him 'The Next Big Thing', then that thing turned into 'The Pain', and later that pain came in like a destructive force once again, only to be labeled as 'The Beast'. In all these years, there is only one wrestler, who has dominated all the top names in the professional wrestling business and i.e, Brock Lesnar.
Brock Edward Lesnar, who is popularly known as Brock Lesnar in a professional wrestling platform, is one of the most decorated WWE superstars in all sports entertainment. From the time Lesnar stepped his foot into the ring, he conquered almost every leading WWE superstar until now. Lesnar has enlisted his name in the history of WWE when he crushed The Undertaker's undefeated streak at Wrestlemania 30. Legends like Triple H, Big Show, John Cena, and The Rock; who lost his WWE Undisputed Championship against The Beast Brock Lesnar at Summerslam making him the first-time WWE Undisputed Champion and also, the youngest Champion at the age of just 25.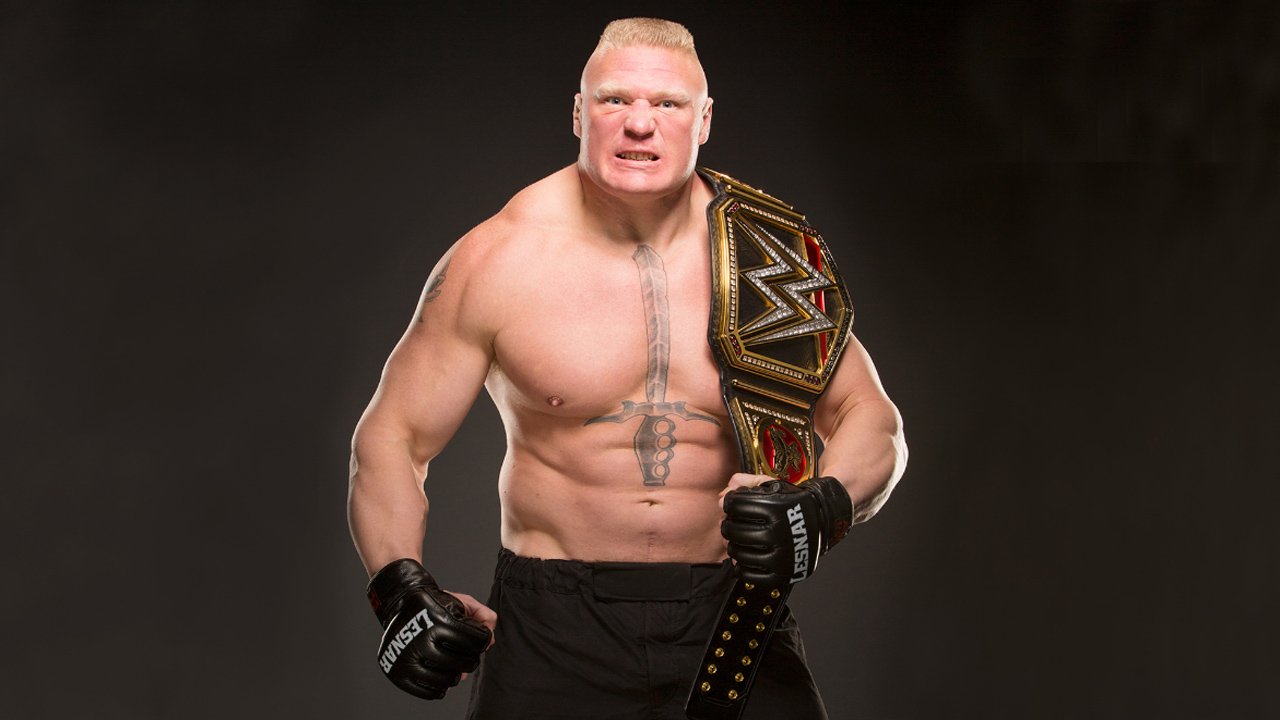 Lesnar has not only dominated the WWE industry but made his presence felt at the Ultimate Fighting Championship (UFC) wrestling platform by winning the UFC title against Randy Couture. Lesnar was a leading star in UFC, as he participated in some of the best-selling pay-per-view events in UFC history, including UFC 100 and UFC 116.
In the year 2012, Lesnar made a comeback to WWE after 8 long years. He held world champion status four times after this, having won the WWE World Heavyweight Championship in 2014 and the WWE Universal Championship in 2017, 2018, and 2019. His first reign as Universal Champion was the longest world title reign in WWE since 1988 at 504 days. The Beast is a seven-time world champion in WWE, a one-time world champion in NJPW and IGF, a one-time heavyweight champion in the UFC, and a one-time heavyweight wrestling champion in the NCAA. Lesnar became the only person in history to win a championship in each of those organizations.
Brock Lesnar has almost accomplished all the leading titles in WWE. Lesnar has also won the 2002 King of the Ring tournament, the 2003 Royal Rumble and the 2019 Money in the Bank.
EARLY LIFE



Brock Lesnar was born on July 12, 1977, in Webster, South Dakota. He has two elder brothers- Troy and Chad, and a younger sister Brandi. Before becoming a full-time wrestler, Lesnar joined the Army National Guard at the early age of 17. However, he lost this job later after failing a computer typing test.
During his college days, Lesnar took active participation in football and wrestling. At Webster High School, Lesnar competed and came third in amateur wrestling. He also won the National Junior College Athletic Association (NJCAA) heavyweight wrestling championship at Bismarck State College.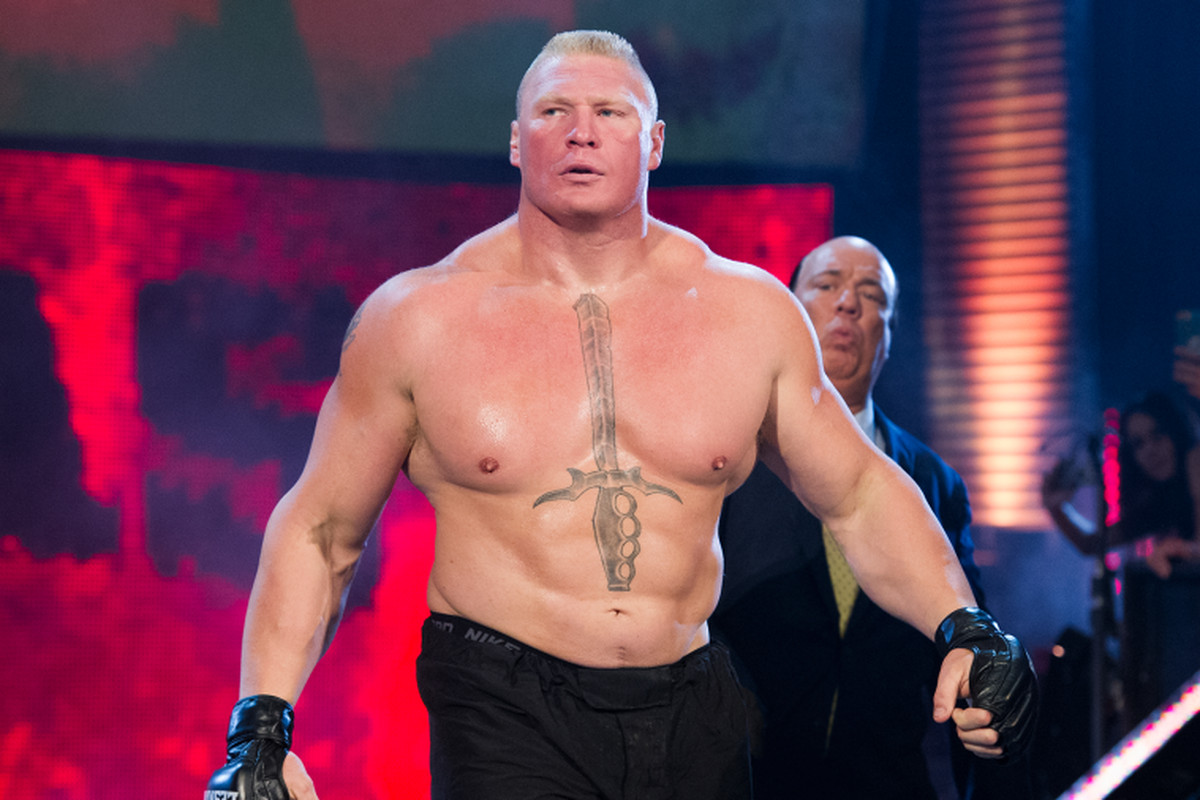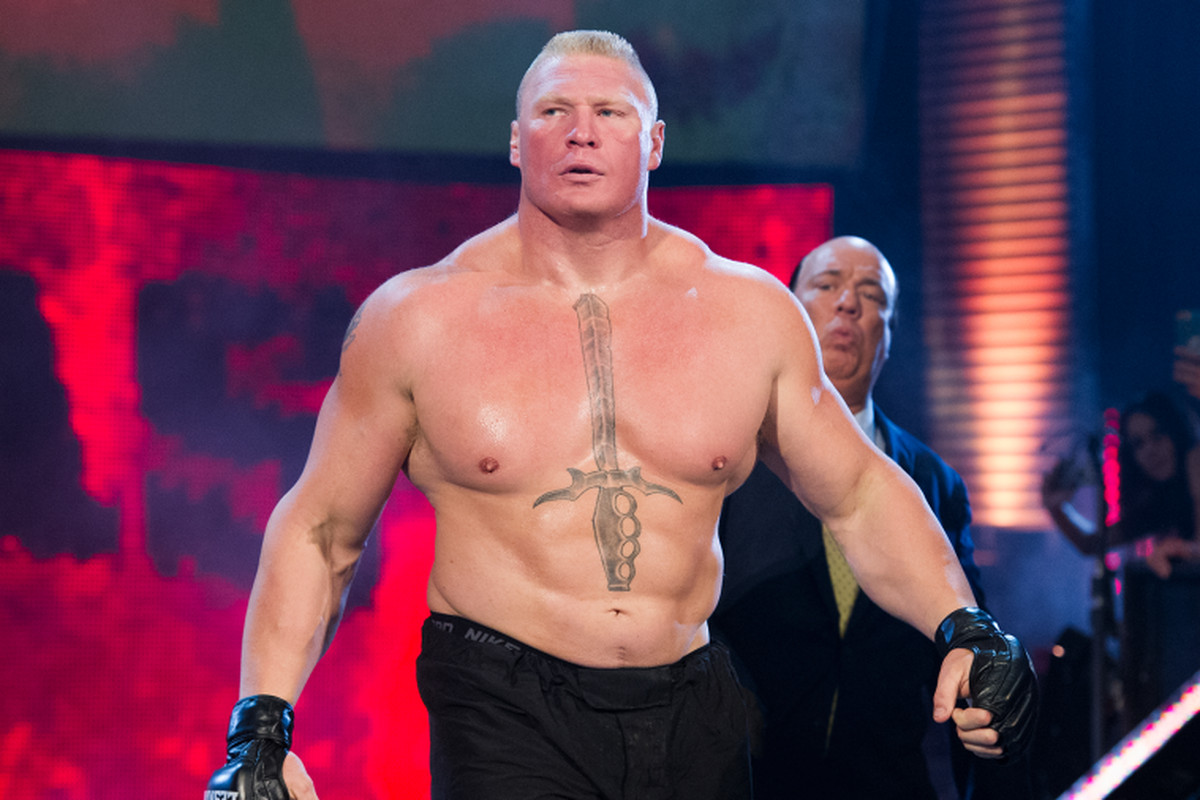 Lesnar has held several around his waist during an early phase of his career that includes 2000 National Collegiate Athletic Association (NCAA) Division I heavyweight wrestling championship, two-time NJCAA All-American, the 1998 NJCAA Heavyweight Champion, two-time NCAA All-American, two-time Big Ten Conference Champion and the 2000 NCAA Heavyweight Champion.
He has gone to the University of Minnesota on a wrestling scholarship for his junior and senior college years.
PERSONAL LIFE



Brock Lesnar lives in Maryfield, Saskatchewan with wife, and former WWE diva, Sable, and two sons named Turk and Duke.  Along with his two kids' with Sable, Lesnar has twins; a daughter named Mya Lynn and a son named Luke with his former fiancée, Nicole McClain. He is also the stepfather of Sable's daughter, with her first husband.
Lesnar is also a member of the National Rifle Association as a spokesman for the Fusion Ammunition company.
PROFESSIONAL LIFE



Brock Lesnar started his professional wrestling career in 2000 with WWE by going for training to its developmental territory Ohio Valley Wrestling (OVW). Lesnar met Paul Heyman for the first time at Ohio Valley Wrestling (OVW) and later formed a tag team with Shelton Benjamin to become OVW Southern Tag Team Championship on three separate occasions.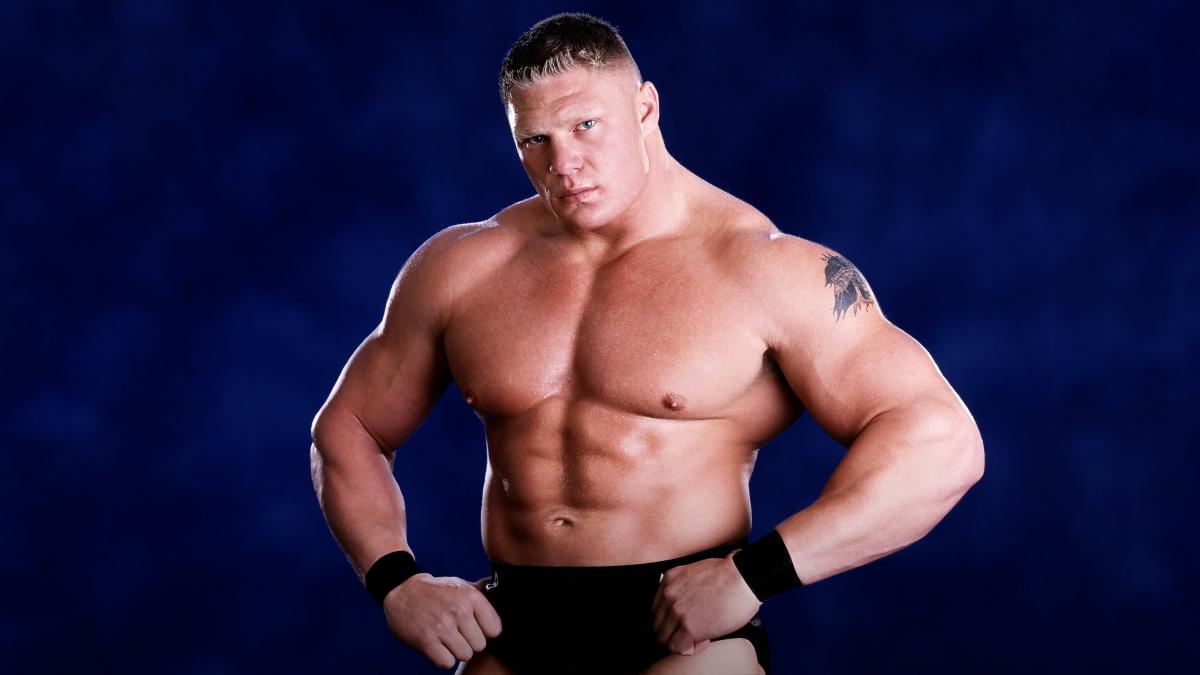 Post his training at OVW, Lesnar made his TV wrestling debut on RAW in 2002. He attacked Al Snow, Maven, and Spike Dudley during their match by delivering his iconic F-5 finisher move for the first time in the WWE. With Lesnar's debut on WWE, his agent Paul Heyman gave him a new name as 'The Next Big Thing'.
Lesnar put his wrestling graph on the top at a very early stage of his career, after he won the 2002 King of the Ring tournament, defeating Bubba Ray Dudley in the first round, Booker T in the quarter-finals, Test in the semi-finals and Rob Van Dam in the finals. He received a chance to battle The Rock for the Undisputed WWE Champion at Summerslam. Brock Lesnar defeated The Rock to become the first-time WWE Undisputed Champion and also, the youngest Champion at the age of just 25.
After becoming the WWE Champion at Summerslam, Lesnar started his feud with The Undertaker leading their match at Unforgiven for WWE Championship, however, The Phenom lost the match and Lesnar retained the title.
Along with The Undertaker, Brock Lesnar defeated some big WWE superstars of that time that includes The Big Show, Kurt Angle, Edge, and Triple H. Lesnar lost his title against Show after Heyman turned on Lesnar, allowing Show to chokeslam him to win the title. At WrestleMania XIX, Lesnar defeated Angle to win his second WWE Championship title.
Lesnar enlisted himself in WWE OMG! moments also when he lifted Big Show off the top-rope in a superplex which caused the ring to collapse. The moment has remained one of the devastating and shocking moments in WWE history.
Kurt Angle and Brock Lesnar held one of the longest standing feuds for WWE title in pro-wrestling history. Both the rivals battled at several pay-per-views to become the champion. Lesnar lost the WWE Championship to Angle in a triple threat match involving Big Show at Vengeance 2003.
During the Survivor Series 2003, Lesnar had his first eye-to-eye contact with Goldberg, pushed a fresh rivalry between two super heavyweights. Goldberg cost Brock Lesnar his WWE championship against Eddie Guererro after he interfered and executed a surprise spear to Brock Lesnar.
Following the interference from Golberg costing Lesnar his title, a match was set up between Lesnar and Berg at Wrestlemania 20 with the special guest referee as Stone Cold Steve Austin. This was both Lesnar's and Goldberg's final match with WWE until the 2012 edition of Extreme Rules and the 2016 edition of Survivor Series respectively. Brock Lesnar lost the match at Wrestlemania 20 after Goldberg executed spear and a Jackhammer for the victory.
Brock Lesnar returned to WWE after 8 years in 2012. He confronted John Cena for a match at Extreme Rules. However, Lesnar lost the battle to Cena on his come back pay-per-view.
Lesnar turned his head towards the WWE COO Triple H after he declined  Lesnar's irrelevant contract demands (which included being given his jet and having Raw renamed to Monday Night Raw Starring Brock Lesnar), resulting in Lesnar attacking him and breaking his arm with a kimura lock. Triple H returned to Raw and challenged Lesnar for a match at Summerslam, but Lesnar defeated Triple H by submission with a kimura lock. The brawl between Triple H and Lesnar heated up with a challenge issued to Lesnar by The Game at Wrestlemania 29, where Triple H put his career on the line. At WrestleMania 29, Lesnar lost to Triple H after a Pedigree onto the steel steps.
Leading superstars like CM Punk, Triple H, John Cena, and The Big Show couldn't get through Lesnar post his return to the squared circle. But, the best was yet to come when Undertaker returned and chokeslammed Lesnar through a table. , setting up their match at WrestleMania 20. Lesnar defeated Undertaker after executing three F-5s, ending his undefeated WrestleMania streak at 21.
After conquering Undertaker's streak at Wrestlemania, Lesnar received an opportunity to battle for WWE World Heavyweight Championship against John Cena. At Summerslam, Lesnar dominated Cena by executing sixteen suplexes and two F-5s, charged him to become the WWE World Heavyweight Champion. Roman Reigns emerged out as Lesnar's next challenger for WWE title, who won the Royal Rumble match to headline WrestleMania 31. During his main event match against Reigns, Lesnar delivered multiple suplexes and thereafter "Suplex City" became one of his signature catchphrases in the WWE arena. During the match, Money in the Bank winner Seth Rollins cashed in his Money in the Bank contract to become the champion at Wrestlemania.
Goldberg returned to WWE after a twelve-year absence and defeated Lesnar in 1 minute and 26 seconds at Survivor Series. Lesnar challenged Berg for a final match at Wrestlemania for Universal title. At WrestleMania 33, Lesnar defeated Goldberg to win his fifth world title in WWE and even marked himself as the first man to have won both the WWE Championship and the Universal Championship. He also became the second person to survive from Goldberg's Jackhammer and gave him the first clean singles loss of his professional wrestling career.
Lesnar successfully defended his title against Reigns, Joe and Braun Strowman in a fatal four-way match. During his reign as a champion, rumors mills reported that Lesnar would leave WWE and rejoin the UFC. However, Lesnar re-signed with the WWE defended the title against Reigns in a rematch at the Greatest Royal Rumble pay-per-view. At the event, Lesnar defeated Reigns as Reigns speared Lesnar through the cage and given the accidental win to Lesnar.
At Money in the Bank pay-per-view this year, Lesnar made a shocking return as Sami Zayn's replacement in the Money in the Bank ladder match and then won Money in the Bank contract. Lesnar successfully cashed in his contract to win the Universal Championship from Rollins at Extreme Rules However Rollins defeated Lesnar in a rematch at Summerslam to win the championship.
Apart from being a top-class WWE Superstar, Lesnar held a career in Mixed Martial Arts. He trained with Minnesota Martial Arts Academy under Greg Nelson and Minnesota Assistant Head wrestling coach Marty Morgan.
During his absence from WWE from 2004 to 2012, Lesnar signed a deal with UFC. Lesnar battled and defeated Randy Couture for the UFC Heavyweight Championship at UFC 91. In the year 2016, Lesnar, signed with WWE, got an opportunity from UFC to fight Mark Hunt. WWE confirmed it had granted Lesnar "a one-off opportunity" to compete at UFC 200 where he defeated Hunt.
HONORS
Rookie of the Year in 2008 in Mixed martial arts.

The beatdown of the Year in 2009 at Sherdog Awards.

Top Newcomer of the Year in 2008.

Breakthrough Fighter of the Year in 2009 at World MMA Awards.

MMA Most Valuable Fighter from 2008 to 2010.

The youngest person to win the WWE Championship- Guinness World Record.

Feud of the Year in 2003 vs. Kurt Angle

Feud of the Year in 2015 vs. The Undertaker

Match of the Year (2003) vs. Kurt Angle in an Iron Man match on SmackDown!

Most Hated Wrestler of the Year in 2018

Most Improved Wrestler of the Year in 2002

Wrestler of the Year in 2002 and 2014

Wrestling Observer Newsletter Hall of Fame (Class of 2015)

Slammy Award (5 times)

Hashtag of the Year (2015) – #SuplexCity

Match of the Year (2015) – vs The Undertaker at Hell in a Cell

The rivalry of the Year (2015) – vs The Undertaker

"Tell Me You Didn't Just Say That" Moment of the Year (2015) – "Suplex City" at WrestleMania 31

The OMG Shocking Moment of the Year (2014) – Ending The Undertaker's

WrestleMania streak at WrestleMania 30

WWE Year-End Award for Hottest Rivalry in 2018  vs. Roman Reigns

Ranked No. 1 of the top 500 singles wrestlers in the PWI 500 in 200
ACHIEVEMENTS



Lesnar is a 4-time WWE Champion
Lesnar is a 3-time WWE Universal Champion
Lesnar won King of the Ring in 2002
Lesnar won Royal Rumble in 2003
Lesnar won Money in the Bank contract in 2019
Brock Lesnar is an NCAA Division I All-American (1999, 2000)
Brock Lesnar is an  NCAA Division I Heavyweight Champion (2000)
Lesnar is a Big Ten Conference Champion (1999, 2000)
Lesnar is an NJCAA All-American (1997, 1998)
Lesnar is an NJCAA Heavyweight Champion (1998)
Lesnar is a North Dakota State University Bison Tournament Champion (1997–1999)
Lesnar is a one-time UFC Heavyweight Champion
Lesnar is a one-time IWGP Heavyweight Champion
Lesnar is a 3-time OVW Southern Tag Team Champion with Shelton Benjamin



PHYSICAL MEASUREMENTS



HEIGHT: 191 cm
WEIGHT: 120 kg = 265 lbs
EYE COLOR: Blue
HAIR COLOR: Blonde
BROCK LESNAR PERSONAL INFORMATION



Full Name: Brock Edward Lesnar
Age: 42 years
Date of Birth: July 12, 1977
Hometown:  Maryfield, Saskatchewan, Canada
Zodiac: Cancer
Religion: American
EDUCATION



Highest qualification: Graduate
School:  Webster High School
FAVORITE CELEBRITIES & OTHER FAVOURITES
Favorite wrestler: Undertaker
Favorite actor: Brad Pitt
Favorite actress: Angelina Jolie
Hobbies: Playing football, gyming and hunting
Favorite Food: Steak
Dream Holiday Destination: Unknown
Favorite Color: Black and Red
BROCK LESNAR NET WORTH



$22 Million is Lesnar's estimated Net Worth as of early 2019.
BROCK LESNAR CONTROVERSY



WWE filed a lawsuit on Lesnar after he went ahead and started wrestling for the New Japan Pro-Wrestling. His contract with WWE was preventing him to join any other company.
The United States Anti-Doping Agency (USADA) announced that Lesnar was suspended for a year after testing positive for banned substances before his fight against Mark Hunt at UFC 200 on July 9, 2016. Lesnar was also fined with $250,000.
SOCIAL MEDIA PROFILES



Facebook: https://www.facebook.com/thebrocklesnar/
Twitter: https://twitter.com/BrockLesnar
Instagram: No official Insta handle.