Kevin Steen, popularly known by his in-ring name Kevin Owens, is a Canadian professional wrestler, working in WWE for Smackdown brand. Kevin Owens has developed his interest in wrestling at a young age of 14 when he began his wrestling training under with Serge Jodoin, a wrestler based in Quebec.
Owens became a part of several wrestling units that includes International Wrestling Syndicate, Combat Zone Wrestling, Pro Wrestling Guerilla, Ring of Honor and most importantly among all is WWE, where he received the recognition in his wrestling career.
Steen held several championships in his wrestling career including ROH World Championship and ROH World Tag Team Championship, PWG World Championship and PWG World Tag Team Championship, AAW Heavyweight Championship, NXT Championship, WWE Universal Championship, United States Championship and Intercontinental Championship.
Kevin Owens is now being called as second to Stone Cold Steve Austin in the World Wrestling Entertainment platform.
Kevin Owens Early Life
Kevin Steen was born on May 7, 1984, in Saint-Jean-sur-Richelieu, Quebec. Steen always wanted to be professional wrestler hence he involved himself at the early age of 14. Steen is fond of sports so he participated in games such as ice hockey, soccer, and baseball, however, his dream was to become a professional wrestler. He used to mimic everything he heard while watching WWE Monday Night Raw.
Owens joined wrestling training at the age of 14 with Serge Jodoin, a wrestler based in Quebec. He was also trained under Jacques Rougeau and Terry Taylor.
Kevin Owens Personal Life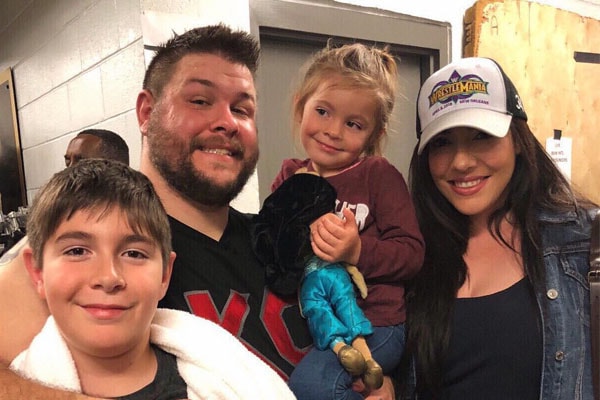 Kevin Owens resides in Orlando, Florida, US,  with his wife Karina and two kids as Owen as his son and a daughter named as Élodie. His son Owen was named after wrestler Owen Hart. The couple married in 2007.  His father's name is Terry Steen and mother is Suzanne Steen. The couple even holds matching tattoos on their bodies. On her arm, she has an inscription "Beauty" while Kevin has a tattoo"Beast" on the same part of his arm.
Kevin Owens Professional Life
Kevin Owens started his career on his birth date May 7 as training with Jacques Rougeau and Terry Taylor and later wrestled with many Canadian promotions following his four years wrestling period. He later debuted in International Wrestling Syndicate (IWS) and later became IWS World Heavyweight Championship defeating El Generico (Sami Zayn). Owens became the first-ever wrestler to hold two IWS titles at the same time in the year 2008 when he defeated Max Boyer to become the IWS Canadian Champion.
Kevin Owens joined several other wrestling units like Combat Zone Wrestling (CZW) where he held CZW Iron Man Championship, Pro- Wrestling Guerilla (PWG) where he earned the PWG Championship and PWG World Tag Team Championship with El Generico. In 2007, Owens joined Ring of Honor, where he became ROH World Tag Team Champion with Generico. He made a comeback to PWG in 2010 during the promotion's eighth-anniversary show, when he defeated Claudio Castagnoli to earn his second PWG World Championship title.
In 2012, Owens won his third PWG World Championship title against El Generico and Eddie Edwards. Owens wrote his name in the history books of wrestling when he became the first Canadian wrestler to win the ROH World Championship title beating Davey Richards at Border Wars.
Following his outstanding performance in the pro-wrestling platform, WWE signed him for NXT. He defeated Sami Zayn at NXT TakeOver: Rival to emerge as the new NXT Champion, however, he later lost the title to Balor.
Owens made his WWE Raw roster debut in 2015 and soon clinched the Intercontinental title after defeating Ryback at Night of Champions. He later lost the title of Ryder at Wrestlemania 32 in a seven-way ladder match.
The year 2016 came in as a golden bend in Owen's career when he crowned as WWE Universal Champion for the first time after interference from Triple H during his title match against Big Cass, Roman Reigns and Seth Rollins. Owens lost the title to Goldberg in 22 seconds at Fastlane, after a distraction from Jericho.
Owens feuded with Jericho to headline Wrestlemania 33 for United States Championship, He defeated Jericho at 'The Grandest Stage of them all' to become US Champion. At Payback, Owens lost the title back to Jericho and later bagged the title again at Smackdown. he lost the title to Styles just after two days after winning it at Battleground.
In his entire WWE career until now, Owens feuded with several superstars like John Cena, Roman Reigns, Chris Jericho, AJ Styles, Shane Mc Mahon, Braun Strowman and many more.
In 2019, Owens feuded with WWE Champion Kofi Kingston for the championship, however, Owens was unsuccessful in bagging the title at Money in the Bank event. Recently, Owens got into a feud with Ziggler after they lost the opportunity to bag Smackdown tag team championship due to miscommunication. Owens challenged Ziggler at Extreme Rules where he stunned Ziggler to bag the victory in just 17 seconds.
Honors
Ranked No. 3 of the top 500 singles wrestlers in the PWI 500 in 2017
Match of the Year in 2011 with Super Dragon vs. The Young Bucks
Wrestler of the Year in 2005, 2011, 2012
Best Brawler (2010–2012)
Feud of the Year in 2010 vs. El Generico
Kevin Owens Achievements
Owens is a one-time WWE Universal Champion
Owens is a one-time NXT Champion
Owens is a two-time Intercontinental Champion
Owens is a three-time United States Champion
Owens is a one-time AAW Heavyweight Champion
Owens is a one-time CZW Iron Man Champion
Owens is a one-time IWS Canadian Champion
Owens is a three-time IWS World Heavyweight Champion
Owens is a three-time PWG World Champion
Owens is a three-time PWG Tag Team Champion with El Generico (2) and Super Dragon (1)
Owens is a one-time ROH Champion
Owens is a one-time ROH Tag Team Champion with El Generico
Owens won ROH World Championship No. 1 Contender Tournament in 2008
Physical Measurements
Height: 183 cm
Weight: 121 kg = 266 lbs
Eye Color: Brown
Hair Color: Brown
Kevin Owens Personal Information
Full Name: Kevin Steen
Age: 35 years
Date of Birth: May 7, 1984
Hometown:  Saint-Jean-sur-Richelieu, Quebec, Canada
Zodiac: Taurus
Religion: Canadian
Education
Unknown
Favorite Celebrities & Other Favorite
Favorite wrestler: Stone Cold Steve Austin
Favorite actor: Tom Cruise
Favorite actress: Angelina Jolie
Hobbies: Wrestling, Playing soccer and baseball
Favorite Food: Steak
Dream Holiday Destination: Europe
Favorite Color: Black
Kevin Owens Net Worth
Kevin Owens estimated Net Worth is $10 million
Kevin Owens Controversy
Owens reportedly refused to go to Saudi Arabia for Super Show-Down event after his good friend Sami Zayn wasn't allowed to perform because he is a Syrian Muslim and relations between Syria and Saudi Arabia aren't good at all.
Social Media Profiles
Kevin Owens Facebook: https://www.facebook.com/FightOwensFight/
Kevin Owens Twitter: https://twitter.com/FightOwensFight
Kevin Owens Instagram: Not an official Instagram handle.