John Cena Biography: John Felix Anthony Cena Jr popularly known by his in-ring name John Cena is a leading American professional wrestler, who works for World Wrestling Entertainment. John Cena has been popularly known as the 16-time world champion and a 'fan favorite' star since his journey in the business. John Cena has bagged several championships in his career in which he is a five-time United States Champion, a four-time world tag team champion, and a WWE record sixteen-time world champion. He is also a two-time Royal Rumble match winner and a Money in the Bank ladder match-winner.
The professional journey of John Cena took a golden bend when he defeated JBL at WrestleMania to win the WWE Championship in 2005, giving Cena his first world championship. From that day, Cena never turned back, battled and defeated some WWE greats like Shawn Michaels, Triple H, Randy Orton, and The Rock.
Having several accomplishments in his career, Cena bagged several Match of the Year award with CM Punk in 2011, Michaels in 2007, Edge in 2006, Daniel Bryan in 2013, Bray Wyatt in 2014 and with AJ Styles in 2016. Cena also held an accolade of becoming a popular wrestler of the year in 2004, 2005, 2007 and 2012.
With a legacy of his historic victories in WWE, Cena also showed his acting talent on the big screen. He has had leading film roles in The Marine (2006), 12 Rounds (2009), Trainwreck (2015), Ferdinand (2017), Blockers (2018), and Bumblebee (2018).
Lately, RAW Reunion saw the return of legends like Stone Cold Steve Austin, Ric Flair, and Hulk Hogan. John Cena, who we have not seen in WWE since his 'Doctor of Thuganomics' posture at Wrestlemania 35, kicked off the RAW Reunion, where he was welcomed back with a thunderous round of cheers.
John Cena Early Life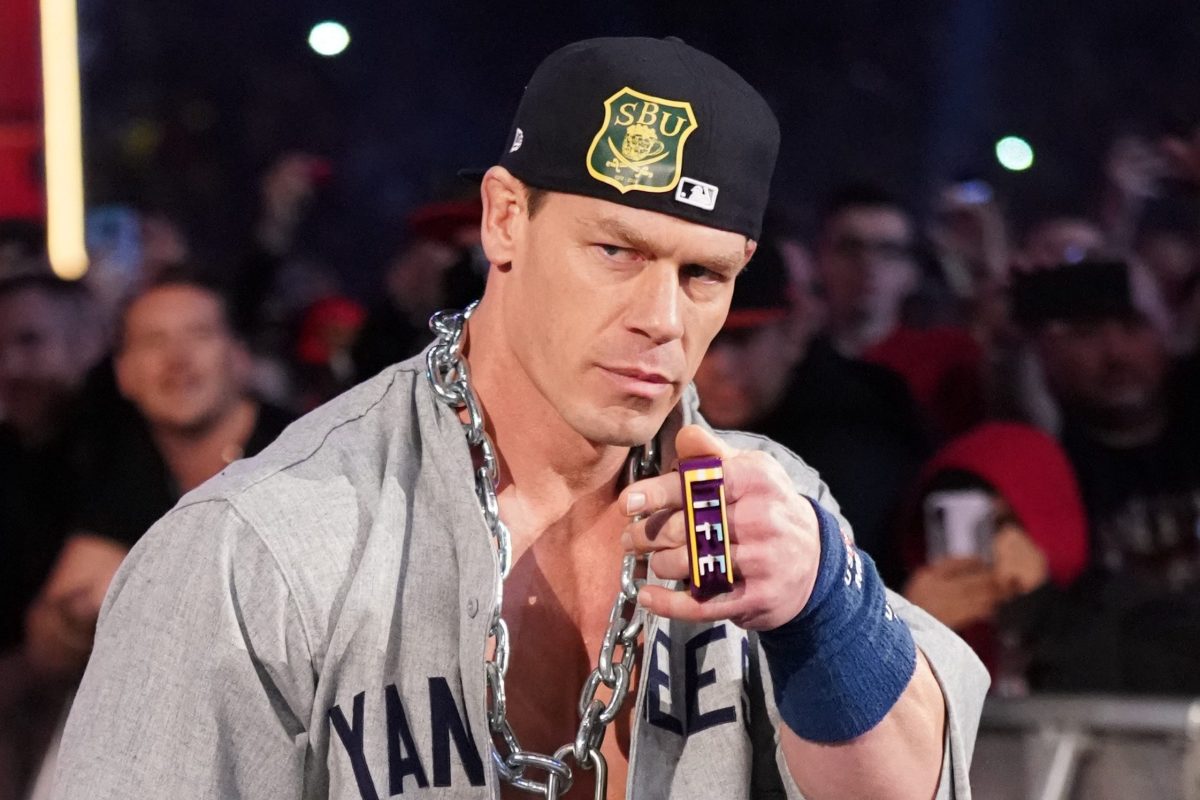 John Felix Anthony Cena was born in on April 23, 1977, in West Newbury, Massachusetts. Cena studied in Central Catholic High School in Lawrence, Massachusetts, however, he was later transferred to Cushing Academy. He completed his graduation from Springfield College in Springfield, Massachusetts in 1998 with a degree in exercise physiology and body movement.
Personal Life – John Cena Wife and Family
Cena resides in Tampa, Florida. In the year 2009, Cena married to Elizabeth Huberdeau on July 11, 2009. After three years, the couple separated in 2012. Cena started dating WWE Diva Nikki Bella next, whom Cena proposed at WrestleMania 33 on April 2, 2017, however, their relationship ended in April 2018, just a month before their scheduled marriage.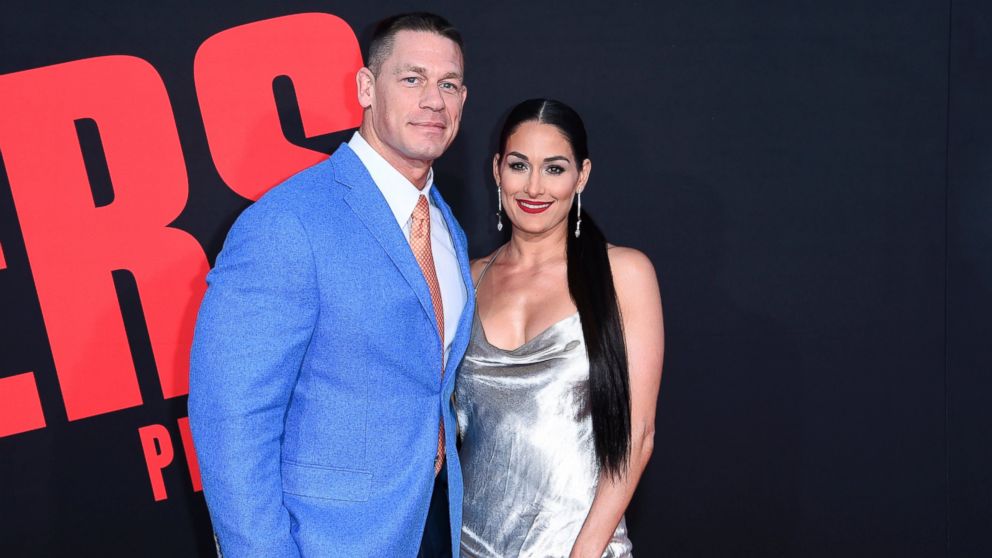 John Cena belongs to the family of half Italian descent, with his father John Cena Sr and mother Carol. Cena's grandfather Tony Lupien was a well-known baseball player. Cena has an older brother (Stephen) and three younger brothers (Dan, Matt, and Sean).
John Cena WWE

Professional Life
John Cena has been known as one of the greatest in-ring performers of all time. From the time John Cena stepped his foot into the ring, he advanced his presence, his hunger for win and love for this business. John Cena began his career in 1999 with the training at Ultimate Pro- Wrestling managed by Rick Bassman. During his training, he impressed with his passion and dedication towards professional wrestling. He became UPW Heavyweight Champion in 2000.
John Cena then joined WWE with a development contract, assigned to its developmental territory Ohio Valley Wrestling (OVW). Cena wrestled under the ring name The Prototype and held the OVW Heavyweight Championship for three months and the OVW Southern Tag Team Championship (with Rico Constantino) for two months.
After he completed his training from OVW, he made his television debut in WWE against Kurt Angle, where he dominated Angle in early going, proving that someone has come to change the landscape of this business. During his early phase in WWE, he dominated huge athletes like Big Show and defeated him to become the first singles champion in WWE. He beat him for the United States Championship at WrestleMania 20.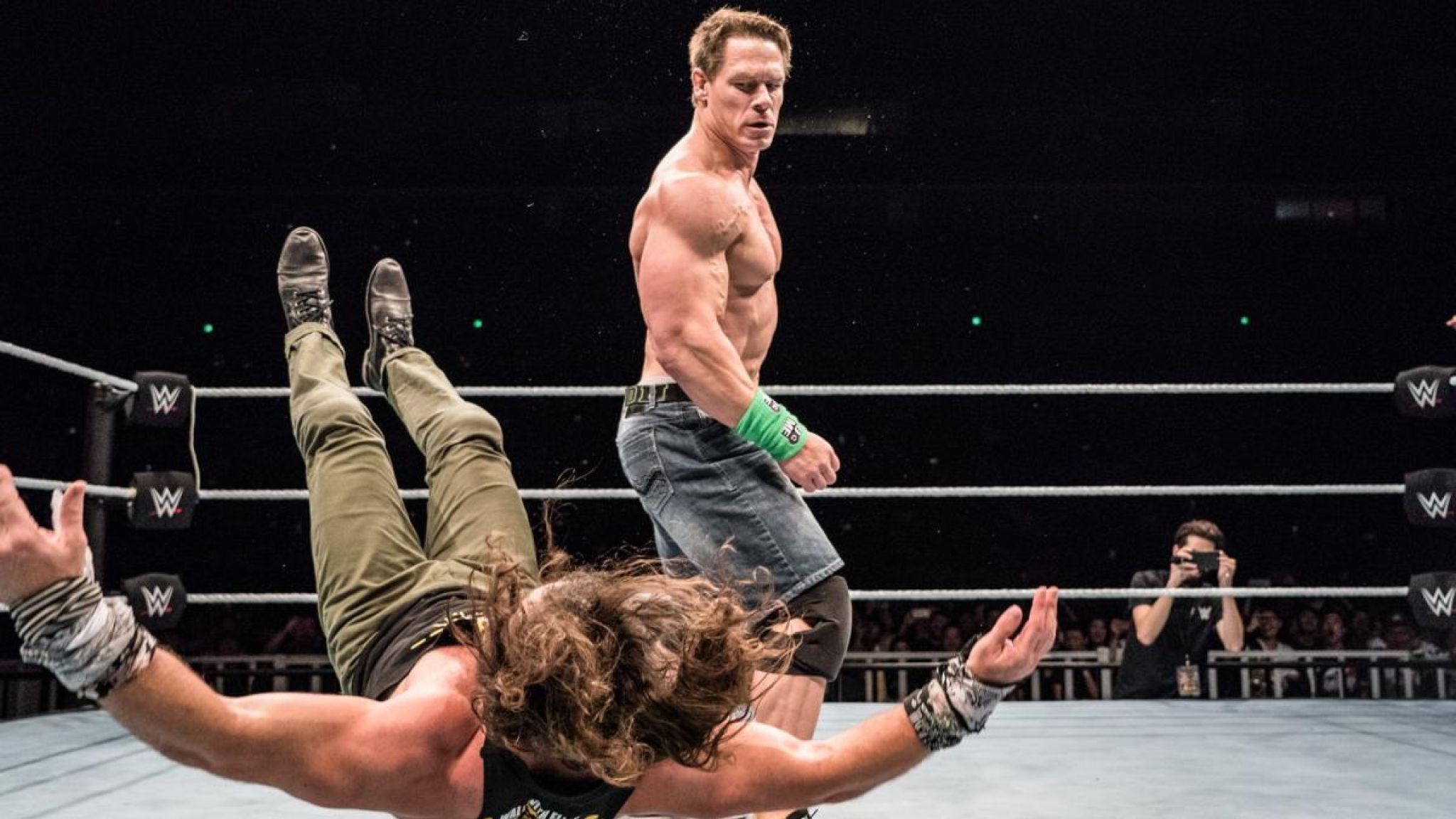 John Cena turned his head towards gold and started his feud with JBL after he won a number one contender's tournament for the WWE Championship and made to the finals at No Way Out, where he defeated Kurt Angle to earn a spot in the SmackDown brand's WrestleMania 21 main event match. At Wrestlemania 21, John Cena's journey to hold the WWE championship began with the defeat of JBL at the Grandest Stage of them all.
During his first reign as the WWE Champion, Cena pinned down big superstars at Wrestlemania to retain the title. Cena defeated Triple H at Wrestlemania 22 and Shawn Michaels at Wrestlemania 23. Cena lost the WWE Championship to Van Dam at One Night Stand after interference from Edge. However, he bagged the championship back in a match during a Tables, Ladders, and Chairs match at Unforgiven.
John Cena's unforgettable return as the final participant of the Royal Rumble match still considered as one of the most shocking moments in Royal Rumble history. At Wrestlemania 24, Cena lost the title to Orton and later failed to regain the title against Triple H at Night of Champions. However, Cena managed to bag the title once again against Orton in a 60-minute Iron Man match at Bragging Rights. Cena successfully defended the title against both Triple H and Shawn Michaels in a triple threat match at Survivor Series but lost it to Sheamus at TLC: Tables, Ladders & Chairs in a table match.
Cena regained the WWE Title at the Elimination Chamber pay-per-view in an Elimination Chamber match, however, he was defeated by Batista for WWE Championship on the same night. Cena defeated Batista at WrestleMania XXVI for the title and successfully defended it at Extreme Rules, in the Last Man Standing rematch and then an "I Quit match at Over The Limit.
Cena also had a history with the Nexus team led by Wade Barret. After Barrett defeated Cena, he joined The Nexus. Cena and fellow Nexus member David Otunga defeated Cody Rhodes and Drew McIntyre to win the WWE Tag Team Championship at Bragging Rights.
At Survivor Series, Cena announced a match for the WWE Championship between Wade Barrett and Randy Orton with a stipulation that, if Barrett didn't win the championship, Cena would be "fired" from the WWE. Orton defeated Barrett to retain the title, thus terminating Cena's WWE contract.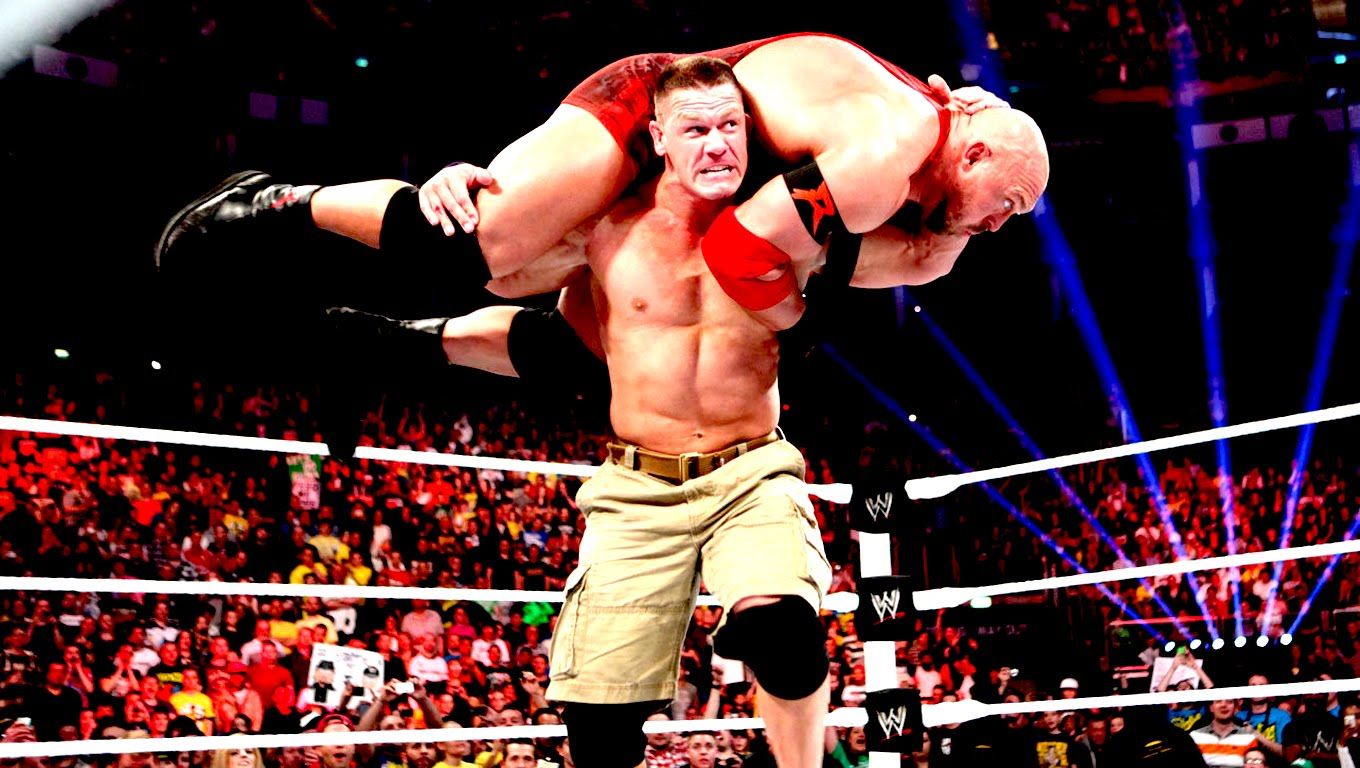 John Cena returned to WWE after some time and ended his feud with Nexus after he eliminated most of the Nexus members during the 2011 Royal Rumble. Cena also had a long-time feud with The Rock. He ended this legendary feud between them after he won the Royal Rumble 2013 to headline Wrestlemania. He defeated The Rock for WWE Championship at Wrestlemania 29 to become the eleventh WWE Championship. He shook hands with Rock as a sign of respect.
From the time between 2013-15, John Cena became the stone in the eye of The Authority led by Triple H and Stephanie Mc Mahon. Cena challenged WWE Champion Randy Orton to unify their respective championships, with The Authority agreeing and arranging for a Tables, Ladders and Chairs title unification match at the TLC: Tables, Ladders & Chairs pay-per-view, which Cena lost. However, Cena became a 15-time WWE World Heavyweight Champion at Money in the Bank.
The feud between The Authority and Cena got worsened when Cena rejected Triple H's offer to join their team. As a result, a 5-on-5 Survivor Series elimination tag match between Team Cena and Team Authority at Survivor Series was set, where the future of The Authority was at stake. In the end, Team Cena won the battle and forced Triple H and Stephanie to leave WWE.
During the time Cena was US Champion, he successfully defended his title against Dean Ambrose, Stardust, Bad News Barrett, Kane, Sami Zayn, Neville, Zack Ryder, and Cesaro in his open challenge each week in Raw. The Authority forced Cena to defend the United States Championship against Rollins, which he won. Cena then faced Rollins in a "Winner Takes All" match at SummerSlam, for both the WWE World Heavyweight Championship and the United States Championship, which Cena lost after guest host Jon Stewart attacked him with a steel chair, ending Cena's reign as US Champion.
The year 2017 came as a historic year in Cena's life after his feud with AJ Styles ended with at Royal Rumble, where he defeated Styles to become 16th-time world champion tieing Ric Flair.
Cena appeared at Wrestlemania 35 in his Doctor of Thuganomics persona and interrupted Elias' concert. He executed FU on him on The Grandest Stage of them all. Cena returned on a special edition of Raw titled Raw Reunion. bein
Apart from being a successful WWE wrestler, Cena showed his acting talent with leading film roles in The Marine (2006), 12 Rounds (2009), Trainwreck (2015), Ferdinand (2017), Blockers (2018), and Bumblebee (2018). In 2019, Cena was cast in the ninth Fast and Furious Film. which is under the filming process.
Honors
Feud of the Year in 2006 vs. Edge

Feud of the Year in 2011 vs. CM Punk

Match of the Year in 2007 vs. Shawn Michaels on Raw

Match of the Year in 2011 vs. CM Punk at Money in the Bank

Match of the Year in 2013 vs. Daniel Bryan at SummerSlam

Match of the Year in 2014 vs. Bray Wyatt in a Last Man Standing match at Payback

Match of the Year in 2016 vs. AJ Styles at SummerSlam

Most Improved Wrestler of the Year in 2003

Most Popular Wrestler of the Decade from 2000–2009

Most Popular Wrestler of the Year in 2004, 2005, 2007, 2012

Wrestler of the Year in 2006, 2007

Muhammad Ali Legacy Award in 2018

Ranked No. 1 of the top 500 singles wrestlers in the PWI 500 in 2006, 2007 and 2013

Slammy Awards (10 times)

Game Changer of the Year in 2011 with The Rock

Hero in All of Us in 2015

Holy $#!+ Move of the Year in 2010 – Sending Batista through the stage with an Attitude Adjustment

Insult of the Year in 2012) To Dolph Ziggler and Vickie Guerrero

Match of the Year in 2013, 2014 vs. The Rock for the WWE Championship at WrestleMania 29, Team Cena vs. Team Authority at Survivor Series

Superstar of the Year (2009, 2010, 2012)

Best Box Office Draw in 2007

Best Gimmick in 2003

Best on Interviews in 2007

Feud of the Year in 2011 vs. CM Punk

Match of the Year in 2011 vs. CM Punk at Money in the Bank

Most Charismatic (2006–2010)

Wrestler of the Year in 2007, 2010

Worst Feud of the Year (2012) vs. Kane

Worst Worked Match of the Year (2012) vs. John Laurinaitis at Over the Limit

Worst Worked Match of the Year (2014) vs. Bray Wyatt at Extreme Rules

Wrestling Observer Newsletter Hall of Fame (Class of 2012)

Springfield College Athletic Hall of Fame inductee (Class of 2015)

Make-A-Wish Foundation Chris Greicius Celebrity Award

Make-A-Wish Foundation Special Recognition Award

2014 Sports Social TV Entertainer of the Year

2014 Susan G. Komen Race for the Cure Grand Marshal

2016 USO Legacy of Achievement Award
Achievements
John Cena is a 13-time WWE Champion

John Cena is a three-time World Heavyweight Championship

John Cena is a two-time World Tag Team Champion with Batista (1) and Shawn Michaels (1)

Cena is a two-time WWE Tag Team Championship with The Miz (1) and David Otunga (1)

Cena is a five-time WWE United States Champion

Cena won Money in the Bank in 2012

Cena won Royal Rumble in 2008, 2013

Cena won WWE Championship No. 1 Contender's Tournament in 2003, 2005

Cena is a one-time OVW Heavyweight Champion

Cena is a one-time OVW Southern Tag Team Champion with Rico Constantino
Physical Measurements
John Cena Height: 185 cm
John Cena Weight: 114 kg = 251 lbs
Eye Color: Blue
Hair Color: Light Brown
John Cena

Personal Information
Full Name: John Felix Anthony Cena
Age: 42 years
Date of Birth: April 23, 1977
Hometown: West Newbury, Massachusetts
Zodiac: Taurus
Religion: American
Education
Highest qualification: Graduate
School: Springfield College in 1998
Favorite Celebrities  & Other Favorites
Favorite wrestler: The Rock
Favorite actor: Brad Pitt
Favorite actress: Angelina Jolie
Hobbies: Collecting cars, gymming, Playing Football, Basketball & Video Games
Favorite Food: Non-Veg Food, Fish
Dream Holiday Destination: Dubai, Paris
Favorite Color: Black and Green
John Cena Net Worth
John CenaNet Worth is estimated to be $55 Million.
John Cena Controversy
In December 2017, the Ford Motor Company filed a lawsuit against Cena for selling his 2017 Ford GT. Cena signed a contract to keep the car for at least two years but breached the agreement by selling it.
Social Media Profiles
Facebook: https://www.facebook.com/johncena/
Twitter: @JohnCena
Instagram: @johncena