Ravi Kumar Dahiya Biography: One of the emerging wrestling stars, Ravi Kumar Dahiya represents India in the freestyle 57 kg event. He recently won a bronze medal at the 2019 World Wrestling Championships in the freestyle 57kg category and thereby secured a place in the  2020 Tokyo Olympics.
EARLY LIFE:
Since the age of 10, Ravi Kumar was under the wings of Coach Satpal Singh who is also the former coach of two-time Olympic medallist, Sushil Kumar. The wrestler also hails from a village that has produced many excellent wrestlers including Phogat sisters, Bajrang Punia & Yogeshwar Dutt. No wonder, why the wrestling bug bit Ravi in his early phase of life. Ravi Kumar may be a man with few words but he has talent in abundance.
PERSONAL LIFE:
Ravi Kumar was born in Nahri village, Sonipat district in Haryana. While a passion for wrestling always burned inside Ravi, his financial condition made him toil a lot to overcome all the obstacles in his life. His father not owning land by his own, rented farms for a living.
In order to buy fruits for Ravi, his father almost covered 40 kilometers from Nahri to Delhi. Throughout his wrestling journey, his needs were somewhere a financial burden. However, Ravi's father did not see his son's performance where he earned a bronze medal at the Worlds. He never got a chance to watch Ravi perform because he was toiling in the fields. Rakesh Kumar worked hard to ensure that his son would never have to compromise on his ambition.
PROFESSIONAL LIFE: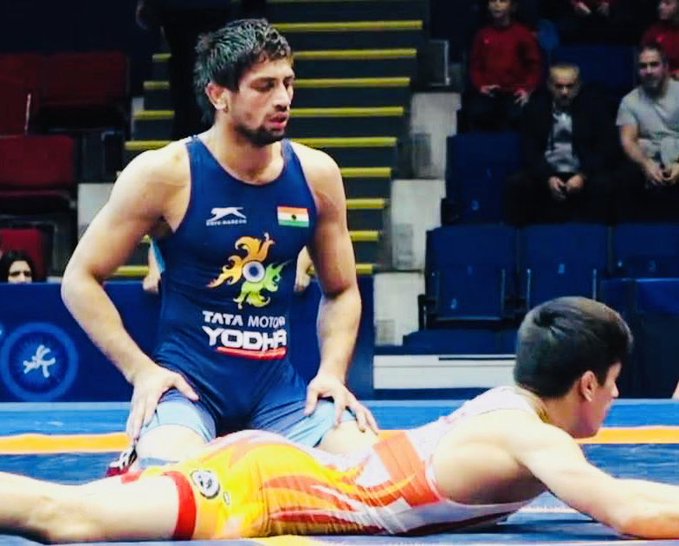 Ravi Kumar trains at Chhatrasal Stadium in New Delhi. Chhatrasal Academy is a well-known Indian wrestling school of learning that has established excellent wrestlers like Sushil Kumar & Yogeshwar Dutt.
At his debut World Championships, the 22 years old wrestler won a bronze medal against the Iran based Asian Champion, Reza Atrinagharchi.
In 2015, Ravi has earned a silver medal at the Junior World Championships where she performed outstandingly.
In 2017, he suffered a knee injury during Senior Nationals. He was selected to perform at the semi-finals of the competition. Due to his injury, Ravi had no sponsors and in the end he was forced to fall back on his well-wishers to recuperate his injury. But soon he bounced back and gave a remarkable comeback.
In 2018, Ravi earned a silver medal at the U-23 World Championships,      Bucharest in Romania. He also secured a second position in the senior nationals. Despite his ankle injury, Ravi participated in the Senior Asian Championships & finished in the 5th position.
Since then, Ravi Kumar Dahiya has shown a steady rise in the 57 kg category. He also defeated the senior wrestlers Sandeep Tomar & Utkarsh Kale at the World Championships selection which helped him to earn a bronze medal and a ticket to Tokyo 2020.
ACHIEVEMENTS
WORLD CHAMPIONSHIPS
Brown: 2019, Nur-Sultan: 57 kg
WORLD U23 WRESTLING CHAMPIONSHIPS
Silver: 2018, Bucharest: 57 kg
PERSONAL INFORMATION
Name: Ravi Kumar Dahiya
Nickname: Ravi Kumar
Sport: Freestyle Wrestling
Events: 57 kg
Country: India
Father's name: Rakesh Dahiya
Mother's name: not updated
Coach: Satpal Singh & Virender Kumar
Height: 5'7" (170 cm)
Weight: not updated
Eye colour: black
Hair colour: black
Date of birth: not updated
Age: not updated
Birth place: Nahri, Sonipat district, Haryana, India
Zodiac sign: not updated
Nationality: Indian
Hometown: Haryana
Religion: Hindu
CONTROVERSY:
Besides his achievements & performances, the Indian wrestler has never hit any headlines. He has contributed all his time in preparations and that has kept Ravi Kumar Dahiya away from any such controversies.
NET WORTH:
NOT YET UPDATED.
SOCIAL MEDIA HANDLES OF RAVI KUMAR DAHIYA
FACEBOOK- https://www.facebook.com/dahiya.dahiya.1865904
INSTAGRAM- https://www.instagram.com/ravi_kumar_60/
TWITTER- NOT ACTIVE