| | | |
| --- | --- | --- |
| | Full Name: | Virat Kohli |
| | Facebook ID: | /virat.kohli/ |
| | Twitter ID: | @imVkohli |
| | Instagram: | /virat.kohli/ |
| | Facebook Followers: | 42 Millions |
| | Instagram Followers: | 65 Millons |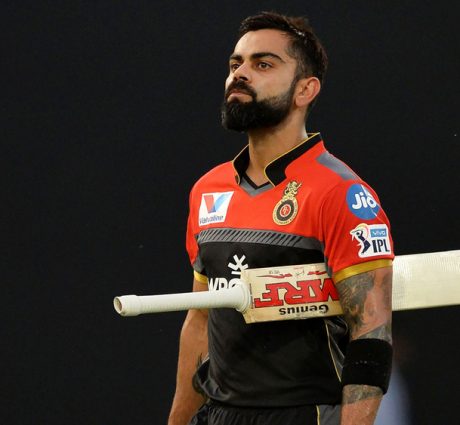 Indian skipper, Virat Kohli is hailed as one of the greatest batsmen of the current era. Owing to his prolific run-scoring in International Cricket, Virat Kohli has made millions of followers across the world.
His hunger to be the number one in world cricket acts as a huge motivation to other cricketers around him.
Virat Kohli has been a prolific run-scorer for India over the years. He has piled on runs consistently and has broken endless records in the process. Some call him run-machine, some call him a freak. Virat Kohli's hunger for runs never ceases to amaze people.
His excellence in cricket has resulted in garnering a huge fan following on social media. Virat Kohli is the most followed cricketer on Instagram. He keeps his fans updated and often shares snippets from his life.
Apart from smashing bowlers to all parts of the ground, Virat Kohli also has a very strong social media game. He is known to be one of the favourite choices for people on social media. The Indian skipper has always been praised for raising his fashion quotient.
On that note's here's a look at his presence on top three social media platforms:
Virat Kohli's Instgram Account
The most followed celebrity on Instagram is not any Bollywood star. It's the Indian Cricket Team skipper, Virat Kohli.
Virat Kohli is the most followed Indian celebrity and most followed cricketer in the world on Instagram. He has more than 65 million followers on Instagram. Behind him is Priyanka Chopra, who has 54.2 million followers.
Virat Kohli is the only cricketer to be featured in the world's top 10 highest earning sportspersons on Instagram. A list which is headed by Cristiano Ronaldo, Virat Kohli ranks at the sixth spot. In the current lockdown period, Virat Kohli is estimated to earn 3,79, 294 pounds. He earns 1,26,431 pound through one sponsored post.
Profile ID: https://www.instagram.com/virat.kohli/
Virat Kohli's Twitter Profile
One of the fittest athletes going around, Virat Kohli never stops to endorse fitness and motivate people to remain fit. He often posts his video where he could be seen doing different exercises.
He has 36.2 million followers on Twitter and is currently following 60 people.
Virat Kohli Facebook Account
As far as Virat Kohli's Facebook account is concerned, the Indian skipper has more than 42 million followers. He keeps his fans updated with regular posts on Facebook as well. During the current state of Covid-19, Virat Kohli is quite of a lot of time on social media and actively posting on social media platforms, be it Instagram or Facebook.
Profile ID: https://www.facebook.com/virat.kohli/
Social Media Controversies
One who often found himself in controversy on the field, Virat Kohli made one of the biggest controversies off the field, which resulted in a huge backlash from people across the country.
Told an Indian Cricket Fan to leave India: In November 2018, Virat Kohli became a subject of huge controversy when he told a cricket fan to leave India when he said that he is an over-rated batsman and likes to watch English and Australian batsman more than Indians.
While reading out all the messages, he read a message from someone which said, "Over-rated batsman and personally I see nothing special in his batting. I enjoy watching English and Australian batsmen more than these Indians."
The message didn't go down well with the skipper as he replied, "I don't think you should live in India, go and live somewhere else. Why are you living in our country and loving other countries? I don't mind you not liking me, but I don't think you should live in our country and like other things. Get your priorities right.:
Virat's response received a huge backlash, as he was criticized severely on social media.
1. Virat Kohli "I don't think you should live in India, go and live somewhere else. Why are you living in our country and loving other countries"
Virat Kohli "I don't think you should live in India, go and live somewhere else. Why are you living in our country and loving other countries" pic.twitter.com/YbPG97Auyn

— Saj Sadiq (@SajSadiqCricket) November 6, 2018
2. When he broke the BCCI rules: Virat Kohli and Anushka Sharma have been dating each other since 2013. During the early years of their relationship, the duo has often made headlines on social media. Moreover, Virat's out of form has even led to Anushka getting bashed a lot on social media as well. 
Virat Kohli and Anushka Sharma once found themselves in a controversy when they broke BCCI's rule. During a cricket match, Kohli and Anushka were seen together in pavilion despite knowing that no one is allowed to enter in the pavilion except the players and officials of BCCI.
3. The Virat Kohli-Anil Kumble Saga: This has to be the biggest controversy Virat Kohli put himself in, in his entire career so far.
Ahead of India's limited-overs tour to West Indies in 2017, the cricketing fraternity was left in shock as Anil Kumble stepped down as the head coach of the Indian Cricket Team.
The decision shed light on the ongoing rift between Virat Kohli and Anil Kumle and claims were made that Virat Kohli engineered Anil Kumble's exit as the head coach.
The CAC, comprising of Sourav Ganguly, Sachin Tendulkar, and VVS Laxman were willing to keep the former leg-spinner, but the different opinions between Virat and Anil Kumble led to the latter's exit. Virat Kohli suffered a huge backlash across quarters and faced severe criticism for his behavior.
Virat Kohli's Career Stats
Making his debut in 2008 against Sri Lanka, not many knew Virat Kohli will become one of the greatest batsmen in the world of the current era. The Delhi cricketer is currently leading the Indian Cricket Team and has broken records in international cricket. To know about Virat Kohli's overall cricketing stats and his journey from grinding in domestic cricket to becoming a world-class batsman. Click Here
Virat Kohli's Personal Life
Virat Kohli was born on 5th of November 1988 to his parents Prem Kohli a criminal lawyer, and Saroj Kohli a housewife, and the cricketer has two other older siblings in the family, Vikas, and Bhavna. He tied the knot with Anushka Sharma on 11th December 2017.
To know more about his personal life. Click Here