Best innings of Sunil Narine in IPL
When Kolkata Knight Riders spent USD 700,000 on Sunil Narine back in the 2012 auction, they knew what they are signing up for. Back then, Sunil Narine was branded as a mystery spinner, whose actions were very unique, which meant that almost all batters will have problems in deciphering him.
But what almost no one expected was that a few years down the line, he will be the first-choice opener of KKR. For the initial few years, Narine's job was solely to take wickets. He did an exceptional job with his mystery spin. But after he had to remodel his action, much of his sheen was lost.
That's when KKR explored another facade of him – opening. So far, it was worked out brilliantly. Playing the role of a pinch-hitter, he has played some great knocks.
Best innings of Sunil Narine in IPL
Let us have a look at five of Best Batting Performance of Sunil Narine in IPL:
5. 47 (25) vs Rajasthan Royals
Narine was promoted to the opening in 2017, and for the first two seasons, it worked miracles. Last year, however, he struggled a lot. Having said that, Narine still managed to deliver some great knocks in 2019, like this one against Rajasthan Royals.
Batting first at the Sawai Mansingh Stadium, Royals scored only 139 runs. The very little hope they had of pulling off a win was squandered by Sunil Narine as the Caribbean started off on a great note. He scored 47 runs from just 25 balls, which included three sixes, and twice as many fours. By the time he was dismissed, KKR had already crossed the 90-run mark inside 9 overs.
Also Read: Top 5 Innings of Ravindra Jadeja
4. 42 (17) vs Gujarat Lions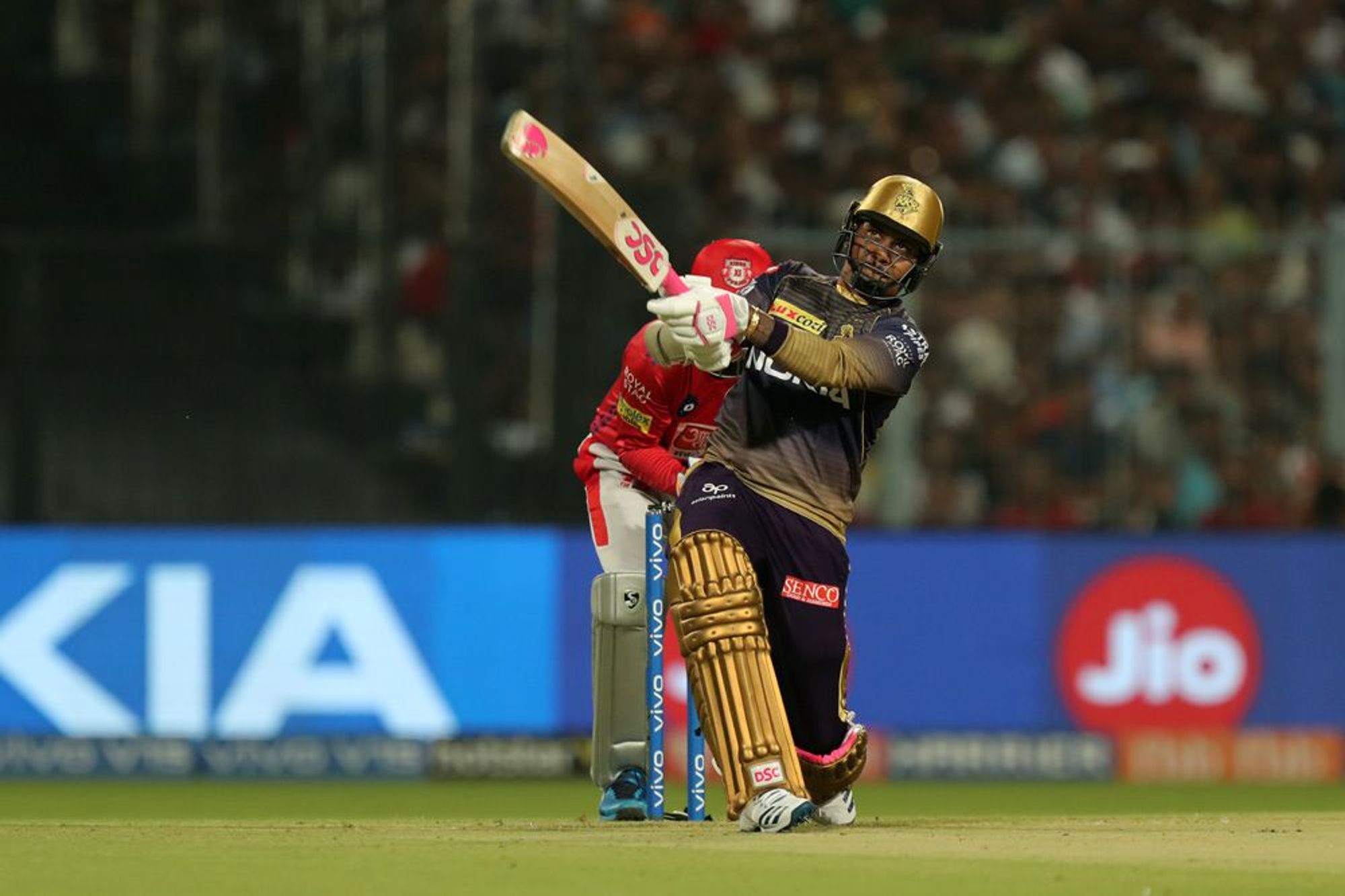 Best innings of Sunil Narine in IPL: 2017 season was the first time when KKR tweaked with their highly successful opening pair of Robin Uthappa and Gautam Gambhir, to make way for Sunil Narine. Given the efficiency of the Gambhir-Uthappa duo, had it not been for knocks such as this one against Gujarat Lions, Narine wouldn't have lasted long in the opening slot.
In this match at the Eden Gardens, KKR batted first and Narine gave them a great start. He scored 42 runs from just 17 deliveries. What is really fascinating about this knock is that the all-rounder did not have to run a single as all of the 42 came from fours and sixes.
Also Read: Top 5 Innings of Rishab Pant
3. 50 (19) vs Royal Challengers Bangalore
While the 2017 season was impressive for Narine in terms of his batting, it was only in 2018 that he completely cemented his place in that seat. He scored 357 runs in this season, at an average of over 22. He was on form from the very first match, which happened to be against Royal Challengers Bangalore.
Virat Kohli's side batted first and scored 176 runs. In this run chase, KKR lost Chris Lynn in the second over. But then Narine started his carnage, and it lasted till the sixth over. He scored 50 runs from just 19 balls, and once again, all of it came exclusively from fours and sixes. His innings helped KKR lay a solid foundation, which eventually helped them chase the target down.
Also Read: Top 5 Innings of Shikhar Dhawan
2. 54 (17) vs Royal Challengers Bangalore
Best Batting Performance of Sunil Narine in IPL: His 2018 half-century against RCB was not his first fifty in IPL. In fact, his first half-century came a year earlier, against the very same opponent. This match was played at the M. Chinnaswamy Stadium, where Bangalore scored only 158 runs after batting first.
Unlike the previous mention, both Chris Lynn and Sunil Narine were in sublime form. They helped KKR cross the 100-run mark inside just 6 overs. Narine scored 54 runs from 17 deliveries. What was different this time was the fact that not all of it, but 50 of his 54 runs came from boundaries.
Also Read: Top 5 Innings of Andre Russell
1. 75 (36) vs Kings XI Punjab
Sunil Narine's best-ever knock in IPL came when Kings XI Punjab hosted Kolkata Knight Riders at the Holkar Cricket Stadium in Indore. Once again, both Chris
Best innings of Sunil Narine in IPLLynn and Sunil Narine were in sublime form. After Lynn's dismissal, Robin Uthappa gave Narine worthy company.
With impressive contributions from Lynn and Uthappa, Narine managed to help KKR cross the 120-run mark in just 11 overs. He scored 75 runs from just 36 deliveries. His innings contained a staggering amount of fours – 9, and also four sixes. This match was also special because another fellow spinner-cum-pinch-hitter in Ravichandran Ashwin played a blinder of a knock for KXIP. He scored 45 runs from 22 balls which helped KXIP amass 214 runs in the run chase, but Narine's knock helped KKR score a gargantuan 245.
Also Read: Top 5 Innings of Ben Stokes