Bengal Warriors beat Puneri Paltan: Maninder Singh inspired Bengal Warriors outclassed Puneri Paltan to hand them their fourth loss on the trot. Bengal Warriors dominated the Paltan and went on to win the game 43-23, on Monday, at the NSCI Indoor Stadium, Mumbai. Rinku Narwal and Esmaeil Nabibakhsh were the other key men in the victory.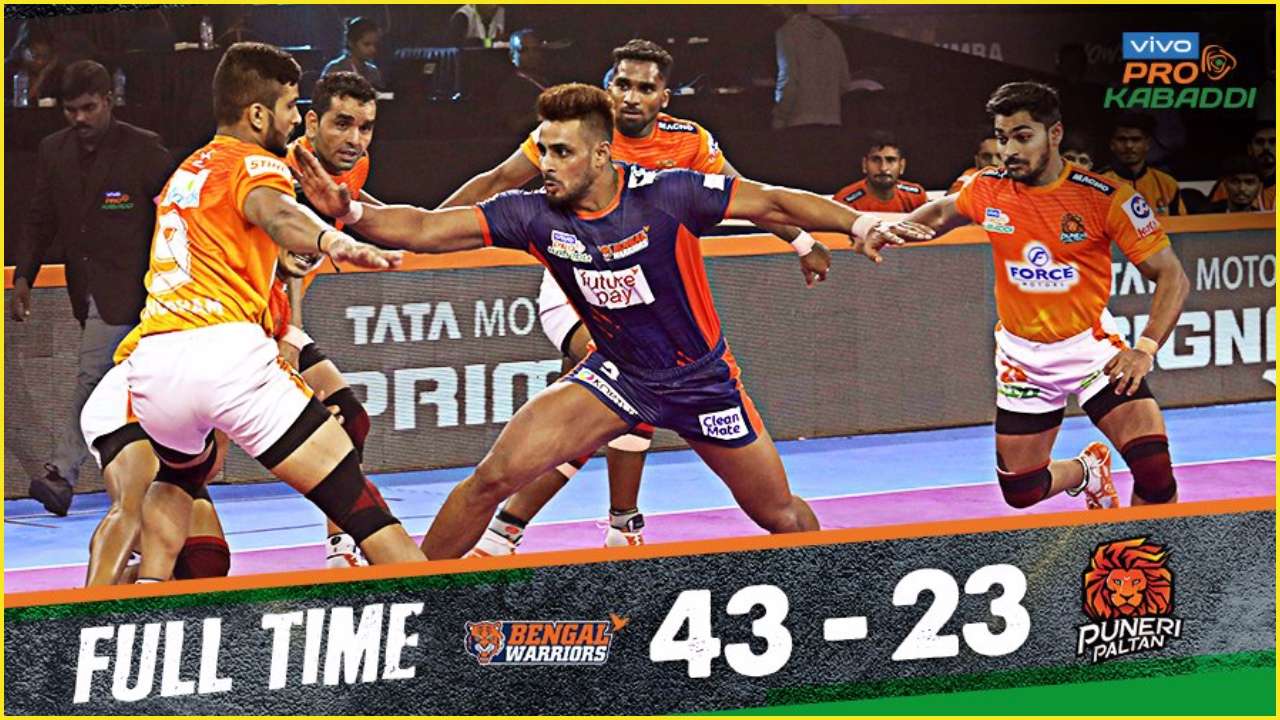 Bengal Warriors started brightly, and as early as the 8th minute, handed Puneri Paltan their first all out of the game, going 11-4 up in the game. Maninder and Nabibakhsh were brilliant and toyed with the Puneri Paltan defence, with Maninder even claiming a Super Raid, sending 3 Puneri Paltan players off the mat.
Manjeet's tackle and Pankaj Mohite's raid then got Puneri Paltan closer to the Bengal Warriors' tally, however, Maninder had other ideas as the Warriors captain got another super raid to extend Warriors' lead to 9 points now.
Girish Ernak then got only his second tackle point of the season as he super tackled Esmaeil Nabibakhsh to give Puneri Paltan some hope, but Rinku Narwal denied any such hopes as he pulled off two successful tackles on Manjeet and Pawan Kumar Kadian, to get Bengal's lead back at 9 points with the score at half-time up to 18-9.
The second half began in a similar fashion as the first, albeit quicker, as Bengal Warriors inflicted another all out on the Puneri Paltan, courtesy of Maninder who got a Super 10, to extend their lead to 13 points.
Puneri Paltan seemed down and out, and Nabibakhsh added salt to the wounds with the third super raid of the match, resulting in the third all out for a hapless Puneri Paltan side.
The only positive for Puneri Paltan came in the form of Pankaj Mohite, who raided well, making three successful raids in succession to reduce Bengal Warriors to three men. But soon, he was also super tackled by Baldev, opening a 20-point lead for the Warriors as they emerged victorious with a scoreline of 43-23.
Starting Sevens
Bengal Warriors: Maninder Singh, Rinku Narwal, Baldev Singh, Jeeva Kumar, Esmaeil Nabibakhsh, Viraj Langde, K Prapanjan
Puneri Paltan: Girish Ernak, Surjeet Singh, Shubham Shinde, Manjeet, Sushant Sail, Sanket Sawant, Pawan Kadian
Top Performers:
Bengal Warriors –
Best Raider – Maninder Singh (14 Raid Points)
Best Defender – Rinku Narwal (5 Tackle Points)
Puneri Paltan–
Best Raider – Pankaj Mohite (6 Raid Points)
Best Defender – Girish Maruti Ernak (3 Tackle Points)