It is a known fact that some of the sportsmen prefer to marry a fellow sportsman because of various reasons. It has a different set of advantages and helps them to understand each other for a long span of time. Ayesha Mukherjee is one of the lucky ladies both for herself and her husband. Ayesha Mukherjee married Shikhar Dhawan in the year 2012 and has a kid and a happy family.
Ayesha Mukherjee is a successful kickboxer and has a reputation for playing in both national and international levels. Mukherjee is raised as a strong individual with the help of her parents. Shikhar Dhawan and Ayesha Mukherjee met over the internet and built their friendship. Over a period of time, friendship turned into love and Shikhar was set to marry Ayesha in the year 2012.
Ayesha Mukherjee had a successful career in kickboxing and she has a reputation of visiting the gym every day. She was not accepted by Shikar's parents initially because of various elements, but they eventually had their consent for the marriage. Ayesha is 10 years older than Shikhar and has 2 kids from her first husband. This factor did not affect the cricketer in marrying his love.
Ayesha Mukherjee Personal Life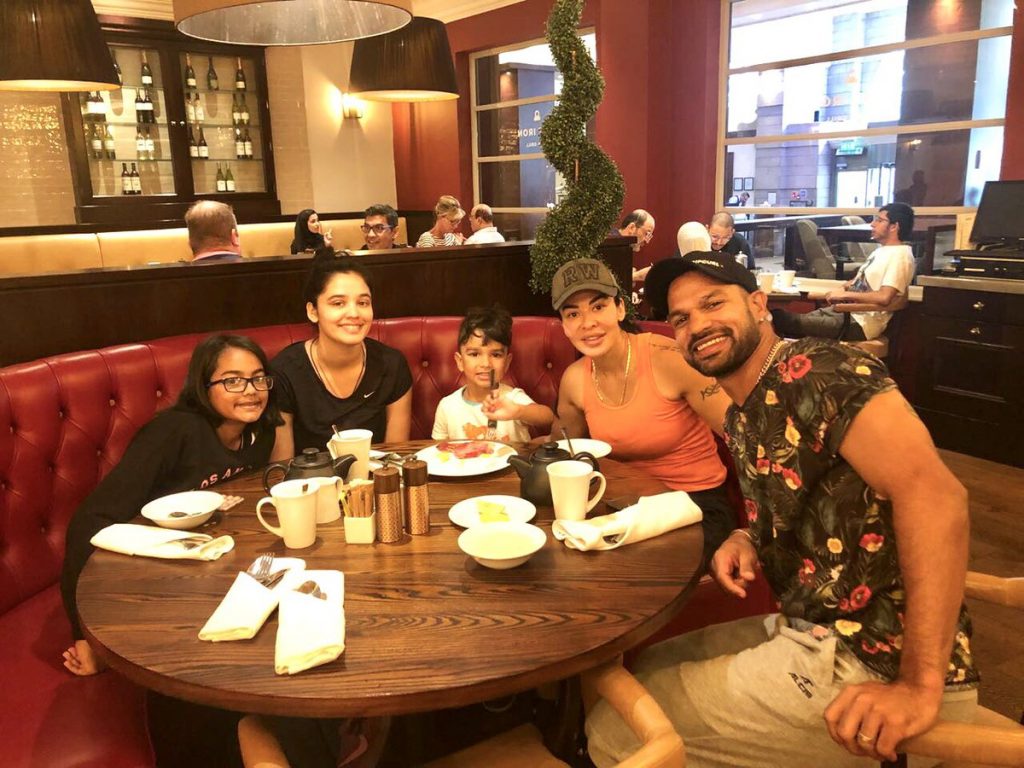 Ayesha Mukherjee is born to an Indian father and English mother and hence, she has an Anglo Indian appearance. It is said that she grew in both India and abroad, which has made her take up sports without restrictions. Ayesha was well encouraged in her school times, which turned out to be a huge aspect for her to become a successful kickboxer.
Ayesha Mukherjee took most of her coaching's in Australia because that is where she spent a lot of time during childhood. She had enough motivation to pursue any sport from the family, which played a vital role to hit gym and practice on a daily basis. She took professional training in kickboxing in Australia and an absolute fan of various sports. This helped her hit the gym everyday without miss.
Ayesha Mukherjee married an Australian businessman initially, with whom; she had 2 kids before marrying Shikhar Dhawan. It was not a good journey for Ayesha after taking divorce, but she had the responsibility to raise 2 kids.
Love with Shikhar Dhawan
She was earlier introduced by Harbhajan Singh to Shikhar Dhawan n a party. The introduction grows into friendship and the same continued to love and romance. Shikhar was in love but had a restriction from society. As Ayesha Mukherjee was already married and had 2 kids with her first husband, it is evident that Shikhar had to face issues both in society and family.
Shikhar found Ayesha's profile in the year 2009 on a social media platform and was stunned because of her looks and dedication towards physical activities. Dhawan soon sent a friendship request, which was quickly accepted by Ayesha. They started having long conversations on a daily basis grew their friendship to love and was all set to tie the knot.
Shikhar insisted Ayesha wait for some time because he wanted to establish himself as a cricketer before getting married. Shikhar had to face a lot of resistance from the family because of various factors involved with Ayesha. As Ayesha was 10 years older than Shikhar and had two kids from her husband, Shikhar family was not happy initially. It was Shikhar, who managed to convince his family to get married and lead a happy life.
Ayesha made sure that Shikhar and her 2 kids were on the same ground because it could affect the future family. Shikhar is known to have a cool attitude for a long time in both on-field and off-field activities. Ayesha did not have a hard time knowing that Shikhar is a well-going individual, who is ready to accept anything for her.
The couple got married in 2012 and has a kid along with 2 kids from Ayesha's ex-husband. Shikhar is said to be only 15 years older than his elder step-daughter.
Ayesha Mukherjee Wedding with Shikhar Dhawan
Ayesha Mukherjee and Shikhar Dhawan had a traditional Sikh wedding ceremony in 2012, which was a big event then. Shikhar Dhawan was in a good form and had gained a lot of fans across the world for his performance. Most of the celebrities were seen dancing in the wedding baraat, which says that every teammate is happy for his marriage.
The couple has a kid named Zoravar Dhawan. Ayesha Mukherjee delivers a baby boy in 2014, which started a new phase of her life. The couple totally has 3 kids, who love their father like any other kid in the world.
Support to Shikhar Dhawan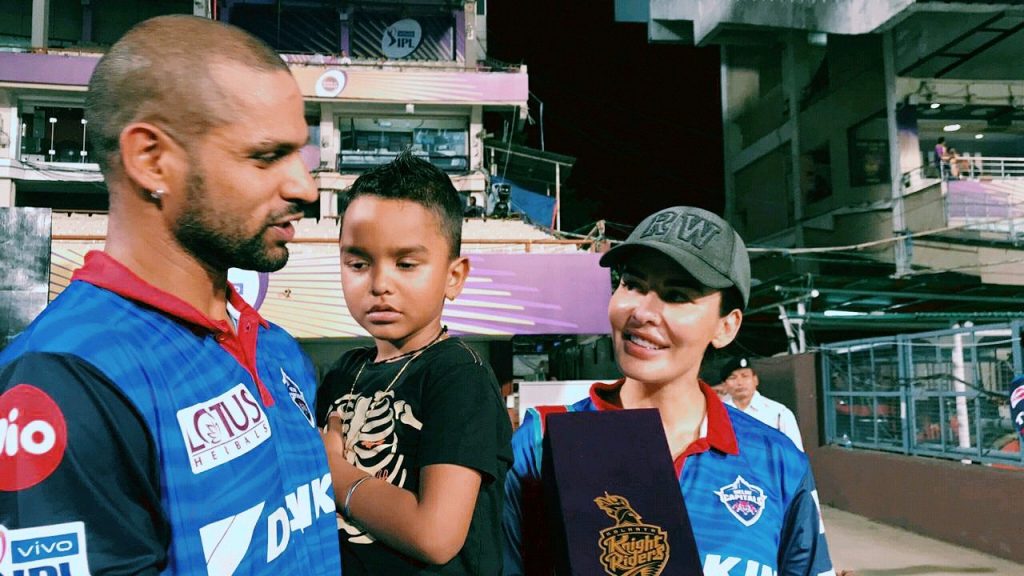 It is a known fact that Ayesha Mukherjee is not new to physical activities or sports. She has always supported her husband in both positive and negative times. Every cricketer goes through tough times in his career because of various reasons. It is necessary to have enough support from the family because it helps them to overcome depression in an easy way.
Mukherjee is a well-known kickboxer and has a business in Melbourne, which keeps her schedule busy for a long span of time. Mukherjee has to travel between India and Australia on a regular basis, but yet, she shows up during important matches to support her husband. Ayesha has been a wonderful woman for her husband because of her unmatched support as a gym freak.
Ayesha Mukherjee always stayed on the stands during his matches, which was enough for a cricketer to gain that extra motivation. The support that Shikhar Dhawan gets is unmatchable to any other individual because she hails from a similar background and she can imagine a hard time easily.
Shikhar Dhawan is an established cricketer, who has been playing effectively in both India and other countries. It is a known fact that Dhawan has improved his game and consistency after the wedding. The encouragement and support from his wife have always helped Shikhar to focus on the game from time to time.
Ayesha Mukherjee Net Worth
75 crore rupees as per the recent survey.
Also Check: