James Rodriguez is a Colombian professional footballer who plays as an attacking winger for the Colombia national team as well as Spanish club Real Madrid. He is known for his play-making skills and goal scorer techniques. James started playing football with his father who coached as well as encouraged him to pursue the sport professionally as his career. Starting his training very early in football he blossomed into a talented player just at the age of 15, when he was in his early teens.
He played his first professional match at the age of 15 for the club Envigado. After a successful carrier in his home country, he was signed by the Argentine team Banfield, for which he played his first match in 2009. He not only dazzled his teammates and the coaches but rivals also through his performances. For his national team, he gave a brilliant performance at the 2014 FIFA World Cup and claimed the Golden Boot, despite his team's elimination in the quarter-finals.
EARLY LIFE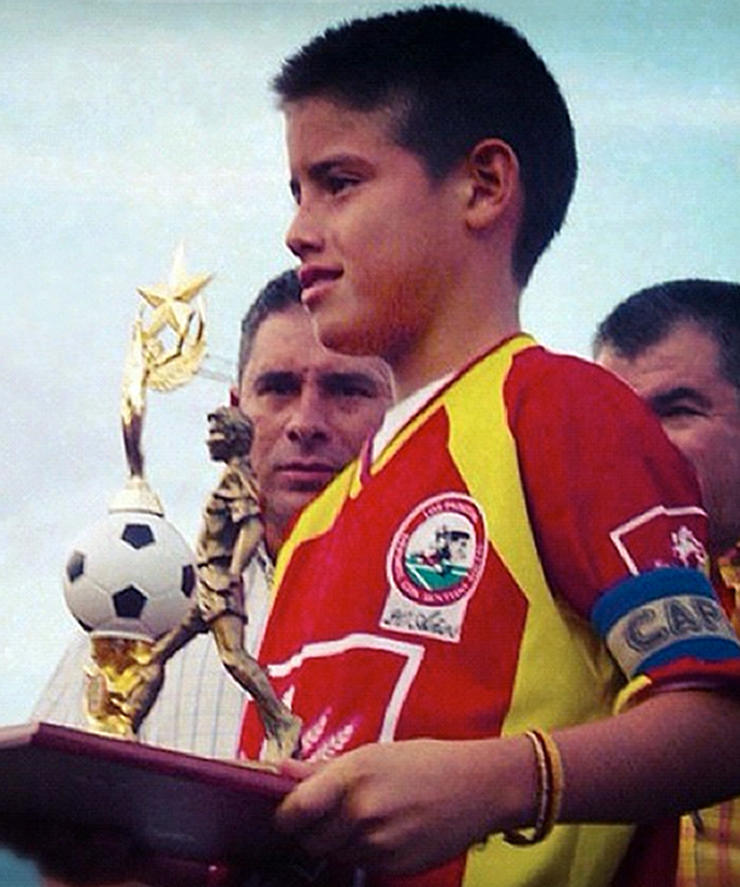 James Rodriguez was born on 12th July 1991 in Cucuta, Colombia to Wilson James Rodriguez Bedoya and Maria Del Pilar Rubio. He was a football player who had been the part of the 1985 U20 Colombian team, whose professional career sunk due to injuries and his addiction towards alcohol. James during his childhood used to play football with Academia Tolimense where he became a very skilled player till he hit his early teens. As a Child, James suffered from heavy stutter commonly known as Stammering. Knowing how it can affect their son's career, James's parents hired a speech therapist to improve his speaking skills. Unfortunately, the problem of his stammering continues, he is seen struggling in interviews due to his stammering problem.
PERSONAL LIFE
James married the sister of Daniela Ospina sister of David Ospina who is also a player of the Colombian national football team. Daniela is a volleyball player by profession. The couple married in 2011 and was blessed with a daughter named Salome. Currently, their relationship is facing a difficult phase, it is been announced that the couple is in the process of divorcing.
PROFESSIONAL LIFE
In 2006, James joined the Colombian second division club Envigado when he was in his mid-teens. Just after joining the club he achieved promotion in the first division within few months only upon the basis of his performance. After spending two years with the club James joined the Argentine club Banfield in 2008, Playing for the club he made his team debut on 2009 February, in the same month he netted his first goal against the Rosario Central in a 3-1 victory. Just at the age of 17 not only he became the youngest foreigner to score a goal in Argentina but he amazed his coaches, teammates as well as his rivals through his performances, by the end of the season he became the regular team player featuring in almost every game as well as he gained a huge fan following for himself at the same time.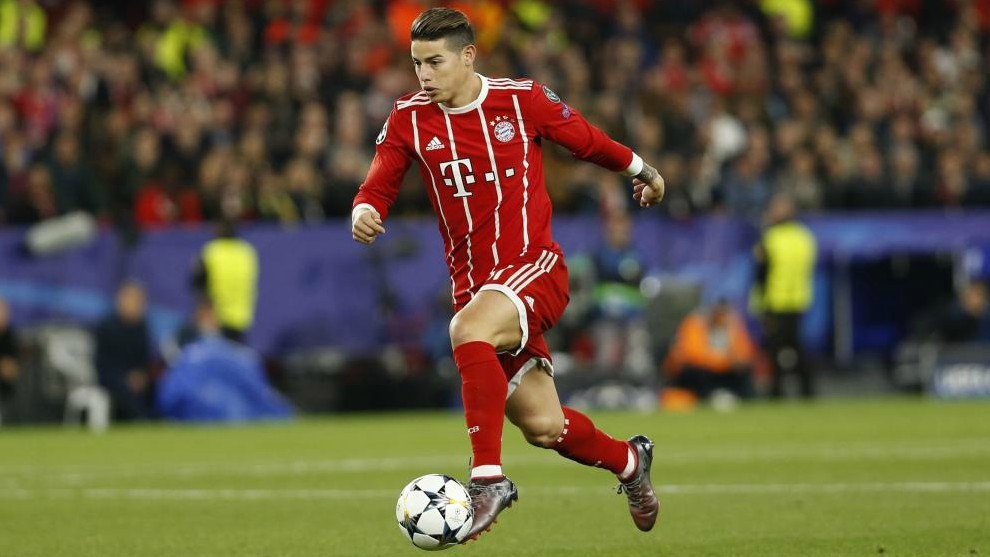 In 2010 he was signed by Portuguese club Porto for 5.1 million Euros, playing for the club James netted his first goal in European football against the Bulgarian club CSKA Sofia in a 3-1 home win. As a part of the club, James reached new heights of success during his 2011-12 season. He netted 14 goals for the club and assisted 11 goals. At the end of the season, he became the first Colombian player to win the LPDP Award for Breakthrough Player of the Year. In 2012-13 season he played a major role against the French club Paris Saint- Germain in a 1-0 win, he also assisted a goal while playing against the Estoril in a 2-1 win, he ended the season with decent numbers (13 goals and 15 assists in 32 appearances). In 2013 he joined the French side AS Monaco for a fee of 45 million, thus listing himself in one of the most expensive transfers in the football world. For Monaco, he debuted against Bordeaux in a 2-0 win.
Following his carrier, with the club, he played in some major matches which include a match against Saint-Etienne and Rennes were he registered his team victory. After his 2014 World Cup performance the Spanish giants Real Madrid signed him on a fee of 80 million Euros. As a Real Madrid player, he assisted his team to win 2014 FIFA Club World Cup and UEFA Super Cup. In 2015-16 he helped the club to conquer UEFA Champions League, in 2016-17 season with his support the club registered 2016-17 La Liga, 2016 FIFA Club World Cup, and the 2016-17 UEFA Champions League. On 11th July 2017, James was transferred to Bayern Munich on a two-year-long deal. The club pays 13 Million Euros to Real Madrid for hiring James on loan. Playing for the Club James brought the Bundesliga title two times in 2017-18 and 2018-19 respectively and the DFB-Pokal of 2018-19. James has been the part of his national team since the youth side, he had been the part of the national team which participated in the 2007 FIFA U-17 World Cup, U-20 World Cup, 2011 South American U-20 Championship and 2011 U-20 World Cup. Playing form the senior side James has been part of the 2014 World Cup, 2015 Copa America and Copa America Centenario as well as the 2018 World Cup. His most crucial contribution to the team was during 2016 Copa America where his team finished in third place.
| | |
| --- | --- |
| Clubs | Season |
| Envigado | 2007-08 |
| Banfield | 2008-10 |
| Porto | 2010-13 |
| Monaco | 2013-14 |
| Real Madrid | 2014-Current |
| Bayern Munich (loan) | 2017-19 |
HONORS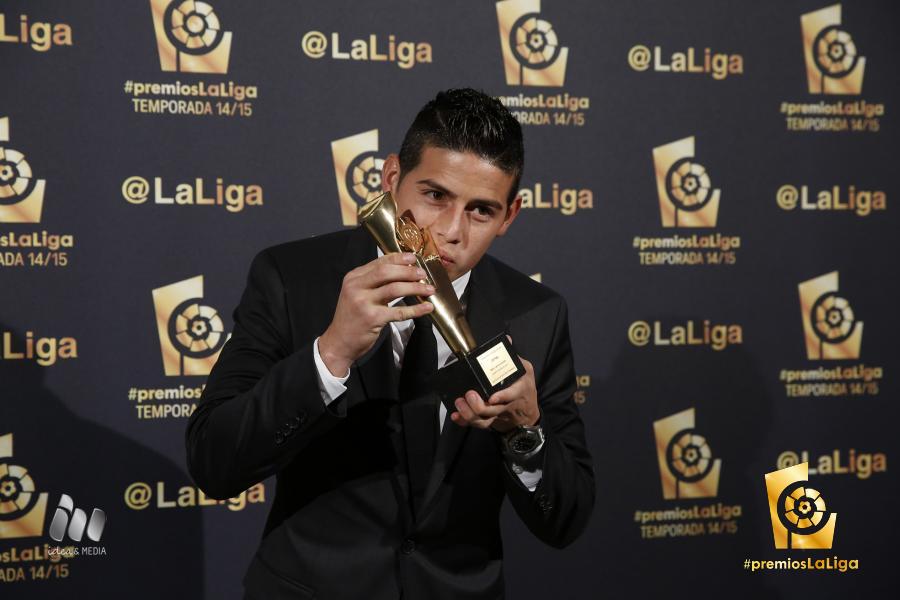 Envigado
Categoría Primera B: 2007
Banfield
Primera División Argentina: Apertura 2009
Porto
Primeira Liga: 2010–11, 2011–12, 2012–13

Taça de Portugal: 2010–11

Supertaça Cândido de Oliveira: 2012

UEFA Europa League: 2010–11
Real Madrid
La Liga: 2016–17

UEFA Champions League: 2015–16, 2016–17

UEFA Super Cup: 2014, 2016

FIFA Club World Cup: 2014, 2016
Bayern Munich
Bundesliga: 2017–18, 2018–19

DFB-Pokal: 2018–19

International Honors
Colombia
Copa Américathird place: 2016
ACHIEVEMENTS
FIFA U-20 World Cup top assist provider: 2011

Best Player Toulon Tournament: 2011

LPFP Primeira Liga Breakthrough Player of the Year: 2011–12

SJPF Player of the Month: August 2012, September 2012

Record Team of the Year: 2012

O Jogo Team of the Year: 2012, 2013

Portuguese Golden Ball: 2012

Ligue 1top assist provider: 2013–14

UNFP Ligue 1 Team of the Year: 2013–14

AS MonacoPlayer of the Year: 2013–14

Globe Revelation Player: 2014

FIFA World Cup Golden Boot: 2014

FIFA World Cup All-Star Team: 2014

FIFA World Cup Dream Team: 2014

FIFA World Cup Goal of the Tournament: 2014

FIFA Puskás Award: 2014

IFFHS World's Best PlaymakerBronze award: 2014

FIFPro World XI4th team: 2014, 2015

La Liga Team of the Season: 2014–15

La Liga Best Midfielder: 2014–15

UEFA Team of the Year: 2015

UEFA Champions League Squad of the Season: 2017–18

Bundesliga Team of the Season: 2017–18

Facebook FA La Liga Best Goal: 2016

Copa del Rey top assist provider: 2016–17

New species of coral named after him, Paragorgia Jamesi

Copa AméricaTeam of the Tournament: 2019
PHYSICAL MEASUREMENTS
Height: 5ft 11in
Weight: 75 kg
Eye color: Dark Brown
Hair color: Dark Brown
JAMES RODRIGUEZ PERSONAL DETAILS
Full Name: James David Rodriguez Rubio
Date of Birth: 12th July 1991
Place of Birth: Colombia
Playing Position: Attacking winger
Nickname: The Apollo
Education: Universidad Nacional Abierta y a Distancia
Relationship: Daniela Ospina
Kids: Salome Rodriguez
Hobbies: Listening to Music and Working out
JAMES RODRIGUEZ CONTROVERSY
After a picture being posted by James featuring him and country's former presidents, Alvaro Uribe and Andres Pastrana he was severely criticized  because of the tense situation in the South American country regarding the civil war and subsequently failed negotiations with the rebel FARC group, and the roles Uribe and Pastrana have had in being unable to obtain peace. There were also several messages on social media condemning the outcry, but many others targeted the national football team captain's silence on the situation.
NET WORTH
James Rodriguez' Net Worth is estimated to b 30 Million dollars.
SOCIAL MEDIA PROFILES
Facebook: https://www.facebook.com/10Jamesrodriguez/
Twitter: @jamesdrodriguez
Instagram: @jamesrodriguez10