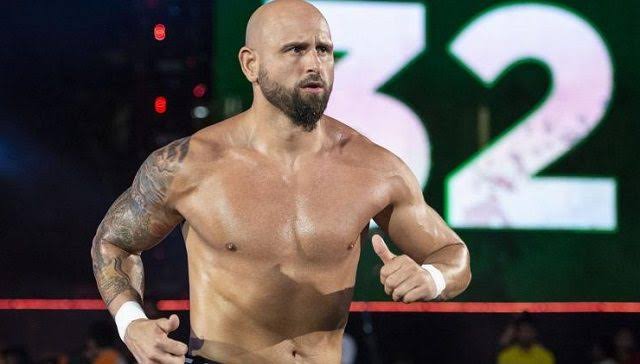 Chad Allegra, popularly known by his ring name Karl Anderson, is an American professional wrestler, currently working with World Wrestling Entertainment on the Raw brand. Allegra started his wrestling career in 2000 when he took the training from Les Thatcher. Allegra has been one of the toughest athletes in the WWE and is known for his hard work and dedication towards his profession. He has been gracing the wrestling industry for many years now and is one of the most loved figures in the industry.
Allegra has performed on several wrestling platforms in his career that include Northern Wrestling Federation (NWF), Pro Wrestling Guerilla, Ring of Honor, New Japan Pro Wrestling and many more.
Allegra known as Karl Anderson, has had several championships around his waist, but in WWE, he is a two-time WWE Raw Tag Team Champion with Luke Gallows and won WWE Tag Team World Cup (2019) with Luke Gallows.
He also held IWGP Tag Team Championship four times with Giant Bernard (1) and Doc Gallows (3). He was also EWF American Champion once, NWA World Tag Team Champion with Joey Ryan, NWA Heartland States Heavyweight Champion once, NWA British Commonwealth Heavyweight Champion once and many more.
EARLY LIFE
Chad Allegra was born on January 18, 1980 in Asheville, North Carolina, United States. Having a great interest in baseball, Allegra bagged a baseball scholarship to study at Mars Hill College. He decided to drop out of the college to pursue a career in wrestling.
PERSONAL LIFE
Allegra married to Christine Bui. They have four sons. The family resides in Cincinnati, Ohio.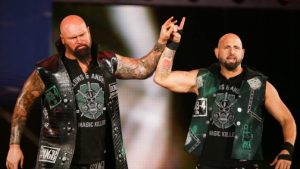 PROFESSIONAL LIFE
Allegra kicked off his professional wrestling career in 2000 by pursuing his training from Les Thatcher. In the early stages in his career, he had matches with Prince Justice, Jimmy Valiant, Chris Harris, Shark Boy, and Jerry Lawler. He then began his career in the NWF as a member of the Young Lons.
Next, while wrestling on the West Coast, Karl got renamed the Machine Gun. He was also making his way into the Anderson wrestling family and soon enough, he took the family logo as his new finishing move. During his tenure with NWF, he won the NWA British Commonwealth Championship, however lost to Alex Kozlov.
From 2007 to 2009, Anderson was a part of Pro Wrestling Guerilla. He also wrestled for Ring of Honor (ROH) in 2007. After not appearing for ROH in over five years, Anderson returned to the promotion in 2013, defeating Roderick Strong. In 2008, he formed a tag team with Giant Bernard as 'Bad Intentions'. and later won IWGP Tag Team Championship. Anderson also the same titles with Gallows thrice as the tag team named as Bullet Club.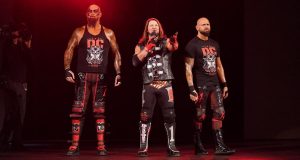 Anderson made his WWE main roster debut in 2016 with Gallows and held WWE Raw Tag Team Championship twice with Luke Gallows. He had also won WWE Tag Team World Cup (2019) with Luke Gallows. Anderson and Gallows are currently in a team with AJ Styles as The O.C., which means "Original Club".
Anderson made his video game debut in WWE 2K17 and then appeared in WWE 2K18 and WWE 2K19 as a playable character.
HONORS
Ranked 64 of the top 500 singles wrestlers in the PWI 500 in 2012
ACHIEVEMENTS
Anderson is a one-time EWF American Champion
Anderson is a one-time NWA World Tag Team Champion with Joey Ryan
Anderson is a one-time NWA Heartland States Heavyweight Champion
Anderson is a one-time NWA British Commonwealth Heavyweight Champion
Anderson is a four-time IWGP Tag Team Champion with Giant Bernard (1) and Doc Gallows (3)
Anderson won G1 Tag League (2009) with Giant Bernard
Anderson won World Tag League (2012) with Hirooki Goto
Anderson won World Tag League (2013) with Doc Gallows
Anderson won Best Tag Team Award (2011) with Giant Bernard
Anderson won Outstanding Performance Award (2012)
Anderson is a two-time NWF Heavyweight Champion
Anderson is a one-time GHC Tag Team Champion with Giant Bernard
Anderson is a one-time Stampede British Commonwealth Heavyweight Champion
Anderson won Tag Team of the Year (2011) with Giant Bernard
Anderson is a two-time WWE Raw Tag Team Champion with Luke Gallows
Anderson won WWE Tag Team World Cup (2019) with Luke Gallows
PHYSICAL MEASUREMENTS
HEIGHT: 184 cm
WEIGHT: 98 kg = 215lbs
EYE COLOR: Dark Brown
HAIR COLOR: Bald
PERSONAL INFORMATION
Full Name: Chad Allegra
Age: 39 years
Date of Birth: January 18, 1980
Hometown: Asheville, North Carolina, United States
Zodiac: Capricorn
Religion: American
EDUCATION:
School: Mars Hill College
FAVORITE CELEBRITIES
Favorite wrestler: Shawn Michaels & Kane
Favorite actor: Tom Cruise
Favorite actress: Angelina Jolie
Hobbies: Wrestling, gymming, partying, watching movies
Favorite Food: Fast foods, Italian Recipes, Chinese
Dream Holiday Destination: California
Favorite Color: Black and Red
NET WORTH
$1 Million estimated
CONTROVERSY
Not having a controversial career until now
SOCIAL MEDIA PROFILES
Facebook: https://www.facebook.com/WWEKarlAnderson/
Twitter: https://twitter.com/KarlAndersonWWE
Instagram: @karlandersonwwe