Most Eye-Catching Tattoos in Sport: Tattoos have always been co-related to the style and persona of an Individual and most of the time, they have been quoted amongst the various Style Quotients which defines the life and perception of a person around. Moreover, we generally find around a number of Celebrities from the Showbiz industry or Sports donning a number of eye-catching tattoos around different parts of their bodies and these come as one of the factors which adds a lot more flavour to their overall Personality.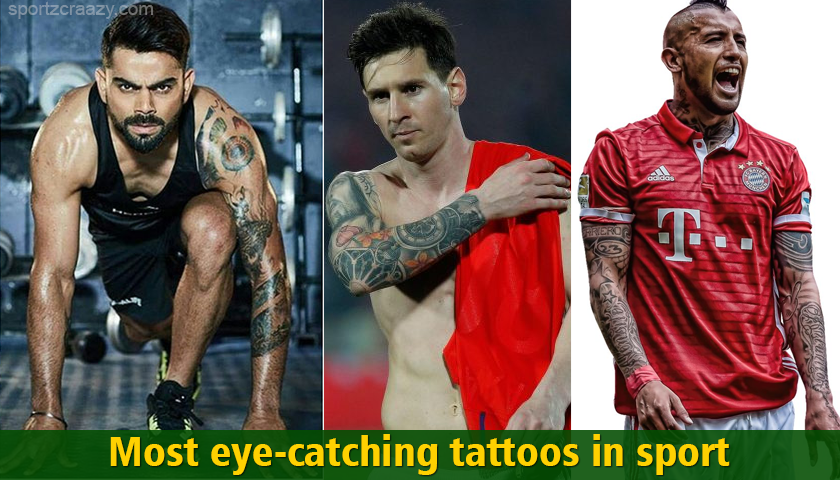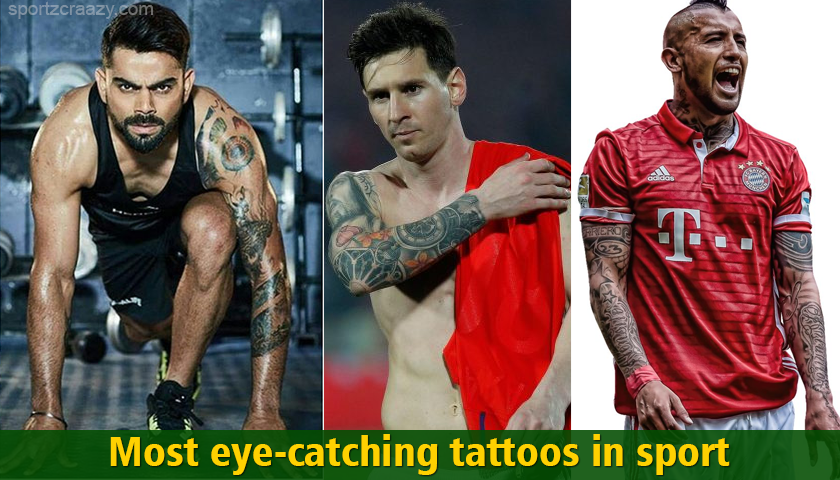 So while we had discussed a lot about Tattoos and their impacts on the Persona of Different people around the world, let's take a look at the famous Sportsperson with the most eye-catching Tattoos around.
David Beckham can certainly be quoted as a person who started this trend of Donning different styles of Tattoos in the World of Sports. While this legendary Player has a dream career in Football while playing for England and Manchester United club, he made his first Tattoo in 1999 to mark the birth of his first child Brooklyn.
He was the first Sportsperson who started this trend as a Style statement and even at this age of 42, he already has more than 40 Tattoos around his body.
Zlatan Ibrahimovic (Football)
If there's any Footballer who has got himself inked in almost every body part, its Zlatan Ibrahimovic. This Swedish legend and former Manchester United player seems like having a Love affair with the Tattoos and he once removed his shirt to unveil his upper body full of Tattoos while playing for his former team Paris Saint Germain.
Moreover, while being asked about those Tattoos, he said that there were almost 15 removable tattoos on his body which denoted the real names of people who are suffering from Hunger.
LeBron James (BasketBall)
All those People who follow Basketball must be aware of Lebron James. This World's most famous NBA player is not only famous for his Big scoring abilities during crucial junctures for his team, but also got a ton of Tattoos on his body showcasing different objects and Symbols.
Quite Interestingly, he got himself inked on the back as "Chosen 1" after he was selected for the cover story for the Sports illustrated even while still being in High school.
Bethanie Mattek-Sands (Tennis)
Bethanie Mattek is one of those few Tennis players, who have shown their love for Tattoos in Full Throttle. She has got a Tattoo showcasing a big Flowery design featuring a lot of Honeybees and the Tattoo is placed inside of her right arm.
While she is making every amazed with his game on the Tennis court, she comes as a definite threat to eyes for all those Tattoo lovers as well.
Lionel Messi (Football)
Arguably the best Football player in the History of the game, Lionel Messi can generally be seen around moving across his opponents like a magician and scoring all those lovely goals in the process. Still, this legendary player has much more to him apart from Football and his list of Tattoos on his left leg is something which is making a lot of headlines around the world.
One of his Famous tattoos showcases his " No 10" and two hands adjacent to his son's name " Thiago".
Conor McGregor (UFC)
It seems like this famous UFC star got a regular love affair with Tattoos and he has come up with some bigger ones in the past few months. One of his most stylish tattoos comes around his Abdomen and his left forearm along with a silverback Gorilla wearing a crown on his Chest.
Although Conor didn't have many Tattoos on his body in his Initial years in the game, he has donned some bigger ones in the past year and a half for sure.
Stan Wawrinka (Tennis)
Tattoos and Tennis has started looking like an everlasting Relationship as we got one more Swiss Tennis player Stan Wawrinka in the list with one of the most eye-catching Tattoos in Sports. Quite interestingly, he has inked the words by former Irish poet Samuel Beckett which quotes," Ever Tried. Ever Failed. No matter. Try Again. Fail again. Fail Better ".
Karolina Pliskova (Tennis)
There we go with one more tennis player on our list and this time we have the stylish Tennis Diva from Czech Republic, Karolina Pliskova. Karolina hs got some really Polynesian style Tattoos on her left thigh and left arm respectively.
She has said to be donning those Tattoos for her and her sister Kristina and thinking of getting another one very soon.
Dani Alves
Dani Alves can certainly be considered as one of the most sought after Footballers in the world of Sports and his arms full of a number of Tattoos also sums up his stylish personality in the same manner. This Former Barcelona player is said to be donning most of the Tattoos with some Catholic images and many others in love towards his family and Friends.
He got another one on his Chest dedicated to his Son styled in a big, Innovative script all around.
Inika McPherson (High Jump)
While most of the people around used to think of Inika as a talented and skilled High jumper for her country, she has come up as a surprise in this year's World athletics championship in London after she was seen donning a number of Tattoos across her body. Moreover, she has said to be having almost 30 Tattoos on her 5 feet 4 inches body.
Arturo Vidal (Football)
How could it be possible that we are talking about Tattoos and can miss the Chilean Midfield ace, Arturo Vidal. The Current Barcelona players have always been famous for his stylish Mohawk hairdo along with a number of Tattoos on his body all around. Quite recently he has inked himself with an image of an Insulin pump in order to dedicate the same to his son who is suffering from Type 1 Diabetes.
Carmelo Anthony (Basketball)
Carmelo Anthony is one of those names in the Basketball fraternity which are equally famous for their Style statements on and off the arena. He currently dons a number of Tattoos on his arm and almost covered his full sleeves with the same in the process.
On the other hand, his right arm showcases a Basketball full of flames along with his Initials which more or less confirms about his commitment and dedication towards the sport.
Also Check :