"You can overcome anything. If and only if you love something enough" says the Argentine professional footballer Lionel Messi, who plays forward and is the caption of The Argentina national Team and the Spanish Club Barcelona.
Without a doubt, one can claim that he is one of the greatest all-time players in the world. He is the only player to have won five FIFA Ballon d'Or, as well as the first player who won the three European Golden Shoes. In his carrier, he had broken many world records and still today holds the record for netting the most number of goals at the La Liga season, Calendar Year, Single season and Champions League matches.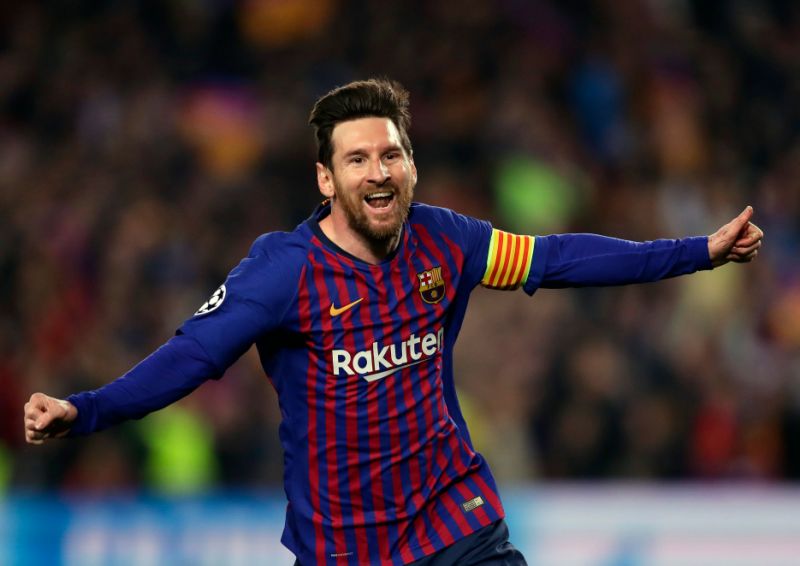 Messi was born in a football-loving family in central Argentina, he developed a passion for football at a very early age. He as a young boy joined the youth team of Newell's Old Boys and began Playing for the FC Barcelona's under-14 team at the age of 13.
Messi in no time established his position as one of the vital cogs in the Club. Messi has spent his entire professional carrier with Barcelona for whom he had brought 34 major trophies which include 10 La Liga titles, 4 UEFA Champions League titles, six Copas del Rey and many more. The list for Lionel Messi's awards and records are boundless, but some of the honorable mentions include netting most number of Hat-tricks in UEFA Champions League, winning La Liga Best Player for as many as 8 times and La Liga Best Forward award for 9 times.
For his national team Messi has always been the all-time leading goal scorer. He had played a crucial role for the Argentine national team in either lifting or reaching at the finals in some of the major international tournaments like of 2005 FIFA World Youth Championship, 2007 Copa America 2014 FIFA World Cup, 2015 and 2016 Copa America. Owing to his outstanding performance in the sport of football, he has received many awards like Golden Boot, Golden shoe, an Olympic gold medal to name a few. He is currently the world's highest-paid athlete by Forbes in 2019.
EARLY LIFE: 
Lionel Messi was born on 24th June 1987, in Rosario, Santa Fe Province to Jorge and Celia Cuccittini. He has three siblings, including two elder brothers. His father worked in a steel factory while his mother worked as a part-time cleaner.
Messi has a passion for football since his childhood. He at the age of five joined a local club Grandoli. Messi learned all the basics of football over there following which he joined Newell's Old Boys at the age of 8. The club lost just one match in entire four years, which also gave the group a new name that was "The Machine of 87". Despite Messi's unbeatable gameplay, not a single club was willing to take care of the expenses of his growth hormone deficiency.
At that time when not a single local club came forward to pay him for his treatment, the sporting director of FC Barcelona Carles Rexach came to his aid, promising him to offer help for his treatment but under one condition, i.e, to move to Spain. Messi accepted the condition and thus was enrolled at the Barcelona's youth academy.
PERSONAL LIFE: 
Messi married his childhood love whom he met when just was just 5 years old. The couple tied the knot in the year 2017. The couple is blessed with three sons named Thiago, Mateo, and Ciro. Messi got a tattoo of his mother's name Celia. Messi's father has been his agent since he started playing football. He had opened a foundation upon his name and also is UNICEF goodwill Ambassador since 2010.
PROFESSIONAL LIFE
Messi's carrier as a professional football player accelerated in the year 2000. When he was playing under the Junior system ranks where he soon became the only player to play for five different teams, on the basis of his performances he made his league debut on October 16, 2004, against the RCD Espanyol, at such a young age he created history through netting a goal on 1st May, 2005 against Albacete to became the youngest player ever to score in a La Liga game for Barcelona.
Messi played his first Champions League against the Italian Club Udinese as a substitute. His chemistry with Ronaldinho in that very game was very hugely lauded. He appeared in 17 matches, netting as many as six goals. He later became a mainstay in the side.
In 2007 Messi netted his 100th goal while playing for Barcelona. In the year 2009, he not only won his first Copa del Rey but, also helped his team win the La Liga and Champions League. With three victories in hand in a single year, Barcelona became the first-ever Spanish Club to win the treble. At the end of the season he netted a couple of hat-tricks also, he ended the season with overall 38 goals and assisted 18 goals. Barcelona also won the 2009 Club World Cup for the sixth time. In 2010 at the Copa del Rey finals Barcelona faced the Real Madrid. Barcelona though lost the match but Messi became the top goal scorer of the tournament along with Cristiano Ronaldo with 7 goals.
In the 2010-11 season, Barcelona won the Champions League by defeating Real Madrid by 2-0 in the Semi-final with Messi netting both the goals. In the final Messi again netted the winning goal, making Barcelona win their third title in six years.
Till the end of the season, Messi assisted 53 goals and assisted 24 goals.
In the 2011-12 season, Messi starting breaking records after records, he surpassed Laszlo Kubala's 194 goals in all official competitions. He became the leading goal scorer for Barcelona in all official competitions by surpassing Cesar Rodriguez. During this season Messi netted five goals in a match against Bayer Leverkusen to become the first player who did so in a UEFA Champions League match.
Things went the same way in the coming years for Messi until he met with an injury- a career-threatening one. However, Messi bounced back in 2014. In 2014-15 he broke three longstanding records and ended the season with a hat-trick against Seville in November that made him the all-time top scorer in La Liga.
In 2016 he netted his 300th league goal in a 1-3 win against Sporting Gijon, while on 17th April 2016 he netted his 500th senior carrier goal for the club against Valencia.
After losing a match against Chile in the final of Copa de America Centenario on 26th June 2016 he announces his retirement from international football, but following his announcement his fans launched a campaign "Don't go, Leo", even the President of Argentina Mauricio Macri urged Messi not to quit. The campaign continued in the streets and avenues of the Argentina Capital with around 5000 supporters protesting. As a result, Messi reversed his decision to retire and joined his national team again. He became a part of the 2018 FIFA World Cup but his team got eliminated at the 16th round to France. Following which again speculations were made that he will retire again but in March 2019 he was a part of the national team for a friendly match against Venezuela and Morocco.
| | |
| --- | --- |
| CLUB | Season |
| BARCELONA C | 2003-04 |
| BARCELONA B | 2003-05 |
| BARCELONA | 2004-20 |
HONOURS: 
BARCELONA
La Liga: 2004–05, 2005–06, 2008–09, 2009–10, 2010–11, 2012–13, 2014–15, 2015–16, 2017–18, 2018–19
Copa del Rey: 2008–09, 2011–12, 2014–15, 2015–16, 2016–17, 2017–18
Supercopa de España: 2005, 2006, 2009, 2010, 2011, 2013, 2016, 2018
UEFA Champions League: 2005–06, 2008–09, 2010–11, 2014–15
UEFA Super Cup: 2009, 2011, 2015
FIFA Club World Cup: 2009, 2011, 2015
INTERNATIONAL HONOURS
Argentina
Summer Olympics Gold Medal: 2008
Youth
FIFA U-20 World Cup: 2005
ACHIEVEMENTS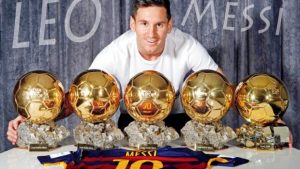 FIFA Ballon d'Or/Ballon d'Or: 2009, 2010, 2011, 2012, 2015
European Golden Shoe: 2009–10, 2011–12, 2012–13, 2016–17, 2017–18, 2018–19
FIFA World Player of the Year: 2009
FIFA World Cup Golden Ball: 2014
Copa AméricaGolden Ball: 2015
UEFA Men's Player of the Year Award: 2011, 2015
UEFA Club Footballer of the Year: 2009
UEFA Club Forward of the Year: 2009, 2019
La Liga Best Player: 2008–09, 2009–10, 2010–11, 2011–12, 2012–13, 2014–15, 2017–18, 2018–19
La Liga Best Forward: 2008–09, 2009–10, 2010–11, 2011–12, 2012–13, 2014–15, 2015–16
FIFA Club World Cup Golden Ball: 2009, 2011
Pichichi Trophy: 2009–10, 2011–12, 2012–13, 2016–17, 2017–18, 2018–19
FIFA Club World Cup Silver Ball: 2015
FIFA Club World Cup Final Most Valuable Player: 2009, 2011
FIFA World Youth Championship Golden Ball: 2005
FIFA World Youth Championship Golden Shoe: 2005
Olimpia de Plata (Argentine Footballer of the Year): 2005, 2007, 2008, 2009, 2010, 2011, 2012, 2013, 2015, 2016, 2017
Copa América Best Young Player: 2007
FIFPro Young World Player of the Year: 2006, 2007, 2008
Golden Boy (Young European Footballer of the Year): 2005
FIFA FIFPro World XI: 2007, 2008, 2009, 2010, 2011, 2012, 2013, 2014, 2015, 2016, 2017, 2018
UEFA Team of the Year: 2008, 2009, 2010, 2011, 2012, 2014, 2015, 2016, 2017, 2018
UEFA Ultimate Team of the Year
La Liga Team of the Season: 2014–15, 2015–16
FIFA World Cup Dream Team: 2014
Copa América Dream Team: 2007, 2011, 2015, 2016
AFA Team of All Time(published 2015)
PHYSICAL MEASUREMENTS
Height: 5ft 7in
Weight: 70kg
Eye color: Dark Brown
Hair color: Dark Brown
PERSONAL INFORMATION
Full Name: Lionel Andres Messi Cuccittini
Date of Birth: 24 June 1987
Place of Birth: Rosario Argentina
Playing Position: Forward
Nickname: Atomic Flea
EDUCATION: Las Heras Elementary School
Relationships: Antonella Roccuzzo
Kids: Thiago, Mateo, and Ciro
HOBBIES: Playing Video games
CONTROVERSY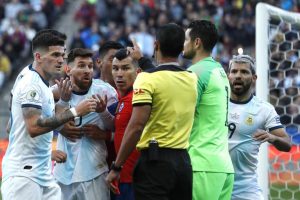 On 2nd August 2019, Messi was banned for three months from the international football and was also fined with 5000 dollars by CONMEBOL for his comments upon the referee's decisions.
NET WORTH
Lionel Messi's net worth is aggregated to be 400 Million dollars.
SOCIAL MEDIA HANDLES
Facebook: https://www.facebook.com/leomessi
Twitter: N/A
Instagram: @leomessi