David Robert Beckham is a former English professional footballer, and is of the most famous footballer personalities in the world. During his active period, he had played with some of the biggest clubs in the world. His skills as a midfielder have been exceptional, and a notch above his fellow footballers. He was known for his set-pieces and mastered the art of free-kicks.
David started playing football in his home town of London with local clubs before coming to Manchester United. During the mid-90s, David tasted success as the club was unstoppable in the late 1990s, going on to achieve record winning titles in a row. He was also a part of what is now famously known as the 'Class of 92'. Before transferring himself to the other clubs like Real Madrid, A C Milan, Paris Saint-Germain and LA Galaxy, he became of the most famous players of Manchester United.
He had been an important part of the Golden Generation of the England national team, however, he failed to prove himself as a captain of the team, and the team didn't taste much success which it expected. Despite football, David has been a famous face for the endorsement industry and has been ranked among one of the richest footballers in the world throughout his career
David Beckham Early Life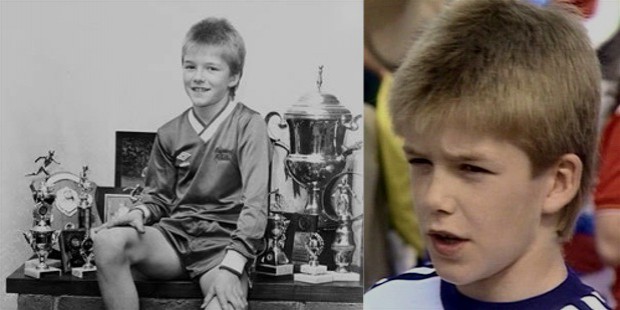 Born on 2nd May 1975, in the Leytonstone area of London, to David Edward and Sandra Georgina, he was the 2nd among the three children in the family, while the other two are daughters. His father was a kitchen fitter and his mother was a hairdresser. David got his initial studies from Chasse lane Primary School and for further studies, went to Chingford Country High school. David was never fond of academics and was always interested in football. He used to play for a local team known as Ridgeway Rovers. David before attaining admission at the School of Excellence at Tottenham Hotspur Football Club, attended many trials at several clubs like the Norwich City and Leyton Orient. The turning point of his life came after he joined the youth training scheme at Manchester United in 1991.
David Beckham Personal Life
David Beckham started dating Victoria Adams in 1997. She attended a Manchester United match and the duo eventually started dating. Victoria was a part of the pop group Spice Girls, which was one of the most famous pop groups in the World. The relationship got a lot of media attention given the popularity of the two in it.
After being in a relationship for more than least two years, David Beckham and Victoria Adams a.k.a Posh Spice, married on 4th July 1999. David and Victoria have four children, of which, three are sons, Brooklyn Joseph (born 4 March 1999 at Portland Hospital, London), Romeo James (born 1 September 2002 at Portland Hospital, London), Cruz David (born 20 February 2005 at Ruber International Hospital, Madrid), while the youngest is their daughter Harpen (born 10 July 2011 at Cedars-Sinai Medical Center, Los Angeles).
Beckham is known by the nickname "Golden Balls", which he acquired from my wife Victoria, who revealed it on national TV in 2008.
Beckham suffers from obsessive compulsive disorder (OCD), which he says makes him "have everything in a straight line or everything has to be in pairs." Victoria Beckham claims, "If you open our fridge, it's all co-ordinated down either side. We've got three fridges – food in one, salad in another and drinks in the third. In the drinks one, everything is symmetrical. If there's three cans, he'll throw one away because it has to be an even number.
David Beckham Professional Life
David was an important part of the team and the class of 92, a set of youth players of Manchester United, who won the FA youth cup. In 1992 he made his place in the senior team following which in the next year 1993, January, he signed an official contract with the Manchester United. Returning from a season on loan at Preston North End, he joined Manchester as a right-sided attacking midfielder and waved the team's flag high the next year, in Premier League and FA Cup. In the same year, he made his International debut for England. David in the mid to late 1990s dominated English football and helped the team, Manchester United, to win 'the treble' in 1999 after which he was known as one of the world's foremost midfielders.
During his eight years with Manchester United, he netted 262 goals and won 6 Premier League medals. In 2003, he became the member of Galacticos at Real Madrid, teaming with legendary players like Ronaldo, Luis Figo, Zinedine Zidane, and Robert Carlos in the most star-studded team ever. Playing for Real Madrid for up to four years, he netted 13 goals. Following his stint with Madrid, he spent time at LA Galaxy and ended his career at PSG.
David Played his last game for the National Team in the 2006 World Cup in Germany, where he netted a goal via free-kick given against Ecuador. With that goal the team made up to the Quarterfinals, but unfortunately lost the match against Portugal. For England, David played 117 games and scored 17 goals
Honours
Manchester United
FA Youth Cup: 1992
Premier League: 1995–96, 1996–97, 1998–99, 1999–2000, 2000–01, 2002–03
FA Cup: 1995–96, 1998–99
FA Community Shield: 1996, 1997
UEFA Champions League: 1998–99
Intercontinental Cup: 1999
Real Madrid
La Liga: 2006–07
Supercopa de España: 2003
LA Galaxy
MLS Cup: 2011, 2012
Western Conference (Regular Season): 2009, 2010, 2011
Western Conference (Playoffs): 2009, 2011, 2012
Supporters' Shield: 2010, 2011
Paris Saint-Germain
David Beckham Achievements
Ballon d'Or – Runner-up: 1999
FIFA World Player of the Year – Silver Award: 1999, 2001
Premier League Player of the Month: August 1996
Premier League top assist provider: 1997–98, 1999–2000, 2000–01
PFA Young Player of the Year: 1996–97
FWA Tribute Award: 2008
Sir Matt Busby Player of the Year: 1996–97
England Player of the Year: 2003
ESM Team of the Year: 1998–99
UEFA Club Footballer of the Year: 1998–99
UEFA Club Midfielder of the Year: 1998–99
UEFA Team of the Year: 2001, 2003
Premier League 10 Seasons Awards (1992–93 to 2001–02):
Domestic & Overall Team of the Decade
Goal of the Decade (vs. Wimbledon, 17 August 1996)
BBC Sports Personality of the Year: 2001
BBC Sports Personality of the Year Lifetime Achievement Award: 2010
Real Madrid Player of the Year: 2005–06
PFA Team of the Year: 1996–97 Premier League, 1997–98 Premier League, 1998–99 Premier League, 1999–2000 Premier League
FIFA 100
ESPY Awards:

Best Male Soccer Player: 2004

Best MLS Player: 2008, 2012

English Football Hall of Fame

: 

2008

MLS Comeback Player of the Year Award

: 2011

PFA

 Team of the Century (1997–2007): 2007

International Federation of Football History & Statistics

 (IFFHS) Legends

UEFA President's Award

: 2018
David Beckham Personal Details
Name: David Robert Joseph Beckham
DOB: 2 May 1975
Age: 44
Birth Place: Leytonstone, London, England
Residence: Rowneybury House (1999–2014), Beverly Hills, California, United States, London (2014–present), Los Angeles, California, United States
Nationality: British
Occupation: Footballer, Businessman, Model, Spokesperson
Spouse: Victoria Beckham
Children: 4
Parents: Ted and Sandra Beckham
Education: Chase Lane Primary School and Chingford Foundation School
Relationships: Victoria Beckham
Spouse: Brooklyn, Romeo, Harper and Cruz
Hobbies: Listening to music, photography
Physical Measurements
Height: 6ft.
Weight: 75kg
Eye color: Hazel
Hair color: Blonde
David Beckham Controversy
David, one of the Instagram picture featuring him and his daughter ice skating quickly wound up a lot of David's Instagram followers. Some saw the kiss as nothing more than an innocent dad-daughter show of affection, where other's thought it was very wrong.
David Beckham Net Worth
David Beckham's Net Worth is estimated to be $450 Million dollar.
Social Media
David Beckham Facebook: https://www.facebook.com/Beckham/
David Beckham Twitter: @dvdbeckham
David Beckham Instagram: @davidbeckham