Mesut Ozil is a German footballer who shot to fame when he got selected as one of the nominees for the Golden Ball Award in FIFA World Cup 2010.  He played a key role in defeating Argentina in the finals in an attempt to help Germany become world champions. Ozil has been a part of the German National team since 2009 and presently plays for the Premier English Club Arsenal.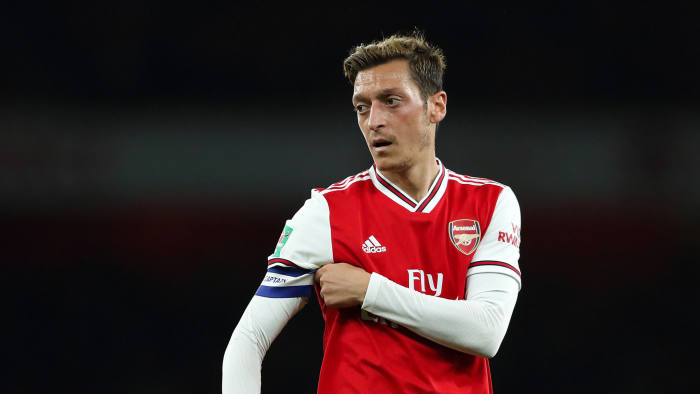 His professional carrier started accelerating when he was picked up as one of the members to represent his local native club Schalke in 2006 at the German National League. The 2010 FIFA World Cup which was held in South Africa, witness his scintillating performances, after which the Spanish Club Real Madrid tried to convince him to play for the club further but in 2013 he joined Arsenal for an amount of 42.5 million dollars. Ozil plays as a midfielder and is known for his aggressive style play. He was majorly trained under the legendary French footballer Zinedine Zidane.
EARLY LIFE: 
Ozil was born on 15th October 1988 in Gelsenkirchen, a city in the North Rhine-Westphalia, Germany. Initially, he started playing football for some local clubs in Gelsenkirchen but after moving to Rot-Weiss-Essen, which was an Esen-based DFB football club, he stayed for five years.
PERSONAL LIFE: 
Ozil began dating singer Mandy Capristo in 2013 but just after one year, their relationship came to an end. He was reportedly seen with another woman after their breakup. However, in 2015, he gave his relationship another chance as the couple started seeing each other once again but couldn't last laster as the relationship completely ended in 2017. Ozil then started dating former Miss Turkish, Amine Gulse. After dating for two years the couple tied the knots on 7th June 2019. They celebrated their marriage by paying around 1,000 children for their surgery.
PROFESSIONAL LIFE: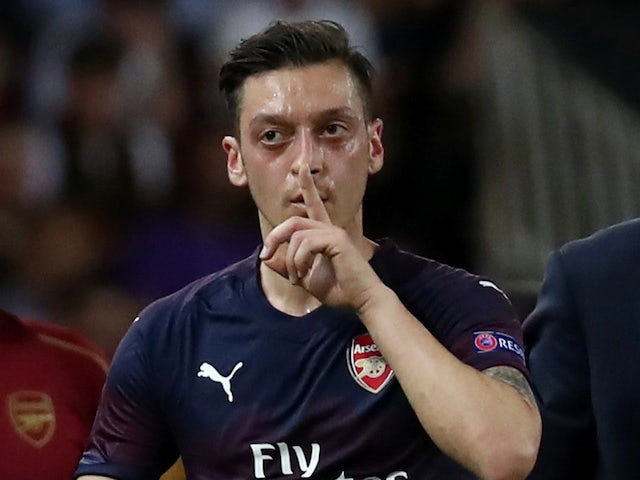 In 2005 he made it to the Schalke 04's youth academy, where he represented the FC Schalke 04 as an attacking midfielder. In 2008 he shifted to German football association club Werder Bremen through refusing the lucrative offer made by Schalke04 claiming that the club was peanuts. Werder Bremen signed Ozil for a three-year contract, representing where he netted his first goal in Bundesliga against Karlsruhe through which Werder Bremen won the contest by 2-1. The next year he again netted a crucial goal while playing against Bayer Leverkusen that helped his team to qualify for the 2009 DFB-Pokal. In the DFB-Pokal 2010, Werder Bremen again reached finals, largely due to Ozil's contributions, unfortunately, the team lost to Bayern Munich. In the same year, he was selected for the German National Football team to represent for 2010 FIFA World Cup team, his performance in the tournament attracted many prestigious football clubs including Manchester United, Real Madrid, Arsenal, and Barcelona.
In 2010, 22 August Ozil moved to Real Madrid from Werder Bremen for amount 15 million dollars. He played his debut match for Madrid against Mallorca which ended in a tie, with his assistance for the team was able to perform exceptionally well in the La Liga of 2011-12, Copa del Rey in 2010-11 and Supercopa de Espana 2012. After three successful years of spending in Real Madrid, he was transferred to Arsenal for a transfer fee of 42.5 Million Dollars.
He played his debut match for Arsenal against Sunderland where he assisted his teammate Olivier Giroud to score a goal in favor of Arsenal winning by 3-1. He netted his first goal for Arsenal against the Gunners in the Italian club, Napoli during the Champions League, with him under the team lifted the FA Cup twice in a row, in 2013-14, 2014-15 and 2016-17. Ozil won numerous awards. During his football career, he has been the German Player of the Year for three times in a row in 2011, 2012 and 2013, He was also nominated for the 2010 FIFA World Cup Golden Ball Award.
HONOURS: 
Werder Bremen
DFB-Pokal: 2008–09
UEFA Cup runner-up: 2008–09
Real Madrid
La Liga: 2011–12
Copa del Rey: 2010–11
Supercopa de España: 2012
Arsenal
FA Cup: 2013–14, 2014–15, 2016–17
FA Community Shield: 2015
EFL Cup runner-up: 2017–18
UEFA Europa League runner-up: 2018–19
International
Germany U21
UEFA European Under-21 Championship: 2009
Germany
ACHIEVEMENTS: 
Awards
kickerBundesliga Team of the Season: 2008–09
kickerattacking midfielder of the year: 2010
Germany national teamPlayer of the Year: 2011, 2012, 2013, 2015, 2016
UEFA European Championship Team of the Tournament: 2012
UEFA Team of the Year: 2012, 2013
FIFA FIFPro World XI2nd team: 2013, 2016
FIFA FIFPro World XI5th team: 2014, 2017
Laureus Media Award: 2014
IFFHS World's Best PlaymakerSilver award: 2013
PFA Fans Player of the Month: April, November & December 2015
German Football Ambassador Public Award: 2015
Best German Abroad (Kicker Magazine): 2016
Arsenal Player of the Season: 2015–16
UEFA Best Player in Europe Award: 10th place 2012
FIFA Ballon d'Or: 2010 (13th place), 2011 (11th place), 2012 (14th place), 2013 (16th place)
Clubs Played with
| | |
| --- | --- |
| Clubs | Season |
| Schalke 04 | 2006-08 |
| Weder Bermen | 2007-11 |
| Real Madrid | 2010-14 |
| Arsenal | 2013-2020 |

PHYSICAL MEASUREMENTS
Height: 5ft 11in
Weight: 76kg
Eye colour: Light Brown
Hair colour: Dark Brown
Nickname: Nemo/German Messi
EDUCATION: Gesamtschule Berger Feld
Relationships: Amine Gulse
Spouse: None
HOBBIES: Playing Chess and Playing Video Games.
CONTROVERSY:
In July 2019, Özil and Arsenal teammate Sead Kolašinac were the victims of an attempted carjacking by a pair of armed masked men. A Metropolitan Police spokesman later said Özil and Kolašinac managed to get away unharmed and traveled to a nearby restaurant in Golders Green, where they were "spoken to by officers". Footage also circulated on social media which appeared to show Kolašinac chasing off the carjackers.
NET WORTH:
$50 Million dollars
SOCIAL MEDIA HANDLES:
Facebook: https://www.facebook.com/mesutoezil/
Twitter: @MesutOzil1088
Instagram: @m10_official