Rohit Sharma and Ritika Sajdeh's love story : This is the story of none other than the right-handed star batsman of Indian cricket team Rohit Sharma and beautiful Ritika Sajdeh.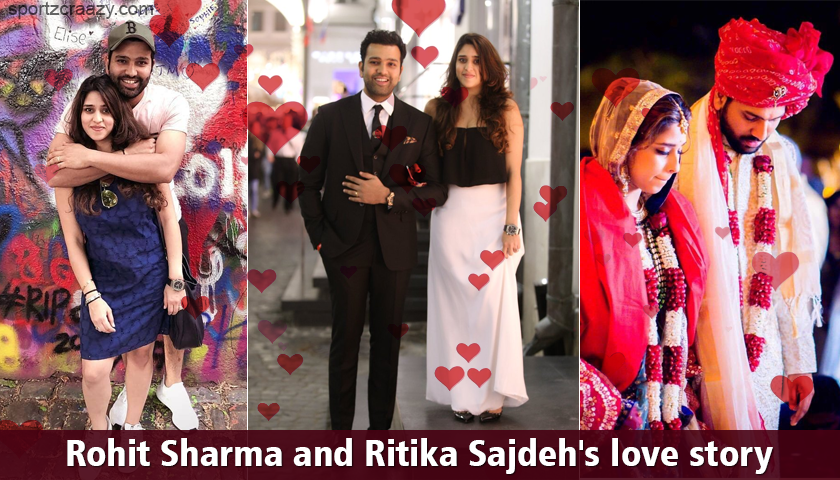 Rohit Sharma is an integral part of Indian national team and is popularly known as 'Hitman'. He has a record of hitting 3 double centuries in ODIs. Ritika Sajdeh on the other hand is a renowned named in the world of cricketer. She was earlier Rohit Sharma's manager and now is his wife.  Yes you have heard it right; we are talking about the very handsome batsman and his pretty better-half who is always by his side.
The love story of this energetic couple is no less than any other filmy love story. It is fully loaded with young romance. The duo was having quite a long period of courtship. The proposal of this pair was just alike a fairytale proposal and they had a big fat wedding that was all star-studded which could just not be missed by any one. Let's take a look at their cozy love story!
The Meeting Point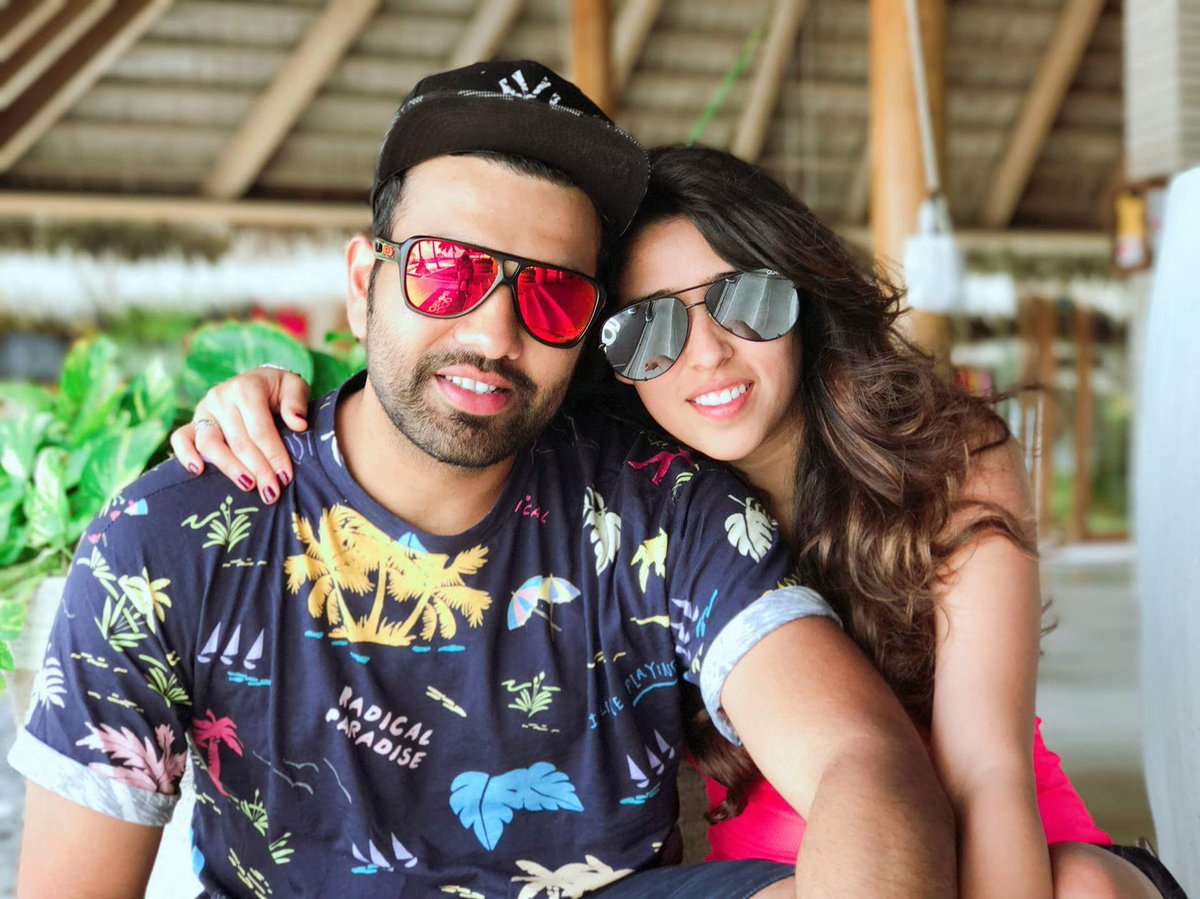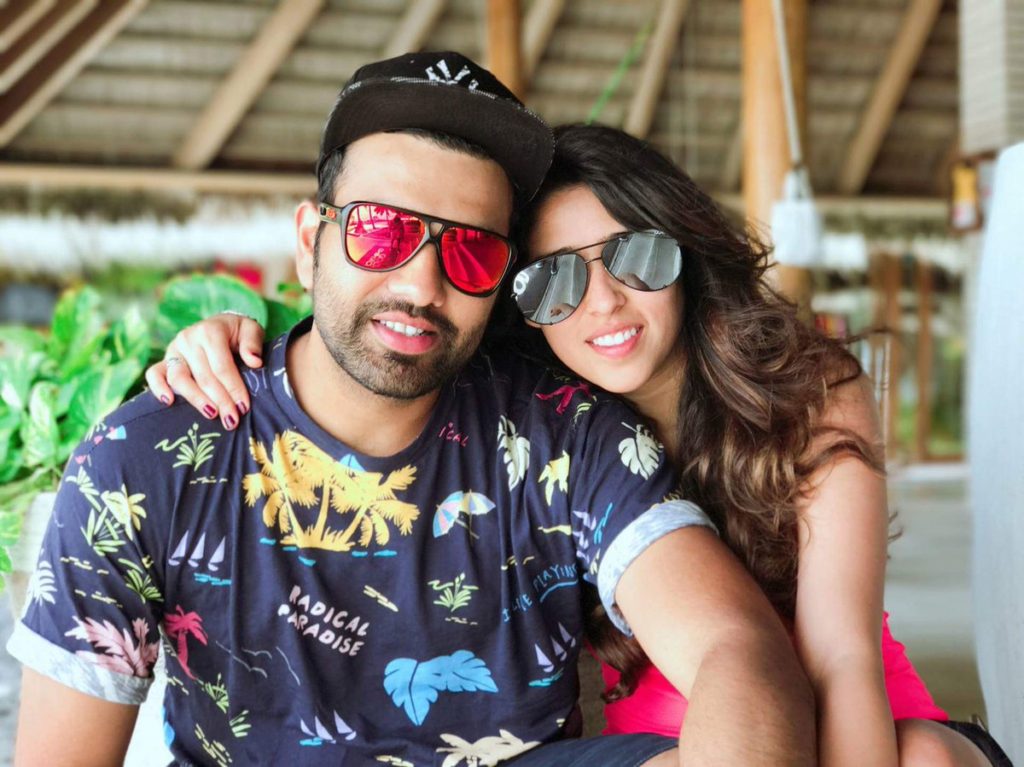 Rohit and Ritika knew each other for nearly six good years prior to being hitched in the racket. The long journey started from when they happen to meet as professionals. By profession Ritika is a sports event manager who has a list of cricketers she handles and could grab the opportunity to take care of cricket engagements of Rohit as his manager.
Co-incidentally Ritika also happens to be the rakhi sister of Yuvraj Singh, for all those who don't know this. Initially the duo used to meet a lot for work related matters. Slowly they turned out be friends and in no time the friendship started becoming close and they were best friends. This friendship quickly got roped into love and then they could not stop themselves so decided to take their relationship a step ahead.
Who Proposed Whom?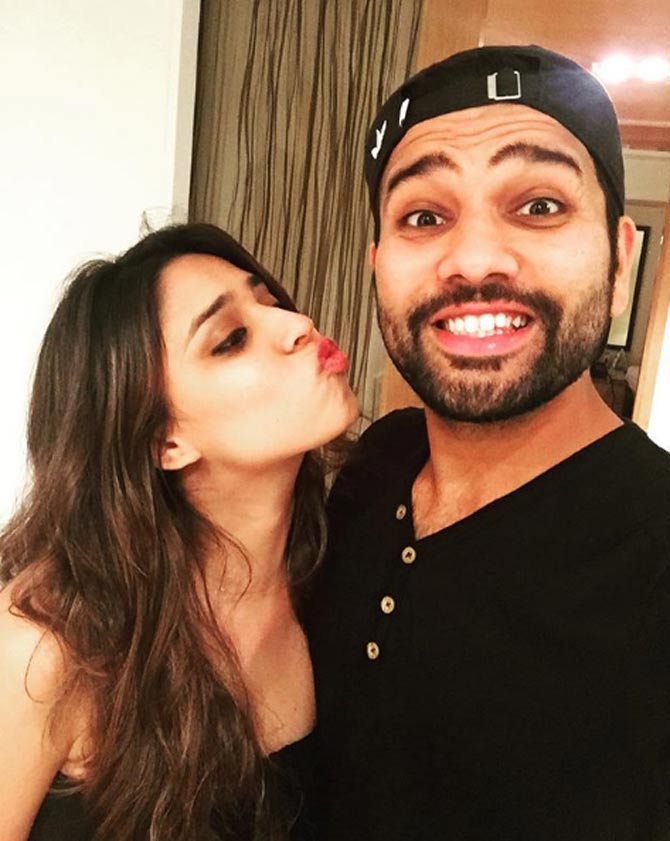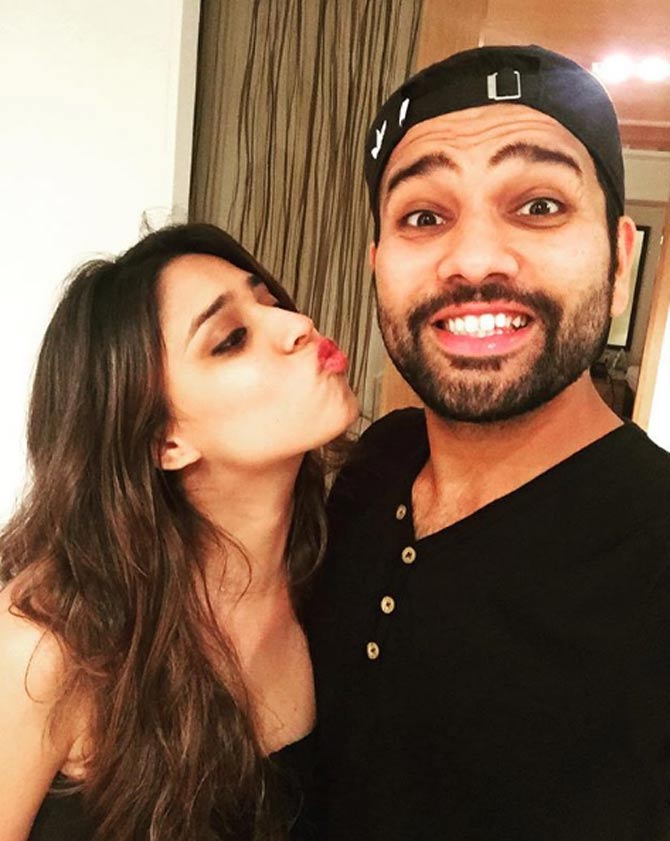 It was Rohit who took the first step forward and decided a grand proposal for his ladylove.  After dating each other for six years, Rohit surprised her with his move. He chose to propose Ritika in a unique way at a place that holds a lot of significance in his life.
Very different from the traditional and over the top methods, our skipper drove his fiancée from her Cuffe Parade residence in Mumbai to Borivali. On April 28, 2015 the Borivali Sports Club, Mumbai witnessed the young cricketer going down on his knees, with a solitaire ring in his hand, popping the question to Ritika for her hand. Yes you got it right; this is the same ground where the Mumbai Indians team captain, Rohit Sharma started his career at the age of 11.
No doubt Ritika was totally surprised with this act but quickly she said yes and accepted the proposal.
Ritika doesn't seem to have any qualms on openly talking about Rohit Sharma. Also Rohit is not too shy on his part of professing his love for his best friend and fiancée. Social media was bombarded with the news of their engagement no sooner Rohit posted a picture of the two with a tweet saying: "It couldn't get any better, from best friends now to soulmates." A picture of the two was posted by Ritika too on instagram post the proposal where she was flashing her engagement ring with the caption, "My happily ever after. Ever since, the two were the hottest topic of discussion and congratulatory messages were pouring in and on social media.
On June 3, 2015, the lovely couple got engaged and the two decided to take the vows! Here begins a beautiful love story.
The Big Fat Wedding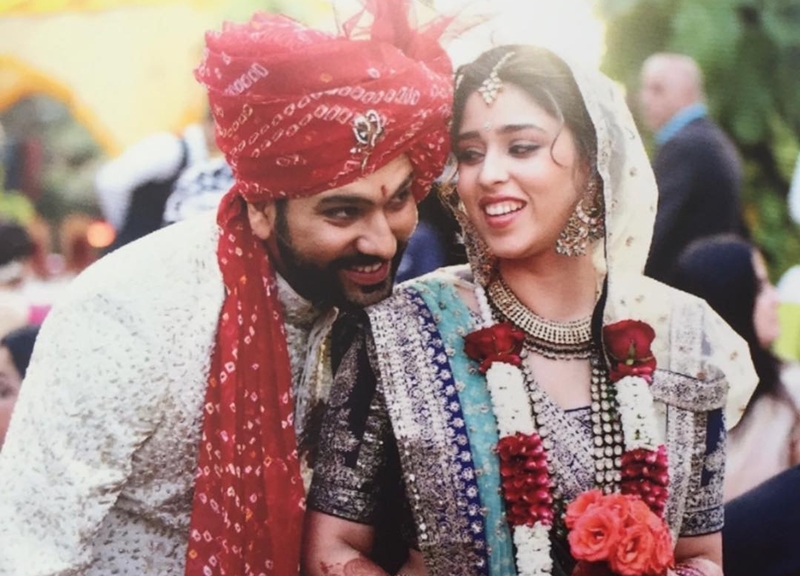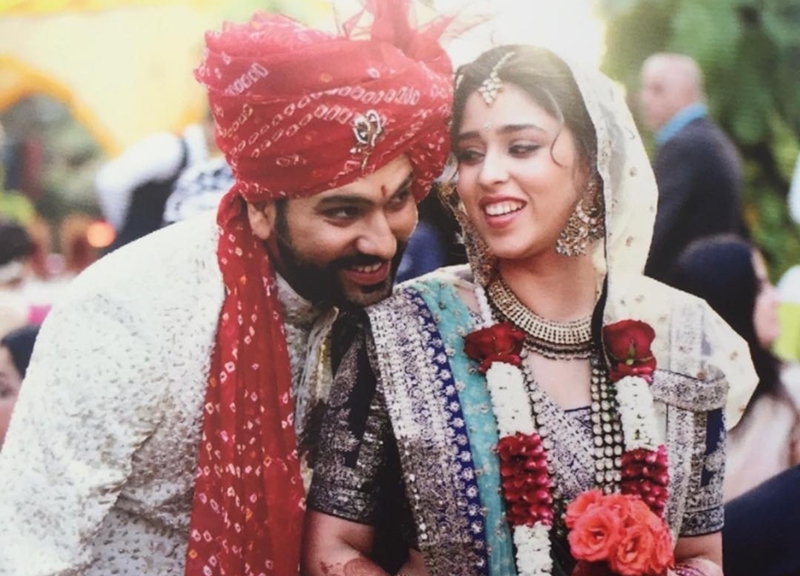 Like all other Bollywood weddings, Rohit Sharma and Ritika Sajdeh also had a grand wedding which was hosted in Mumbai's Taj Lands Hotel. They tied the knot on December 13, 2015. Rohit was wearing a crème sherwani which was teamed with a red pagdi. He was looking stunning in it. To compliment his groom, the bride Ritika was wrapped in an off-beat-coloured lehenga. She was looking no less than a princess. It was a star-studded wedding attended by the who's who of cricket world, Bollywood and business world. The celebrities' were lined up to giving blessings to the couple. Before their wedding a grand party was thrown by the Ambani's who own IPL franchise Mumbai Indians, and of which Rohit is captain for the couple. All the big shots of the nation attended this grand party to celebrate their wedding. The cricket team was having a blast at their wedding functions.
All-rounder Yuvraj Singh with his fiancee Hazel Keech, Harbhajan Singh and wife Geeta Basra, Bollywood star couple Abhishek Bachchan and Aishwarya Rai, Master Blaster Sachin Tendulkar with wife Anjali and Captain Mahendra Singh Dhoni with wife Sakshi and their infant baby were a few among those who were present at the Ambanis' party.
This indeed was one of the most happening glittery celebrity weddings in the recent years.
Does life change after Marriage?
The two have been happily married and will complete a hatrick this year in December. Both husband and wife perfectly compliment each other. They are always together and keep constantly supporting each other in all the highs and lows of life. It has been observed that Ritika continuously keeps cheering Rohit during his matches at all times. She also encourages him on his each win and writes beautiful and appreciative words for her hubby by posting pictures of his victory and tweets on social media that are congratulatory. Obviously she would go on clould nine when her husband wins a cup.
No doubt, when they are together this lovey dovey couple looks damn adorable. The truly best friends turned soulmates are made for each other. Though Marriages are made in heaven but here is a perfect couple that complements each other in all aspects. Being from the same industry with different professions but having similar likes for cricket, they truly have set a wonderful example.
We congratulate the two for the happily married life and pray for their future. We wish that this couple gets granted a life full of happiness and love. Best of luck folks!
Author: Veenu Sahani
Also Check :