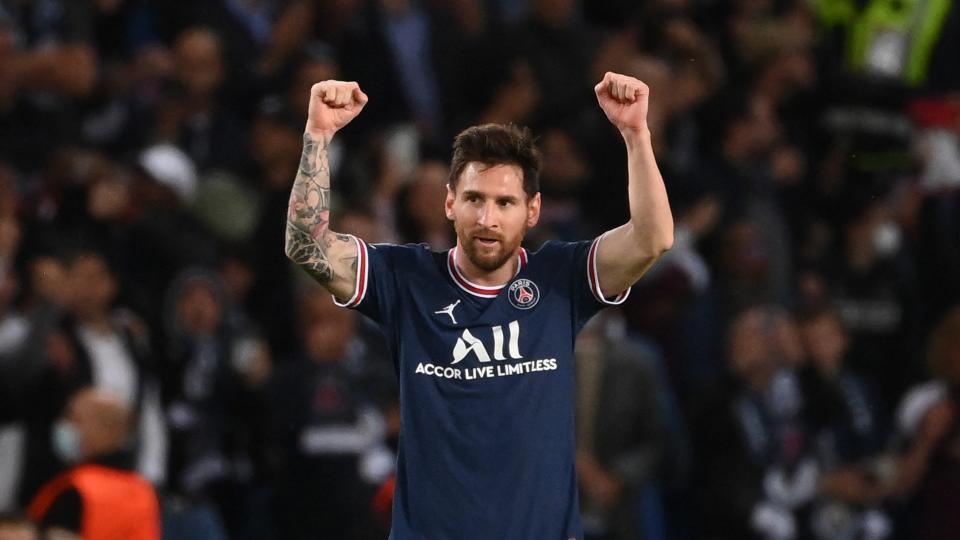 Last night in UEFA Champions league football, PSG Star Lionel Messi breaks more champions league goal record as Argentine put his name himself in history books again after scoring his record breaking 126th Champions league goal of his elite career vs Maccabi Haifa.
The GOAT scored the first goal for Paris Saint-Germain vs Maccabi Haifa, which brings him closer to Manchester United legend Cristiano Ronaldo record of 140 goals in the Champions league who tops the list and with 126 goals Messi is second on the list of Top scorer in UEFA Champions league.
However, Lionel Messi has managed to break one of his record last night vs Maccabi Haifa as Lionel Messi becomes the first ever player to score for 39 different clubs in the Champions league.
RECORD: Messi has now scored against 39 different teams in this competition 🔝#UCL pic.twitter.com/CRgYdyUE8J

— UEFA Champions League (@ChampionsLeague) September 14, 2022
Lionel Messi and Cristiano Ronaldo were equal on this record, Earlier both the players had scored for 38 different teams in Champions league but the Lionel Messi goal against Maccabi Haifa made him score for 39 different clubs. 
Cristiano Ronaldo former teammate, Karim Benzema is not so far from this record, as the Frenchman is third on the list scoring against 34 different clubs.
Last year Champions league winner Real Madrid striker, Karim Benzema was sharing one more record with Lionel Messi but the last night goal for Messi has also managed to overtake his record of scoring in 17th consecutive seasons in the Champions league.
The only player in history to score in 18 consecutive #UCL seasons. Messi 👏 pic.twitter.com/xKiaucnfG1

— UEFA Champions League (@ChampionsLeague) September 14, 2022
With last night goal against Maccabi Haifa, PSG star is now the first player in history to ever scored in 18th consecutive seasons of Champions league football.
Manchester United power forward, Ronaldo is not so far from this record, as he already managed to score for 16th consecutive season but unfortunately he will not able to catch Messi and Benzema this season as his current club, Manchester United will be playing in the Europa league.
This UEFA Champions league season could be the record breaking season for Lionel Messi as he could still break a few records of Champions league which are under Cristiano Ronaldo's name.
Manchester United legend, Ronaldo has played the most number of Champions league games in history as he played 187 games so far in the competition and also holds the record for most assist in Champions league, 42 assist.
Although, for the most appearances in Champions league football, Currently Messi is on the third spot as he has played 158 games so far and is only behind former Real Madrid captain, Iker Casillas with 181 games under his name.
With his new role in PSG, Lionel Messi has started playing on No. 10 and have become the playmaker for Paris Saint Germain and could definitely break Ronaldo's assist record. As Lionel Messi with 32 assist sits on second spot for most assist in the competition and Ronaldo leading the table with 37 assist under his name.
For the very first time, Manchester United star, Cristiano Ronaldo will be playing Europa league this season and Lionel Messi have every opportunity to grab maximum record this season.