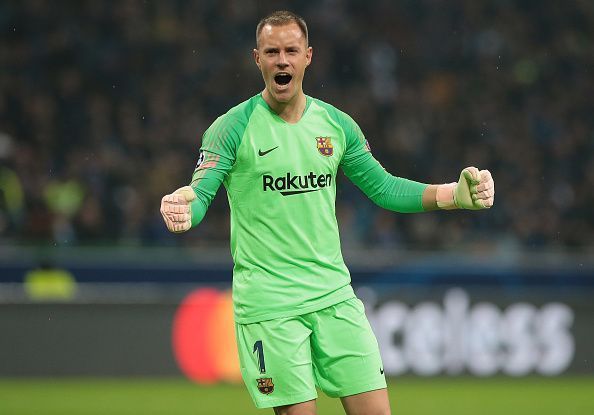 Marc-Andre ter Stegen Biography: Marc-Andre Ter Stegen is a German professional footballer who plays as a goalkeeper for the German national team and the Spanish Club Barcelona, He started playing professional football from Bundesliga with Borussia Monchengladbach. Playing for the club he contributed in four seasons making 108 league match appearances. In 2014 he joined Barcelona for 12 million Euros. He won the treble in his very first season in Spain. Stegen has also represented at several German youth as well as international level matches in his career till now. He was an important part of the German team which reached the semi-finals of UEFA Euro 2016 and won the 2017 FIFA Confederations Cup, he was also a part of the team that competed for the 2018 FIFA World Cup.
EARLY LIFE: 
Stegen was born on 30th April 1992 in Monchengladbach, Germany to Renate Kausa (mother) and Erich Kaus (father). He owns his title Stegen due to his origin connections from the Dutch Ancestry. Stegen started playing football at the age of 2. He plays with his elder brother in between the garages close to his house. Seeing his liking for football by his parents and grand dad, he was enrolled in a local youth team which provided him the stage he wanted for showcasing his talent.
At the club, Stegen's initial objectives were to serve as a mid-fielder but gradually he fell in love with goalkeeping, which most of his friends didn't like to do. His coach also had a major role in developing his likings for goalkeeping as the coach didn't like the way he runs while the game in the middle of the field, thus motivated him to do goalkeeping.
PERSONAL LIFE: 
Stegen married his teenage girlfriend Daniela Jehle in 2017 in a small wedding ceremony near Barcelona after five years of dating. Stegen is a dog lover, he has a dog named Bali who once gone missing on the eve of Christmas in 2012 but later was found. On 20th July 2019, he announced the arrival of his first child.
PROFESSIONAL LIFE: 
Stegen was very much loved by the local Monchengladbach fans, who saw him as one of their kind. Stegen spent 14 years in the club i.e from 1996 to 2010. There he upgraded his goalkeeping ranks, accomplishing a higher level of skills set, due to which he was promoted in the club's senior team.
His initial seasons with the club was going well, but due to failing to avoid relegation On 14th February 2011, the club's manager Michael Frontzeck was replaced by Lucien Favre. The replacement sounded worth as the team started improving.
In 2011-12, Stegen was the made the official goalkeeper of the team after Bailly was sent on a loan to Swiss side Neuchatel Xamax, he was delegated the shirt number 1. Stegen became the only star of the club after his other mates Reus and Dante departed to Borussia and Bayern Munich.
According to some reports, he signed a pre-agreement with the La Liga club Barcelona, but later he denied it by himself. In 2013-14 he played his last match for the club before joining with the Barcelona in a 3-1 home success against the Mainz 05 on 5th May 2014.
He signed Barcelona on 19th May 2014 as their new goalkeeper for a price of 63.6 million Euros. He played his debut match against APOEL on 17th September in a 1-0 win. He later contributed in Copa del Rey and UEFA Champions League matches, in the final match of the domestic cup he helped Barcelona to win against the Athletic Bilbao by 3-1 on 30th May 2015. He won the best save award for his spectacular goal-line save against Bayern Munich in the second leg of the UEFA Champions League Semi-final match. As a goal-keeper he played exceptionally well in the coming seasons.
In the second league Clasico, he saved 12 goals against the Real Madrid, that kept his Club alive in the race for La Liga. On 29th May 2017 he signed a new contract with Barcelona, extending his stay till 2022. On 14th October 2017, he saved two amazing shots of Antoine Griezmann of Atletico Madrid and preserved Barcelona's unbeaten record in the La Liga 2017-18 season.
At the 2018 Supercopa de Espana, he netted the winning goal to register his team victory against Sevilla by 2-1. Till the end of the season, Stegen save percentage increased up to 96 percent. For his national team, Stegen has been a major part of the winning team of UEFA European Under-17 Championship, UEFA Euro 2012, UEFA European Under-21 Championship and so on. He has been a part of 2017 FIFA and was named the man of the match for his performance in the final match against Chile.
| | |
| --- | --- |
| Clubs | Season |
| Monchengladbach | 2010-14 |
| Barcelona | 2014-20 |
HONOURS:
Barcelona
La Liga: 2014–15, 2015–16, 2017–18, 2018–19
Copa del Rey: 2014–15, 2015–16, 2016–17, 2017–18
Supercopa de España: 2016, 2018
UEFA Champions League: 2014–15
UEFA Super Cup: 2015
FIFA Club World Cup: 2015
INTERNATIONAL HONOURS
Germany
UEFA European Under-17 Championship: 2009
FIFA Confederations Cup: 2017
ACHIEVEMENTS: 
UEFA Under-17 ChampionshipTeam of the Tournament: 2009
Fritz Walter Medal: U17 Bronze Medal 2009
Fritz Walter Medal: U19 Gold Medal 2011
kickerBundesliga Goalkeeper of the Season: 2011–12
UEFA Champions League Squad of the Season: 2014–15, 2018–19
UEFA Save of the Season: 2014–15
FIFA Confederations CupFinal Man of the Match: 2017
FIFA FIFPro World XI5th team: 2018
UEFA Team of the Year: 2018
PHYSICAL MEASUREMENTS:
Height: 6ft 2in
Weight: 85 kg
Eye color: Blue
Hair color: Blond
PERSONAL INFORMATION:
Full Name: Marc-Andre Ter Stegen
Date of Birth: 30th April 1992
Place of Birth: Monchengladbach, Germany
Playing Position: Goalkeeper
Nickname: Messi with Gloves
EDUCATION: Las Heras Elementary School
Relationships: Daniela Jehle
Kids: none
HOBBIES: Playing football
CONTROVERSY:
NET WORTH:
$1 Million dollars
SOCIAL MEDIA:
Facebook: https://www.facebook.com/mterstegen1/
Twitter: @mterstegen1
Instagram: @mterstegen1