Jaspreet Bumrah Biography: Indian cricket team was in search of a specialist death over bowler since past many years but rarely any of the bowlers have stood up to the given task and the associated roles and responsibilities. The situation, however, has been changed now and Indian team is been loaded with not only one but two or three death over specialist in the likes of Jasprit Bumrah and Bhuvneshwar Kumar. Although Bhuvi has been going through a rough patch recently, Jasprit Bumrah has emerged out as the topmost bowler in all the three formats and he can certainly be accredited for India's recent success in the overseas tour of Australia and New Zealand.
It was quite recently when he has been ranked on the top of the ICC ODI bowlers ranking and whilst his recent performance justifies the same tag, India team has also soared onto the top of the ICC test rankings as well.
Jaspreet Bumrah Biography

–

Early Life and Start of his Domestic Cricket Career 
Image Source
Jaspreet Bumrah Biography: Jasprit Jasbirsingh Bumrah was born on 6 December 1993 in the city of Ahmadabad, Gujarat to a family which has its roots in Punjab. While he never wanted to be a cricketer at the first place, he got to play cricket for his school initially and after a string of some good performances, his coaches started guiding him towards all the skill set required within the game.
Bumrah made his debut for the Gujarat team in the Ranji trophy in the year 2013 against the team of Vidarbha and during his first match only; he went on to pick 7 wickets. While everyone thought that it was just good luck and some fluke by the debutant in his first match, he proved everyone wrong whilst becoming the leading wicket taker of the tournament in the same season for his team.
Bumrah was always in the limelight due to his awkward arm action and he caught the eyes of the selectors very soon due to the same skill set. Moreover, he went on to play his first T20 match in the list A cricket in the Syed Mushtaq Ali trophy whilst coming to bowl against the team of Maharashtra. Not only he scalped most of the crucial wickets for the team within the match but also grabbed the man of the match award for his splendid performances with all those deadly Yorkers and slower balls. Eventually, Bumrah went on to help his team to clinch the title with his brilliant performance of 3 wickets for 14 runs in the finals against Punjab.
First Step in the International Cricket for Jasprit Bumrah
Image Source
Jaspreet Bumrah Biography: After getting a list of brilliant performances, Bumrah finally earned a call up for the Indian team to play against the Australian team in the T20 match. Although Bumrah didn't been able to do much within his first match, he never looked back in his career and went on to become the top wicket takers in the t20 format in one colander year for his team (28 wickets). During the process, he overcomes the previous record set by the Australian bowler Dirk Nannes.
His impressive run continued in the England tour of Indian in 2017 as well when he picked up two crucial wickets in the second T20 match against the English team whilst giving just 20 runs in his 4 over's . This was the match which marked his arrival at the International level as England were just required 8 runs from the final over and any other bowler could've easily given away those runs with players like Butler and Root upfront. Surprising everyone, Bumrah gave away just two runs in the over and also picked up two wickets in the process in order to secure the victory for the Indian team. He fired down those deadly inswingers, Yorkers and slower balls and English batsman didn't have a clue about where to hit them.
Jaspreet Bumrah Biography – Keeping up with his Golden Touch
Image Source
Jaspreet Bumrah Biography: Afterward, Bumrah just kept on going with some splendid performances and during India's tour of Sri Lanka, he became the first ever fast bowler to claim 15 wickets in a bilateral series. Amidst all the hype around him, It was all of sudden that Jasprit Bumrah became the villain for the Indian team when he bowled that infamous "no ball" against the Pakistan team in the finals of the champions trophy in 2017. This was the same match where Fakhar Zaman got out on one of his deliveries but due to it been a no ball, the player was been deemed as "not out" and went to make a match winning century against the Indian team. This made him kind of infamous amongst the India fans and there was criticism going all around for his indiscipline at such a crucial stage.
By the end of the year 2017, he was been selected for the Indian team for the tour of South Africa and whilst he was playing his first test for the Indian team at Newlands in Cape Town, he scalped his first ever test wicket in the name of AB de Villiers. It was during the third test match of the series when he picked his first ever five wickets haul in the test matches by just giving just 65 runs. His brilliant run continued on the England tour only and he once again proved his prowess by picking up his second five wicket haul in just his second test series only. He achieved this feat by giving just 85 runs in the 3rd test match and it was mainly due to his heroics only, that India went on to win the match with record 203 runs.
Jaspreet Bumrah Biography –

Getting to the Peak of his Career
Image Source
Jaspreet Bumrah Biography: Whilst bumrah was cherishing his new role of being the main strike bowler for the Indian team, He was achieving bigger and greater heights in the whole process. It was just recently during India's tour of Australia when Bumrah took his third five-wicket haul against the Australian team at their backyard. Bumrah took 6 wickets for just 33 runs which also turned out to be his best performances in the Test cricket as of now. His heroics with the ball folded up the Aussies on a paltry score of 151 runs and India won the test match and the series as well.
It was during this series only when he finished up as the leading wicket taker of the series with 21 wickets and also played a big role in Indian team's victory in the series. Moreover, Bumrah also became the first Asian bowler to grab a five-wicket haul in South Africa, England and Australia alongside. He also ended up taking 48 wickets in the same year which has become a record for any bowler To achieve within his debut year.
Jaspreet Bumrah Biography –

Bumrah's Stint in IPL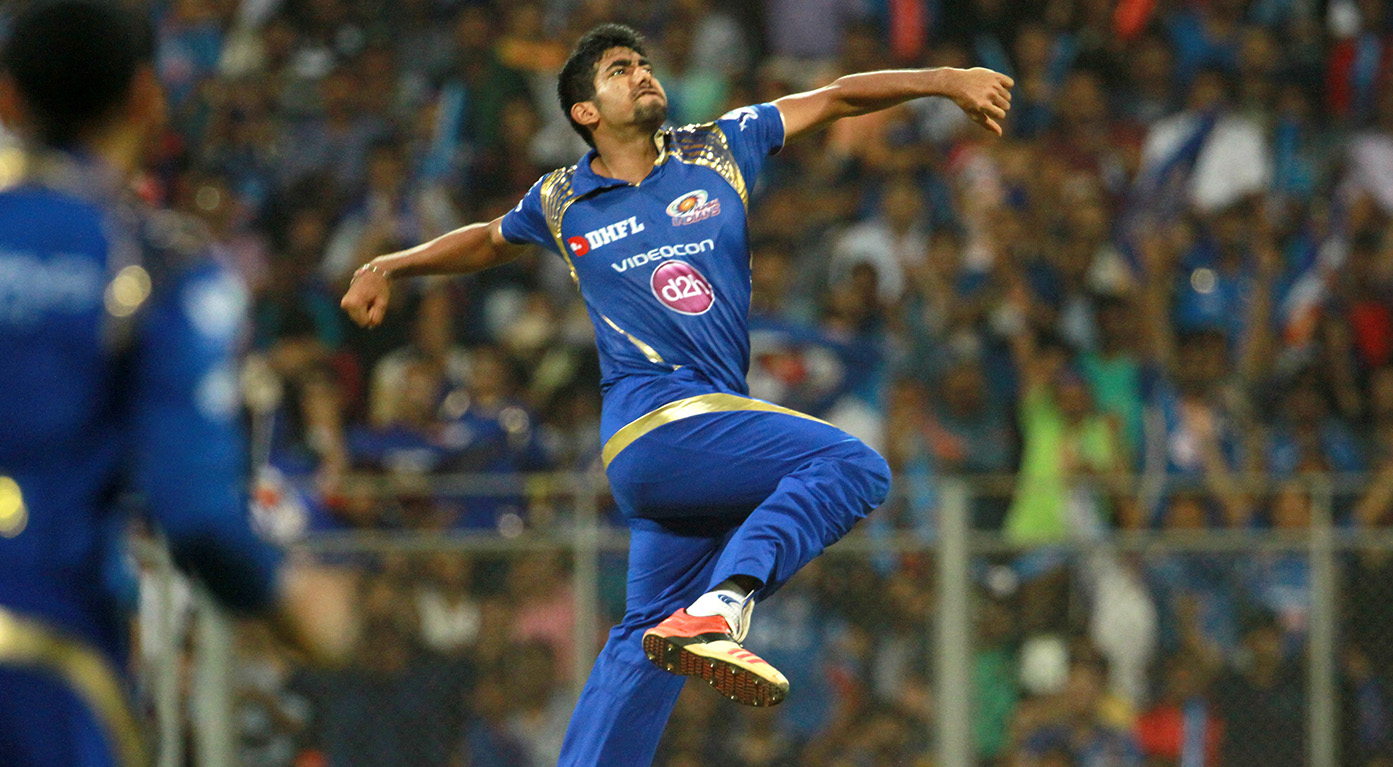 Image Source
Jaspreet Bumrah Biography: After having a perfect start to both his domestic and International career, Bumrah was been roped into the Mumbai Indians squad for the IPL 2013 season and within his debut match only, he picked up 3 wickets for just 32 runs whilst playing against the team of Royal Challengers Bangalore.T his match also made him the second bowler only to grab 3 wickets in his debut match only. Although he didn't play many matches within the same season due to the "Malinga" factor in the MI squad, he still worked hard in the process in order to become the main bowler for the IPL franchisee. His efforts paid off and by the end of 2018 season, he became their leading bowler and scalped 78 wickets till now for his franchisee.
Jaspreet Bumrah Biography –

Records and Achievements
Image Source
Bumrah has become the only Asian bowler to grab a five wicket haul in England, South Africa and Australia
He has also become the leading wicket taker in the calendar year 2018 with 48 wickets and this made him the first bowler to grab these many wickets in only his debut year.

It was due to his heroics only, that India won the test series in Australia for the very first time and Bumrah was been awarded as the " Man of the Series"
Some Unknown Facts about Jasprit Bumrah
Image Source
Not many people know that Jasprit bumrah lost his father when he was just 7 years old. This made it really hard for his mother to take care of him but Jasprit bumrah never gave up on the same.

It was his mother who has been a school principal in Ahmadabad and raised Bumrah after the death of his father

Although he was never decided on his career towards cricket, he switched to the sport at an age of 14 years.

It was the then Indian coach John Wright who first recognized the talent of Jasprit bumrah whilst he was playing for Gujarat in the Syed Mushtaq Ali trophy.
Bumrah's favorite actor is Amitabh Bachchan and his favorite dish is Dhokla

He is been known by the name " Jassi" and " JB" amongst his teammates and close friends.

Bumrah credits Malinga to help him in using all those deadly Yorkers and slower deliveries in all of his international Matches

Even though many advised him to switch his IPL team, he still stayed stuck to Mumbai Indians because of the learning aspect under the guidance of Malinga.
Personal Life and Family of Jasprit Bumrah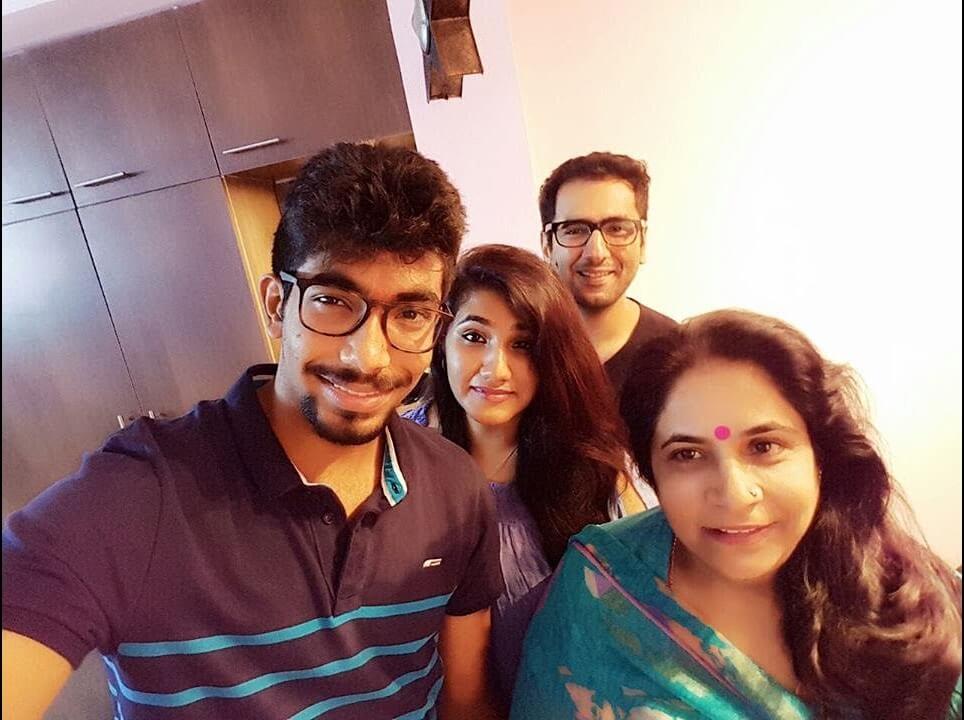 Image Source
Jaspreet Bumrah Biography: The Childhood days for Bumrah were quite tragic and sensational at the same time. Whilst he was just 7 years old, he lost his father and it was his mother Daljeet Bumrah who raised him along with his job as a principal of a school in Ahmadabad.
Moreover, whilst he was adamant to become a cricketer, his mother imposed a condition to him whilst he used to play inside the house due to the scorch summers outside. As per her condition, Bumrah can practice his bowling inside the home only when he assures of not making any noise in the process. Bumrah agreed to the same and located a spot as a target where the walls met the floor and this is where, he first learnt his basic skills of bowling those dead accurate Yorkers. Whilst many people didn't know about this, Bumrah went on to use the same practice and the skill set to use in the International cricket.
Even his mother was surprised by the fact that his son used to get vanish early in the morning for the practice purpose and after attending school, he went on to attend the same session afterwards well. Getting impressed by his bowling skills, many of his coaches have recommended him to all the summer camps, trials and even the MRF pace foundation eventually.    
Net worth of Bumrah
Image Source
Jaspreet Bumrah Biography: Net worth of Jasprit bumrah is been estimated to approx $4.5 million and he earns most of his income from his contracts with BCCI and his IPL franchisee. Bumrah has recently bought a Range Rover car which is worth Rs 75 lakhs and he has seen a big jump in his income for the past few years due to his upgraded contact with both BCCI and IPL franchisee Mumbai Indians. He also owns a big house worth 3 crores located in Ahmadabad and he gifted the same to his mother after securing a big contract in IPL.
Also Check: