Similarities between Pujara & Dravid:- Indian cricket has produced some of the most prolific batsman in the history of the game over the years and even though people have mostly talked about names like Sachin Tendulkar, Saurav Ganguly, Sunil Gavaskar, and others, there are players like Rahul Dravid who have always remained as the unsung heroes for their team during their illustrated career.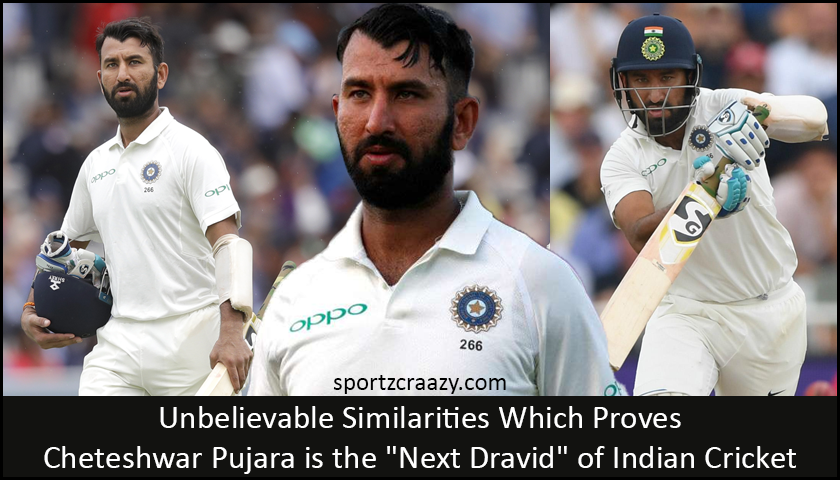 Dravid was that one player, who wasn't a part of the big limelight around the cricket fraternity; still, it's always his success which has spoken loudly than most of the players in his era.
Dravid"The Wall"
Similarities between Pujara & Dravid:- Rahul Dravid can certainly be quoted as the most dependable player for the Indian cricket team in the late 90s till his retirement and even though he usually chose to stay away from any kind of publicity throughout his career, he was largely been projected as the most reputed gentleman in the cricket fraternity.
Dravid was famous with his name "the wall" which was given to him by his fans and ever since he made his debut against England in 1996, he has lived up to this name with great dedication.
Major Highlights of Dravid's Cricket Career
Similarities between Pujara & Dravid:- Rahul Dravid has had numerous achievement and milestones under his name and whilst he made his debut against English team at lords in 1996 with brilliant innings of 95, it was just the start of something bigger to come by for all the Indian cricket fans. Talking about his career highlights, let's take a look at some of the biggest points in regards to the same.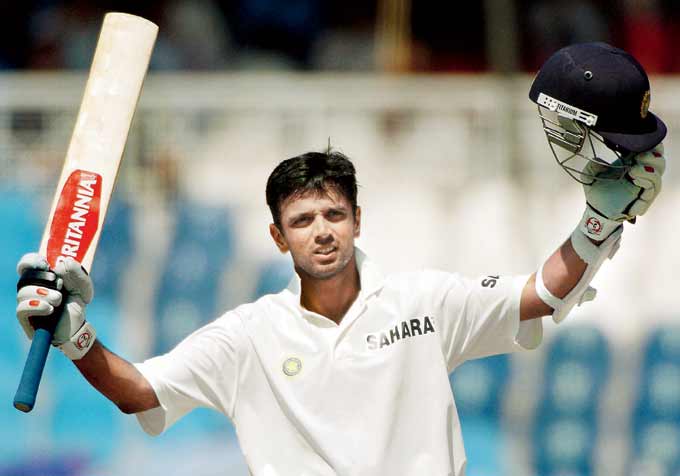 Dravid came out to be the top scorer in the 1999 world cup with an astonishing 461 runs under his name during the whole tournament.
It was during India's famous tour against Pakistan where Dravid acted as a wicketkeeper in the team to strengthen his captain with a chance to induct an extra batsman. He also scored a memorable 270 runs during the same tour in a marathon inning of almost two days against a brilliant pace attack of Pakistan.
There's hardly any Indian cricket fan who must not be remembering that exquisite batting display by Dravid and Laxman against a mighty Aussie attack in 2001. Dravid, whilst being a part of the memorable partnership in that 170 runs victory for Indian, went on to score a magnificent 180 runs in the second innings.
Cheteshwar Pujara and his Emergence as a "Mirror Image" of Rahul Dravid
Similarities between Pujara & Dravid:-  Cheteshwar Pujara is the current Indian test team member who plays for Saurashtra in the Ranji trophy whilst making his debut in the domestic circuit in 2005. Talking about his international debut, he first played against Australia in a test match in 2010 and ever since then, he has played some of the most important innings for his team, in the international circuit.
Although he has still a long road to cover in order to prove his worth on par to the great Rahul Dravid, there are many cricketing experts and fans around which has started comparing him with " the Wall". One of the biggest reasons for the same can be touted as the dependability which the Indian team has shown into Cheteshwar Pujara and his dedications and skill set which has made him deliver some of the most memorable performances for his team in the process.
Identical Facts Which Makes Pujara, The Next "Rahul Dravid"
Statistics
It was during the recent tour of Australia by the Indian team when the Indian team was struggling against the Aussie bowling and it was Pujara who managed to made his team score a respectable total of 250 runs in the first innings. It was his innings only which made India finally win the test match and register their rare victory against Australia at their own backyard.
On his way to his century, Pujara also made his way to the 5000 test runs in only his 108 innings. Quite interestingly, Dravid also went on to score his 5000 runs in his 108 innings as well which is quite an uncanny similarity.
This isn't it as Both Dravid and Pujara did complete their 3000 and 4000 runs in the 67th and the 84th innings respectively.
Skillset
Similarities between Pujara & Dravid:-  If we talk about the Number 3 position in the test cricket, its mostly been quoted as the most critical spot in the squad just because of the risks and rewards it brings for the players in the process. If we talk about the risk, there's always a chance that an early wicket would bring you on board facing the fresh pitch and the new ball and you might have to cope up with all the bounce and swing in the process.
Dravid used to be that batsman who has considered as the player with all the perfect skill set and patience which was required by a perfect No3 player and Cheteshwar Pujara is more or less heading into the same way with almost the same expertise along with him.
Patience level
Similarities between Pujara & Dravid:-  You can't become a perfect test player if you don't have patience and this is something which Dravid has proved days in and out during his career. He was that player who has played for 2-3 days on the pitch without losing his temper and patience and that was the reason, he has been regarded as "the wall" which used to stand still for the unexpected time period.
Cheteshwar Pujara carries the same patience level and he has proved that numerous times in his career till now. He is that one man in the current Indian team who can stay strong for hours and hours against even the scariest of bowling attacks. His performance against the England, Australia and South Africa in their own territories has certainly made him a player who can surely replace Dravid in the team.
You aren't left with much to say after seeing the stats and whilst Indian cricket would love to look into Pujara as their new ' Dravid" we can wish and hope he keeps on bringing some more memorable knocks for his team in the process.
Also, Check: