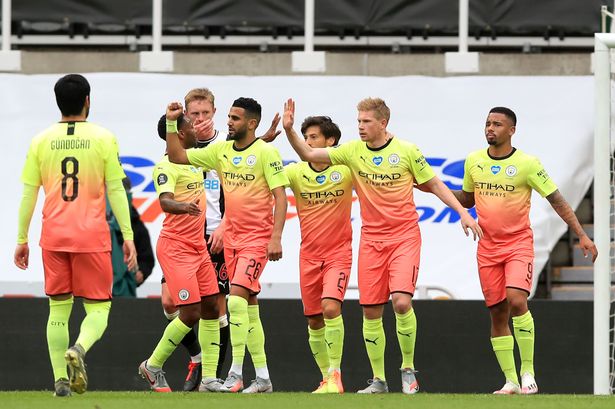 Manchester City boss Pep Guardiola has expressed his happiness over his side's victory over the Newcastle by 2:0 in the FA cup yesterday. Manchester City was coming off into the match after a 1:2 defeat against Chelsea last week but the side made a remarkable comeback at the Wembley Stadium to clinch the game. 
In the win, a superb strike from Raheem Sterling and a penalty shoot of Kevin De Bruyne led the City to a dominant win and also helped the side reach the semi-finals of the FA Cup on Sunday. 
The first goal came during the first half of the match when Kevin De Bruyne netted the goal during the 37th minute of the gameplay and thus, celebrated his 29th birthday in style. The second goal came during the 67th minute when Raheem Sterling made a neat finish for the side by netting the winning goal for The Sky Blues. 
Guardiola was delighted with his side's performance as he said: "Always, the hunger is there. The numbers speak for themselves over the past seasons. We are delighted after the defeat to Chelsea to be going back to London for the semi-final," 
Guardiola's side would now aim at winning the FA Cup and Champions League title since Liverpool FC has already won the Premier League, following Chelsea's victory over the City by 2-1. 
Guardiola challenged his players to keep doing well and stretch the winning streak on their course to winning the trophies.  
"We play to win. We spoke after what happened in Premier League  – we need two more victories to qualify for Champions League. But we have two competitions we can win."  Guardiola further stated. 
Manchester City's next fixture is against the Liverpool this Friday at the Etihad Stadium after it got the clearance to host the match behind closed doors.