Most Catches for KXIP
Having a good fielding unit can not only help your side win tight games, the sight of your teammates diving all over the place to save runs can galvanize you and lift team spirits no end.
That being said, throwing yourself around on the field needs to be backed up by fielders taking catches, whether it's a regulation sitter or an unbelievable screamer.
Players with Most Catches for KXIP
That holds true especially in the IPL, as the margins are extremely fine in T20 cricket. Luckily for Kings XI Punjab, they have had in their ranks a series of fine fielders who know how to hang on to catches.
And so, let's take a look at the 5 players with the Highest Number of Catches for KXIP:
#5. Glenn Maxwell (21 Catches)
When you consider the fact that Glenn Maxwell has only featured for the Kings XI for three seasons, having turned out for other sides as well as sat out a couple of years, it makes it all the more remarkable that he features on this list of 5 players with Highest Number of Catches for KXIP in IPL matches. There's no denying his ability to win games single-handedly, whether it's with the bat, ball, or even on the field. In 52 matches for the Kings, Maxwell has taken 21 grabs.
Read More: Most catches for DC in IPL
#4. Piyush Chawla (22 Catches)
In the fourth spot on this list of 5 players with Most Catches for KXIP in IPL matches is the veteran Piyush Chawla. Not just a wily leg-spinner and a handy lower-order batsman, Chawla is also quite reliable on the field, as his 22 catches in 87 matches suggests. A fair few of them are chances he manufactures himself as well, luring batsmen into lobbing caught-and-bowled opportunities back at him! However, as the most expensive Indian player to be bought at the 2020 player auction, Chawla will be donning the yellow jersey of the Chennai Super Kings this season, which means his catching and bowling records will not be improved upon in 2020!
Read More: Most Catches for MI in IPL
#3. Axar Patel (25 Catches)
Axar Patel is a player whose fielding ability goes somewhat unnoticed amidst his excellent bowling and handy batsmanship. The lanky all-rounder from Gujarat has made the point region his own domain, snaffling 25 catches in 68 games played for Kings XI. Even though Patel has moved on to the Delhi Capitals since he still maintains a place on this list of the top 5 players with Highest Number of Catches for KXIP in IPL matches.
Read More: Most Catches for SRH in IPL
#2. Shaun Marsh (26 Catches)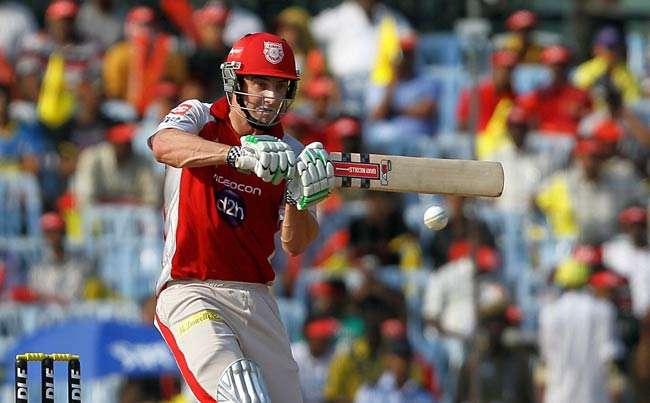 Although Shaun Marsh is best remembered by Kings XI Punjab fans for his exploits with the bat, especially the dream debut season where he took home the Orange Cap in 2008, he also happens to be an excellent fielder! In 71 games for Punjab, Marsh took grabs to ensure that he contributed while fielding as well as batting. However, despite tearing it up in the Big Bash this season, Marsh went unsold in the IPL auction which means that he'll have to bide his time to improve his numbers!
Read More: Most catches for RCB in IPL
#1. David Miller (49 Catches)
With 49 catches in 79 games for the side, top spot on this list of 5 players with the Most Catches for KXIP in IPL matches goes to David Miller. The South African showcases his skill with the bat often enough and backs it up in the field with his athleticism as well. Having been a long-serving member of the Kings XI setup, Miller has finally moved to the Rajasthan Royals ahead of the 2020 season, but his record seems set to stand for some time to come!
Read More: Most Catches for CSK in IPL