Mayookha Johny Biography: Mayookha Johny is an Indian track & Field athlete who specializes in the long jump and triple jump events. She holds the national record for the triple jump of 14.11 m (46 ft 3 1⁄2 in). She has also represented India in the Olympics Games 2012.
EARLY LIFE:

Father- M.D Johny (Former Mr. Bombay)
Mayookha Johny was born on 9th April 1988 in Koorachundu village of Kozhikode district, Kerala. She has a sports inclined family as her father M.D Johny is a bodybuilder and also a former Mr. Bombay. She grew up practicing athletics as she was very interested in the long jump activities. Her physical activeness was easily discovered by her parents who then encouraged her to take up sports as her career.
PERSONAL LIFE:

Mayookha got married in November 2016. She has a small family comprising of her husband and her daughter. She gave birth to baby girl in January 2018.
PROFESSIONAL LIFE: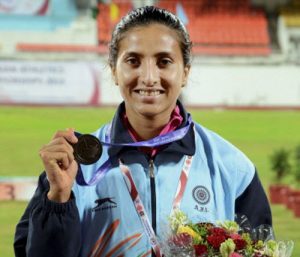 Coach- Shyam Kumar
Mayookha made her track debut in the 50th Kerala State Athletic Championship in 2006 at Thrissur, where she represented Kannur. She won gold in the long jump and triple jump (12.38  m) in the under-20 category. She beat the likes of M. A Prajusha and Tincy Mathew. She then participated in the 2010 Asian games where she came seventh in the long jump event. The very next year she participated in the 2011 National Games of India where she improved her performance. In the same year, she appeared in the World Championships in Athletics at Daegu. She qualified for the finals in the women's long jump event, thereby becoming only the third Indian ever to qualify for the final of an individual event in World Championships in Athletics. She finished 9th with a best jump of 6.37 meters, far behind her qualifying round performance where she recorded 6.53 meters. Moreover, she already had a national record for triple jump with a mark of 14.11 m (46 ft 3 1⁄2 in) which she achieved in Japan in 2010.
She is also the first Indian woman to cross the fourteen-metre mark.  She won the Bronze medal for her record at the 2011  Kobe Asian Championships. Mayookha has the advantage of training under the George Ramlov, the former coach of the Indian team in the late 1980s under whom her current trainer, G.R. Shyam Kumar, former international and national long jump champion had worked with.
In the 2012 Asian games, held at Hangzhou, China, Mayookha tried for Olympic games qualification jump but had to settle with 6.44m. She fell short by 0.21 m for her Olympic qualification.  On 22 July 2012, Mayookha Johny triple jumped 13.91m to win the top place in a low-level meet in Dillingen, Germany. She finally qualified for the 2012 London Olympics. She competed in the London Olympics in the triple jump event but failed to win any medal. Mayookha also participated in the 2016 Commonwealth Games. Her latest achievement was winning India a Gold medal in the Asian Indoor Athletics Championships in 2016 in the long jump event.
Currently, she is working in Oil and Gas Corporation (ONGC) as she got the job offer from the sports minister.
PERSONAL INFORMATION:

Date of Birth- 9 April 1988
Age (as of 2019)- 31 years old
Gender- Female
Birthplace- Koorachund, Kozhikode, Kerala
Nickname- Mayu
Complexion- Brown
Zodiac sign- Aries
Nationality- Indian
Hometown- Kozhikode, Kerala, India
School- Not Known
College- govt brennen college dharmadam
Occupation-  Track & Field athlete
Event- long jump & triple jump
Marital Status- Married
Net worth- Not Known
Qualification- Not Known
Religion- Christian
Ethnicity- Not Known
Sexual Orientation- Straight
Hobbies- Spending time with family and traveling
Tattoo – NO
Smoking-  NO
PHYSICAL MEASUREMENTS:
Height- 1.70 m (5 ft 7 in)
Weight (approx.) – 128 lbs (58 kg)
Eye Color- Black
Hair Color- Black
Waist Size – 28 Inches
SOCIAL MEDIA PROFILES:
Facebook- https://www.facebook.com/mayu.johny
Twitter: https://twitter.com/mayookhajohny
Instagram: NA
NET WORTH:

Mayookha is an employee at India's one of the biggest Public Sector company Oil and Gas Corporation (ONGC). She is a government employee, however, her net worth is not revealed.