Spainsh Giants Barcelona have threatened legal proceeding against a Spanish newspaper outlet over leaked contract negotiations with former Barcelona legend Lionel Messi.
Famous Spanish news outlet, EL Mundo reported that Lionel Messi made numerous request before his last contract deal in the 2020 summer transfer window.
Although, Catalans have said the leaked contract information was part of judicial lawsuit.
In the latest statement by Barcelona:
'In relation to the information published in El Mundo under the title 'Barca Leaks, the club's secret files', Barcelona express indignation at the intentional leaking of information that is part of a legal process,'

'The club regrets that the media in question boasts of having 'access to a huge number of documents and emails that are part of the Barcagate investigation' when this information is yet to be shared.

'In any case, the article in question makes public documents that have nothing to do with the ongoing case and their use is an affront to the reputation and confidentiality of the club. For that reason, and with the aim of protecting Barcelona's rights, the club's legal department are studying the legal measures that need to be taken.'  
Lionel Messi bizarre demands to stay at Camp Nou:
 A signing bonus worth £8.7million

 Release clause worth £8,700

Sign a deal with 3- year deal with an option to extend

Luxurious executive sitting box at the Barcelona stadium for his family and including Luiz Suarez

Demanded a Private aircraft to fly his relatives to Argentina to celebrate Christmas
Paris Saint Germain star left Barcelona in the 2021 summer transfer window after giving his 21 years to the club and was signed by PSG on a free transfer.
According to Leak information from the Spainsh newspaper, EL Mundo, From the contract, Lionel Messi wanted a huge signing bonus of £8.7million and a private plane to fly out his relatives back to Argentina at Christmas.
Former Barcelona legend also wanted a luxury executive sitting box at the Barcelona stadium for his relatives and also included former Barcelona player, Luiz Suarez and his family with deal of three years and option to extend the same.
Although, during struggling times of Barcelona in Pandemic he decided a pay cut of 20 % after 2020 season after that wanted to increase his salary £65m a year to £72 m a year for next 2 years.
All leaked information was recovered from Lionel Messi' father Jorge Messi and legal representative from Barcelona Club and which also include former Barcelona President Josep Bartomeu.
Spanish Newspaper, El Mundo also reported that Catalan club accepted all the requests from Messi team expect from two request- Barcelona refused to lower his current release clause to £8,700 and a £8.7m signing-on bonus.
After not accepting all the demands, Lionel Messi and his team later stop the negotiations from Club and decide to leave the Barcelona.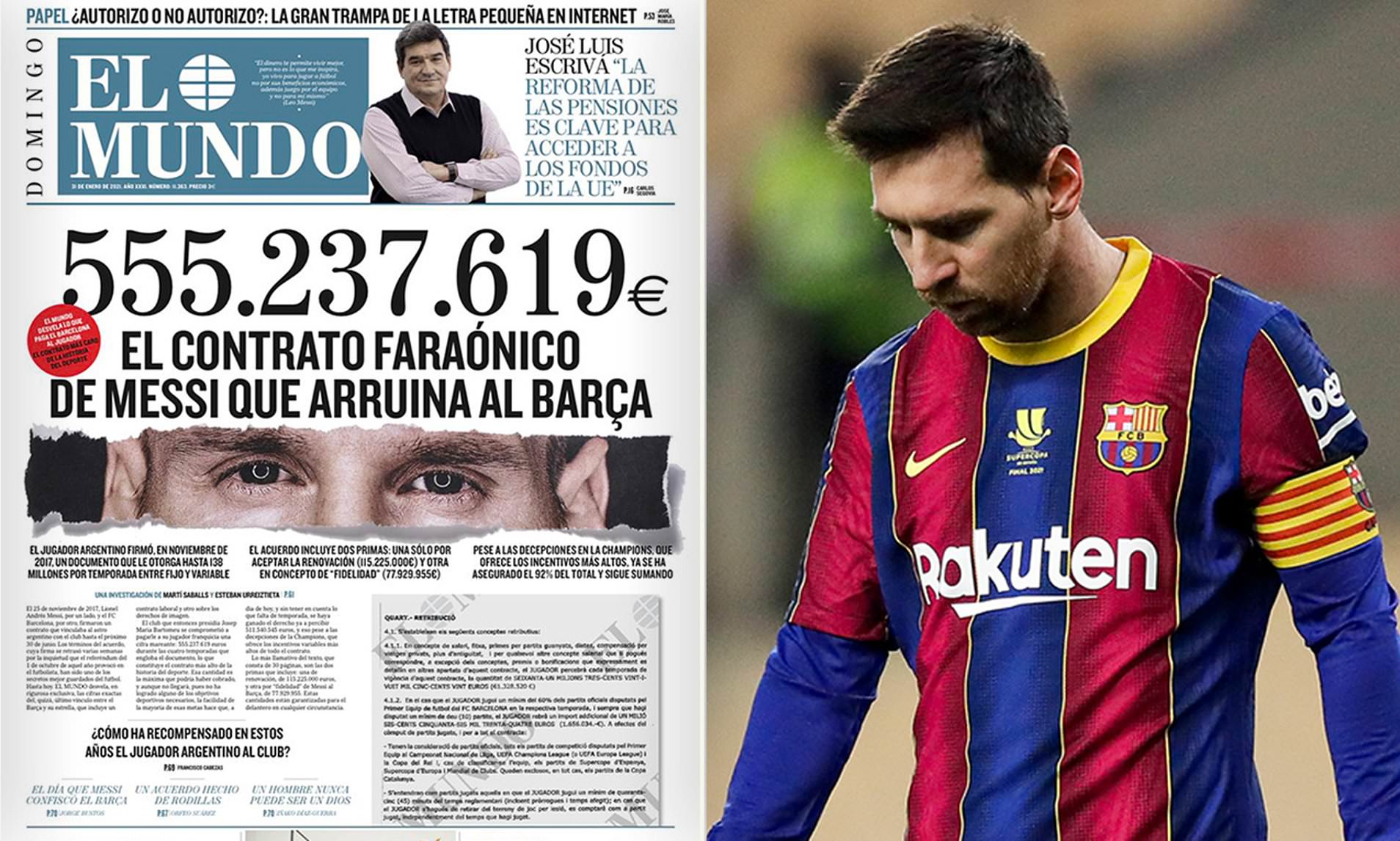 This was not the first time when famous Newspaper El Mundo leaked famous players contract details. Earlier, EL Mundo also leaked the infamous Lionel Messi's gargantuan contract worth €555m- which was the biggest contract in history of sports which was leaked online. The contract had other details like fixed income, tax return and image copyrights.
This contract leaked online enraged Barcelona and Messi, later they also filed a lawsuit against the famous newspaper El Mundo.
Former Barcelona team-mate and a close friend, Luiz Suarez reacted to the leaked contract from the Newspaper and later released statement against El Mundo and told Onda Cero:
'I was surprised to read Messi's contract in the press. I don't understand that there are people who have so much evil. What Barcelona is today is thanks to Leo.' 
Luis Suarez backed his former teammate and wanted Messi to retire when we wants and only he should decide his future in football.
Luis Suarez said to El Transistor:
'He is [playing] at a spectacular level, he is the best in the world. Messi will retire wherever he wants, he can decide whether it's at Barcelona, in Argentina or wherever.'