J. J. Shobha Biography: Javur Jagadeeshappa Shobha also known as J.J. Shobha, is considered to be one of the best track and field athletes in India. Shobha achieved national record when she accumulated 6211 points in the year 2004.
Her performance at 2004 will be praised for years, knowing the fact she got injured in the penultimate event of Javelin throw but still fought and placed third in the final event. 
EARLY LIFE
When Shobha was a kid, she lived in railway quarters. From a tender age, the track & field athlete developed an interest in sports. Shobha began pursuing athletics sincerely when she was in the 5th class.
The athlete's dedication & hard work paid her a lot of appreciation and with time she started earning some significant laurels at the junior level. Gradually, she went on to be recognized internationally as well.
PERSONAL LIFE
J.J. Shobha was born on 14th January 1978 in a small village named Pashupathilaal, Dharwad in Karnataka. 
PROFESSIONAL LIFE
J.J. Shobha's athletic journey began in 2002. In the same year, she earned a bronze medal at the Busan Asian Games & a silver medal at the Colombo Asian Athletics Championships.
In 2003, the athlete had her golden moment when she clinched a gold medal at the Afro-Asian Games & this win made her a sensation in India.
At the Athens Olympics, the athlete made the entire international community applaud for her with the performance. Unfortunately, Shobha could not earn a laurel for her country but she surely did win a lot of hearts there!
When Shobha was climbing the ladder of success, her life gave her a bad twist. The athlete suffered a serious injury during an event (javelin throw).
Her ligament tear was very bad. It was heartbreaking to see her carried on a stretcher. However, Shobha competed & also finished the race. She finished with the 11th rank but there is no doubt that Shobha showcased a true sportsman spirit at the competition and won respect from all over the world.
Her performance also earned her the Arjuna award. In 2008, J.J. Shobha appeared at the Beijing Olympics and managed to secure the 29th rank in the heptathlon event with a total of 5749 points.
AWARDS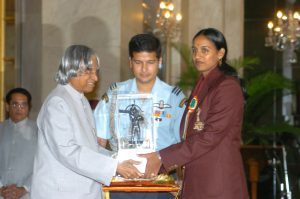 Arjuna Award for Athletics in 2005
ACHIEVEMENTS
ASIAN GAMES
Bronze: 2002, Busan: Heptathlon

Bronze: 2006, Doha: Heptathlon
AFRO-ASIAN GAMES
Gold: 2003, Hyderabad: Heptathlon
ASIAN ATHLETICS CHAMPIONSHIPS
Silver: 2002, Colombo: Heptathlon

Silver: 2007, Amman: Heptathlon
PERSONAL INFORMATION
Name: Javur Jagadeeshappa Shobha
Nickname: J.J. Shobha  
Sport: Athletics   
Events: Heptathlon
Country: India
Father's name: Satish
Mother's name: NOT AVAILABLE
Coach name: Sanjay Gernaik
Height: 167 cm (5 ft 65 in)
Weight: 60 kg (132 lb)
Personal Best: 6211 (New Delhi, 2004)
Eye colour: Black
Hair colour: Black
Date of birth: 14th January 1978 
Age: 41 years
Birthplace:  Pashupathihaal in Karnataka, India
Zodiac sign: Capricorn
Nationality: India
Hometown: Karnataka
Religion: Hindu
CONTROVERSY:
Apart from her awards, achievements, and performances, rower J.J. Shobha has never been a part of any controversy.
NET WORTH:        
The primary income and net worth of J. J. Shobha come from her job in the South Central Railways as the head clerk and also the sporting career.
SOCIAL MEDIA HANDLES:       
FACEBOOK– NOT AVAILABLE
INSTAGRAM– NOT AVAILABLE
TWITTER– NOT AVAILABLE