Katulu  Ravi KumarBiography: A bodybuilder turned weightlifter, Katulu Ravi Kumar won a gold medal at Commonwealth Games just 3 years after taking up the weightlifting professionally. One of the emerging athletes in the weightlifting field, Katulu Ravi Kumar represents India in the Men's 69 kg (152 lb) weightlifting discipline.
EARLY LIFE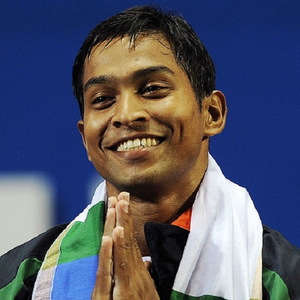 K. Ravi Kumar hails from Berhampur in Odisha. He started weightlifting at the Veer Hanuman Club in the city. K. Ravi Kumar was originally a bodybuilder for 7 years before he took up weightlifting. . Ravi faced a lot of barriers before experiencing success in his athletic career. But Ravi did a comeback and fortunately, India regained its precious talent.
PERSONAL LIFE
Katulu Ravi Kumar was born on 24th April 1988 in Berhampur, Odisha. Ravi was originally a bodybuilder before taking up weightlifting. He began his initial weightlifting practice at the Veer Hanuman Club in Odisha. Ravi's trainer, Narayan Sahu, advised him to change his interest from bodybuilding to weightlifting.
Unlike other athletes who are more comfortable training at their home, Ravi didn't find training at home an easy task. At home, Ravi cooked his own food as his family members are pure vegetarian.
Apart from his family, the one person who supported Ravi at every moment was his coach, Sita Prasad Patnaik. His fellow lifters have also helped him for his international performances.
PROFESSIONAL LIFE
Katulu Ravi Kumar chose weightlifting three years before the Commonwealth Games 2010 where he acquired victory with a record of 321 kilograms (708 lb). Ravi has trained with full determination to attain to his best & receive all coveted titles.
Ravi Kumar earned numerous national as well as international awards in a very short span of time. He clinched 3 gold medals at the Commonwealth Games in 2009 held in Malaysia. In 2010, he clinched 3 more gold medals at the Commonwealth Games. Ravi lifted 147 kilograms (324 lbs) in the snatch & 175 kilograms (386 lbs) in the clean and jerk for 321 kilograms (708 lbs) in the 69 kg weightlifting discipline. In 2011, he earned 3 bronze medals at the Senior Weightlifting Championships at Tongling in China. He further won three more golds at the Senior Weightlifting Championship in Bangalore.
Katulu Ravi Kumar also participated in the Summer Olympics in 2012. In 2014, he earned a silver medal at the Commonwealth Games in the 69-kilogram discipline. Ravi's lifts included 142 kilograms in the snatch & 17 kilograms in the clean & jerk for a sum of 317 kilograms. He became second and Sathish Sivalingam came first with a new Games record.
Katulu Ravi Kumar currently works with the Indian Army.
AWARDS
Arjuna Award for Wrestling
ACHIEVEMENTS
COMMONWEALTH GAMES
Gold: 2010, New Delhi, India: 69 kg
Silver: 2014, Glasgow: 77 kg
PERSONAL INFORMATION
Name: Katulu Ravi Kumar
Nickname: Katulu Ravi Kumar
Sport: Weightlifting
Events: Men's 74 & 69 kilograms
Country: India
Father's name: NOT UPDATED
Mother's name: K. Suryakanta
Coach: Sita Prasad Patnaik
Height: 1.72 m (5' 7")
Weight: 69 kg (152.12 lbs)
Eye colour: black
Hair colour: black
Date of birth: 24 April 1988
Age: 31
Birth place: Berhampur, Odisha, India
Zodiac sign: Taurus
Nationality: Indian
Hometown: Odisha
Religion: Hindu
CONTROVERSY:
The 31-year-old weightlifter has only hit headlines for his mind-blowing performances and glorious achievements for his homeland.
NET WORTH:
NOT YET UPDATED.
SOCIAL MEDIA HANDLES:
FACEBOOK- NOT ACTIVE
INSTAGRAM- NOT ACTIVE
TWITTER- NOT ACTIVE