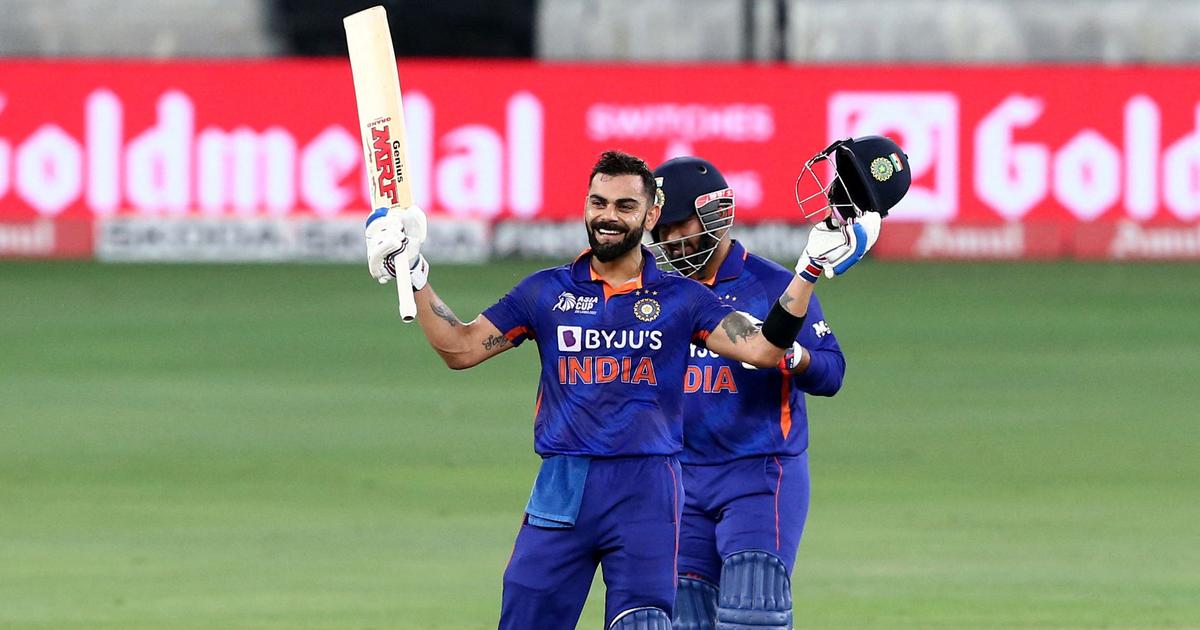 Finally Indian former captain, Virat Kohli has find his mojo back as many Indian critics and fans were doubting Virat's form and also questioned his place in the upcoming T20 World Cup.
Although, Virat Kohli has finally answered his critics with style as by the end of the tournament, Virat Kohli was the highest run scorer for team India in Asia Cup 2022 and was second highest scorer in the Asia Cup. Virat Kohli scored a splendid 276 runs in just 5 innings which includes two fifties and 1 century.
In the Upcoming T20 World Cup 2022, another hot topic has emerged for Virat Kohli's batting position.
So should Virat open at the T20 World Cup?

— Harsha Bhogle (@bhogleharsha) September 8, 2022
For many years, Former Indian captain has been batting outstanding at his favourite position by coming as one down 9 (no. 3) in white ball cricket. Although, Virat Kohli also opened for team India as Kohli opened in ODIs for 6 times and 9 times for T20I format.
While, Virat Kohli scores his 71st ton against Afghanistan in the Asia Cup 2022, where he scored 122 runs as an opener and also to notice Kohli's average while opening improves by 51.94 to 57.14 as an opener for India in T20I format.
With Kohli finding his momentum and failure of India in Asia Cup 2022, Many critics and former players have advised to make Kohli open the innings with Rohit Sharma or KL Rahul and make one of them to bat at lower position to improve India's opening pair.
Also in the Asia Cup 2022, India faced the similar problem in batting area, where Indian openers failed to score in the whole tournament while Kohli batting at No.3 made maximum of runs for India.
One of the former Indian wicket-keeper, Parthiv Patel believes that Virat Kohli should start opening in the T20 World Cup 2022 to balance the squad and his alliance with Indian captain Rohit Sharma as the opening pair will help Team India to have a great start in T20 World Cup 2022 which will be held at Australia from October 16.
"I was clear that Virat Kohli should be opening in the Asia Cup (and) he should be opening in the World Cup as well. It just gives the right balance," Patel told Cricbuzz.

"Both Rohit Sharma and Virat Kohli are different kinds of batters. One is aggressive, can hit boundaries. And then there is Kohli who finds gaps and creates boundaries. If Rohit and Kohli can play till the first six overs, I have no doubt that even in Australian conditions they will get India to around fifty," he added.
Former Indian Wicket-keeper who was also former RCB teammates, Parthiv Patel also believes Virat Kohli will be the main Indian batsman in Australia pitch and hence he should open during the Powerplay.
"Kohli is probably India's best batter suited for those conditions. So, why not? You have got your two best batters playing the first six overs. If you have wickets in hand, that has always been the recipe for success for any T20 team," he said