Sreeja Akula Table Tennis Player Biography
Sreeja Akula is an Indian Table Tennis Player born in Hyderabad on July 31st 1998  and plays for the country in singles and doubles events.
| | |
| --- | --- |
| Name | Sreeja Akula |
| Nickname | |
| Profession | Table Tennis |
| Birthplace | Hyderabad |
| Father's Name | |
| Mother's Name | |
| Date of Birth | 31st July 1998 |
| Age of now(17th June 2022) | 23 years old |
| Zodiac Sign | |
| Nationality | Indian |
| Siblings | |
Sreeja Akula Early Life:
Sreeja Akula belongs to Hyderabad school of Table Tennis which has produced players like Mir Khasim Ali who won national title in the year 1964 and he was only champion from the city for quite some time until those shackles were broken by former at the age of 23 years where she outclassed Mouma Das to bag women's title.
After winning her title she was elated while taking to one of the media outlets, that the biggest reason why I won national title is because of no expectations before stepping into marquee event.
Sreeja Akula Professional Life:
Sreeja Akula entered the national badminton championship competition as ranked number 1 and produced some dominating performances on the court which subsequently produced best results for her and she also bagged doubles title in the same tournament with fellow player Ayhika Mukherjee and stated that the reason why they won doubles tournaments as they share good bond as these two players belongs to two different cities of India.
Coach Somnath was also elated with the way Akula performed in the marquee event and while taking to one of the media outlets praised the players "Becoming a national champion is something else. This is the happiest day of my life. I have been waiting for this for 10 years. We worked hard for this result."
| | | |
| --- | --- | --- |
| Serial Number | Tournament | Result |
| 1 | National Championship(singles event) | Winner |
| 2 | National Championship(doubles event) | Winner |
Sreeja Akula Commonwealth Games 2022:
Sreeja Akula has been selected to play for women in blue along with Manika Batra, Suthrita Mukherjee & Diya Chitale in the upcoming Commonwealth Games 2022 and huge expectations will be on her to deliver in the crunch phase of the game.
PV Sindhu Biography, Age, Height, Personal Life, Achievements & Net Worth
Sreeja Akula Records & Achievements:
Sreeja Akula won 83rd senior Senior national and Inter state championship where she defeated Mouma Das by 4-1 in women's singles final to clinch victory and she won her first national ranking title in the year 2019 during the North Championship held at Sonipat Haryana followed by another title at Thane in the same year.
Her score in the national championship finals is shared below in tabular format
| | | | |
| --- | --- | --- | --- |
| S. No | Category | Score | Result |
| 1 | Singles | 11-8, 11-13, 12-10, 11-8, 11-6 | Winner |
| 2 | Doubles | 3-11, 11-9, 11-5, 12-10 | Winner |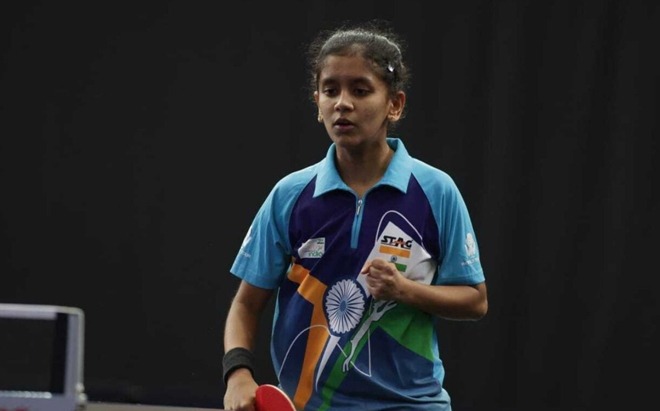 Sreeja Akula Controversy:
Sreeja Akula stays away from controversy had a very clean image as player and she is a focussed player eyeing to make big contribution to Indian table tennis in years to come.
As she is in tremendous form as fans we are expecting from her deliver in the upcoming marquee event.
Sreeja Akula Unsung Facts:
Sreeja Akula has defied all the odds to become champion and when she recently competed in WTT table tennis tournament in Budapest was quite a revelation where she competed in back to back three matches in which she won first two games against Linda Bergstrom & Barbora Balazova before eventually losing out to Manika Batra in the women's singles quarterfinals.
However the match she played against Manika Batra she was leading 9-3 at one point of time but later Batra made a remarkable comeback to seal victory.
Sreeja Akula Social Media:
Sreeja Akula Facebook: Na
Sreeja Akula Instagram: Na
Sreeja Akula Linkedin: Na
Sreeja Akula Twitter:Na
Also Read:  Archana Kamath Table Tennis Player Biography: Achievements, Personal Life, Family, Unknown Facts & Social Media