In the Group B opening fixture, Shakthar Donetsk defeated Real Madrid and sent shockwaves across the globe on Wednesday. At Santiago Bernabeu, Real Madrid were humbled by the Ukrainian outfit as the side went into the half-time break with a three-goal lead. Goals from Mateus Tete, Raphael Varane and Manor Solomon helped Shakhtar to register a memorable win in UEFA Champions League.
After some fine link-up play between the team-mates, Shakhtar Donetsk found the back of the net in the 29th minute. Mateus Tete slotted the ball home after a fine lay-off from Viktor Korniienko. Four minutes later. Thibaut Courtois had saved the shot but the ball fell into the feet of French defender, Raphael Varane. The player inadvertently turned the ball into his own net with Shakhtar players pressing high. Real Madrid found themselves 2-0 at the end of 35 minutes.
Despite leading by two goals, Shakhtar Donetsk weren't done yet. Three minutes from the half time, Manor Soloman scored a spectacular goal after beating Thibaut Courtois. Though it was the fine run which helped the Ukrainian outfit to score the goal, the lazy defending of Real Madrid defenders are to be blamed for the goal.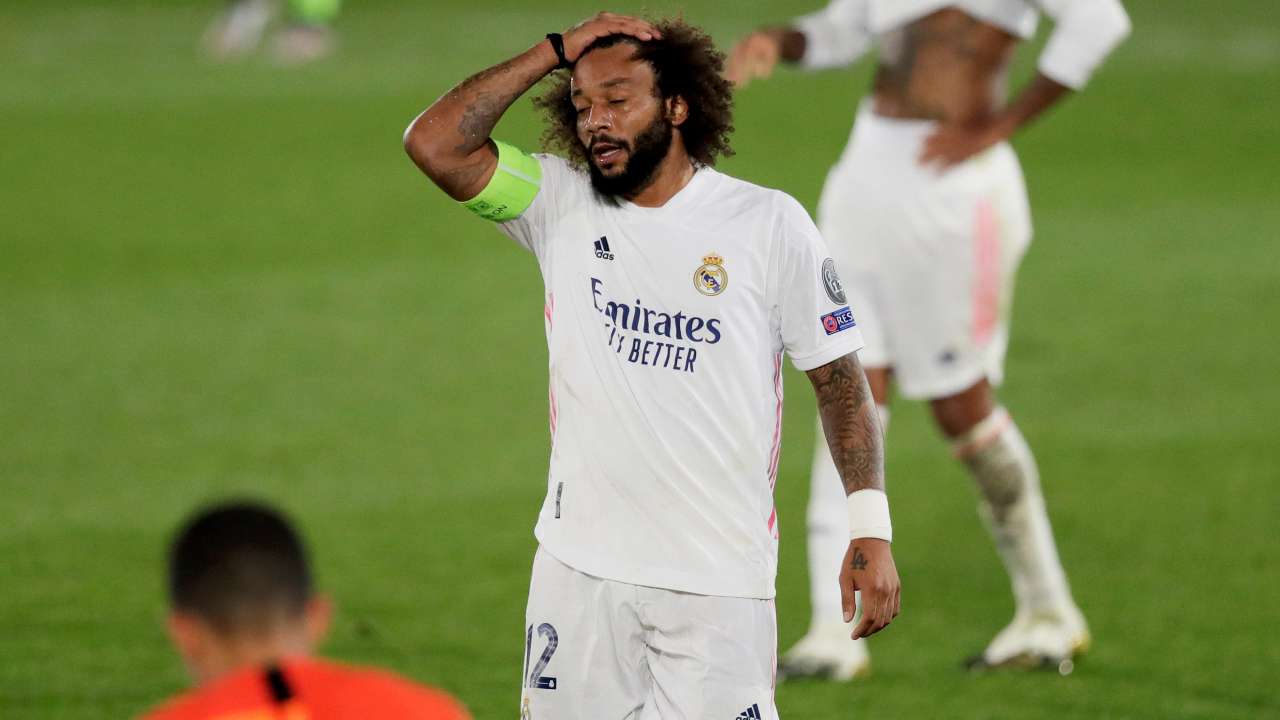 Starting the second half with more intention and purpose, Real Madrid reduced the deficit to one goal before the clock reached the hour mark. Luka Modric hit the top bin in the 54th minute whereas Vinicius Junior scored the goal in the 59th minute. However, Shakthar Donetsk didn't give an inch further for Real Madrid to advance for the next 30 minutes. 
Federico Valverde deflected the shot near the opposition post and Real Madrid players were celebrating the stoppage-time equalizer. However, the VAR ruled the goal offside as Vinicius Junior was blocking the vision of the goalkeeper. Shakhtar Donetsk will host Inter Milan in their next Champions League fixture whereas Real Madrid are up against FC Barcelona in the El Classico on Saturday.
Full-Time Score:
Real Madrid 2-3 Shakhtar Donetsk
Goals for Real Madrid: Luka Modric 54', Vinicius Junior 59'
Goals for Shakhtar Donetsk: Mateus Tete 29', Raphael Varane 33', Manor Soloman 42'
Other results:
⏰ RESULTS ⏰

🤩 Goals, goals and more goals!

😱 Shakhtar, Bayern & Atalanta claim big wins

🤔 Who impressed you most?#UCL

— UEFA Champions League (@ChampionsLeague) October 21, 2020