Bengaluru Bulls Vs. Bengal Warriors 
Matchday 6 of the Vivo Pro Kabaddi League season 9 saw Bengaluru Bulls face off against one time champions Bengal Warriors. The Bulls were finally handed with their first defeat of the season as the Warriors picked up a comfortable victory by a margin of 9 points. 
In terms of the defensive department as well as the raiding department, the Warriors from Bengal proved to be superior in front of the Bulls. Bengal were able to all out Bengaluru twice in the match and their tackle success rate of 54.17% says enough about their defensive strategies. 
Bengal Captain Maninder Singh kept his rhythm in tact as he was brought back 11 raid points from a total of 15 raids. He was accompanied by Shrikant Jadhav as was able to collect 6 raid points and All-rounder Manoj Gowda contributed 3 raid points. All of the Raider's performances reflected on their Raid strike rate of 59.46%. 
As it was mentioned earlier Bengal's defence had a memorable day as each defender contributed on their behalf. Right cover Vaibhav Garje stole 4 tackle points, Right corner Shubham Shinde picked 3 tackle points and Left corner Girish Maruti won the most number of  points by a defender with 5 tackle points to his name. 
Meanwhile, the Bengaluru Bulls did not make enough chances to win the game. Raiders Vikash Kandola, Bharat, Neeraj Narwal and Harmanjit Singh could only manage to bring back 18 Raid points. They had a raid success rate of 40.54% alongside a raid strike rate of 48.65%. 
Bulls' defence on the other hand had a below average tackle success rate of only 32% as they kept on handing points to Bengal raiders throughout the match. Left corners Saurabh Nandal and Aman trapped a combined 7 tackle points and All-rounder Narendar Hooda notched only a single tackle point. The Bulls were brought down to the 4th position as the Bengal Warriors leapfrogged to the second spot with 10 points.
The Final score line at the end of 40 minutes was 33-42.
Click here for live Pro Kabaddi League season 9 updates.
UP Yoddhas Vs. Dabang Delhi K.C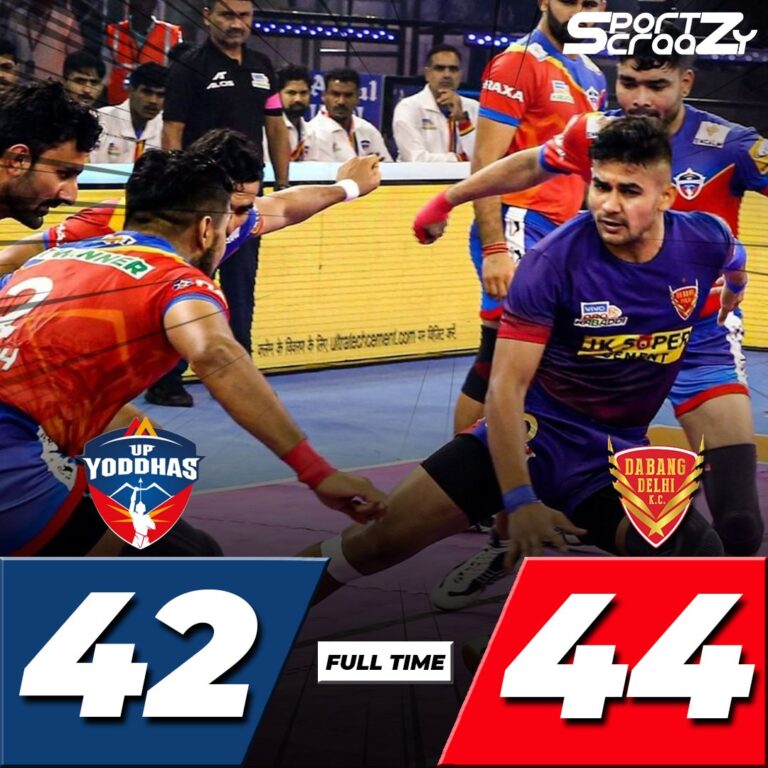 Reigning champions Dabang Delhi K.C maintained their 100% win record as they continue march towards yet another playoff spot. Although the match went really close but Delhi were able to see off UP by a thin margin of 2 points.
Delhi Captain and main Raider Naveen Kumar remained unstoppable as he brought back home whopping 13 raid points. He completed his 3rd Super 1o of the season and collected a total of 41 raid points in only 3 matches.
Naveen Express was accompanied by raider Manjeet Singh who collected 12 raid points, Ashu Malik brought back 2 raid points and Ashish Narwal notched only one raid point to his name. Despite having a lesser Raid strike rate of 67.5%, Dabang Delhi earned a hard fought victory.
Although, the defenders did not steal too many points but they drew enough points to support the Raiders' outstanding performance. Right Cover Ravi Kumar, Left cover Vishal, Central defender Krishan and Left corner Vijay Kumar were not at their best as they accumulated a total of only 9 tackle points.
Yoddhas from UP on the other hand fully deserved to win this match as the Raiding department looked absolutely untouchable and their raid strike rate of 74.36% evidently backed the team.
PKL's most successful raider Pardeep Narwal was kept quite as he brought back only 7 raid points, which looks unfamiliar according to the reputation he has. However, another Raider who will be utterly disappointed is Surinder Gill. He looked like the best player on the mat as he was able to steal outstanding 21 raid points including 15 touch points and 6 bonus points.
They would have hoped for a better performance from the defenders as Nitesh Kumar and Right cover Ashu Singh put together only 7 tackle points. UP Yoddhas will be extremely disappointed as they are winless this season and it was their 3rd defeat in a row.
Final Score line at the end of this match was 42-44.
Also Read: Defending Champion's Dabang Delhi K.C. announces Naveen Kumar Goyat as their captain for Pro Kabaddi Season 9