| | | |
| --- | --- | --- |
| | Full Name: | MS Dhoni |
| | Education: | College Dropout |
| | Mother: | Devki Devi (Housewife) |
| | Father: | Pan Singh (Mecon) |
| | Siblings: | 1 (Brother), 1 (Sister) |
| | Zodiac Sign: | Cancer |
| | Marital Status: | Married |
| | Marriage Date: | 04th July 2010 |
| | Wife: | Sakshi Dhoni |
| | Daughter: | Ziva Dhoni |
| | Houses: | Ranchi, Jharkhand |
Unarguably, India's greatest limited over's captain, Mahendra Singh Dhoni is an inspiration to all the kids who dream to make a name for themselves in cricket. Coming from a lower-middle-class family, MS Dhoni sets a perfect example to all those who question the talent and persistent hard work as two of the most important ingredients to become successful.
Dhoni was born in Ranchi, Jharkhand on 7 July 1981 to Pan Singh Dhoni and Devaki Devi. His siblings include a sister, named Jayanti and a brother, named Narendra Singh Dhoni.
We look at all the members of MS Dhoni's family in detail: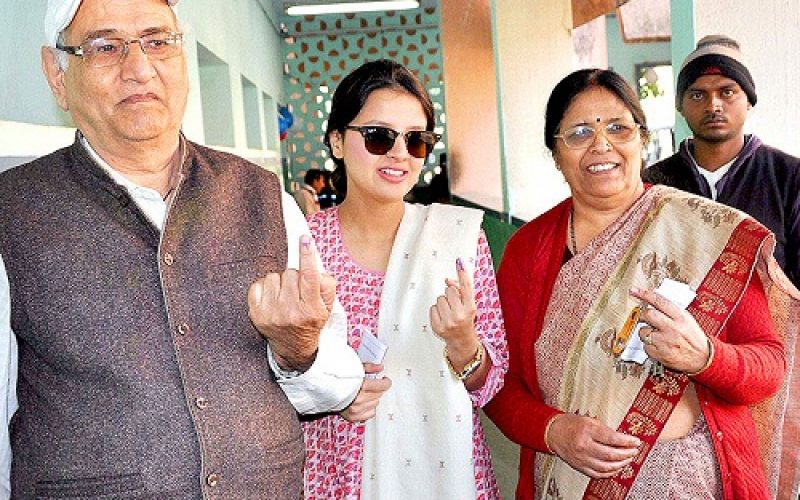 MS Dhoni's parents, originally, hails from Uttarakhand. His father, Pan Singh, worked at junior management positions in a public sector undertaking under the Ministry of Steel. His mother, Devaki Devi, is a homemaker.
Knowing the fact that MS Dhoni was never a studious child, his father would remain tensed about his future. Growing up, MS Dhoni drew a fascination towards cricket and wanted to become a cricketer. And this makes his father more scared given the kind of talent and money needed to excel in the sport.
However, nothing deterred an adamant Dhoni who only listened to his heart. Nonetheless, MS Dhoni has learnt a lot of traits from his father for shaping his career. Dhoni has always been a very disciplined guy right from his junior cricket playing days and he owes a lot to his father for that.
MS Dhoni's Brother: Not many people know that MS Dhoni also has a brother named, Narendra Singh Dhoni, who is 10 years older than him. Though, both couldn't spend much time together as when MS Dhoni grew older, his brother had moved to Kumon University in Almora to complete his higher education.
"I am 10 years older to Mahendra Singh Dhoni. By the time, he (MS Dhoni) picked up the bat for the first time, I was out of JVM-Shyamali and had also been away from home since 1991. I was in Almora at Kumon (University) where I completed my higher studies before returning to Ranchi. Although I may have moral contributions in Mahi's life, showcasing it would have been very difficult in the film (MS Dhoni: The Untold Story)." He said in an interview.
MS Dhoni's Sister: One of the biggest supporters in his cricketing journey is MS Dhoni's sister, Jayanti Pandey. Dhoni's sister motivated him throughout his struggling period and helped him scale enormous heights. While his father was sceptical of Dhoni making a career in cricket, her sister made sure he won't give up on his dreams by consistently motivating him and helping him in whichever way she could.
MS Dhoni tied the knot with Sakshi on 4th July 2010. The marriage took place in a farmhouse in Dehradun. The couple got blessed with a daughter, Ziva, on 6th Febraury, 2015.
At that time, Dhoni was leading India in the World Cup. When a reporter asked if he would have preferred being in India for the birth of his child, Dhoni replied, "Not really… I've been blessed with a baby daughter… Mom and daughter both are good. But as of now, I'm on national duty, so I think everything else can wait."
MS Dhoni and Sakshi Rawat got married on 4th July 2010 and were blessed with a daughter on February 6, 2015. Ziva is currently 5 years old and has already become an internet sensation. The internet is always filled with her cute and adorable pictures and is often seen in stadiums, cheering Team India, CSK and his father of course.
MS Dhoni-Sakshi Singh Rawat Love Story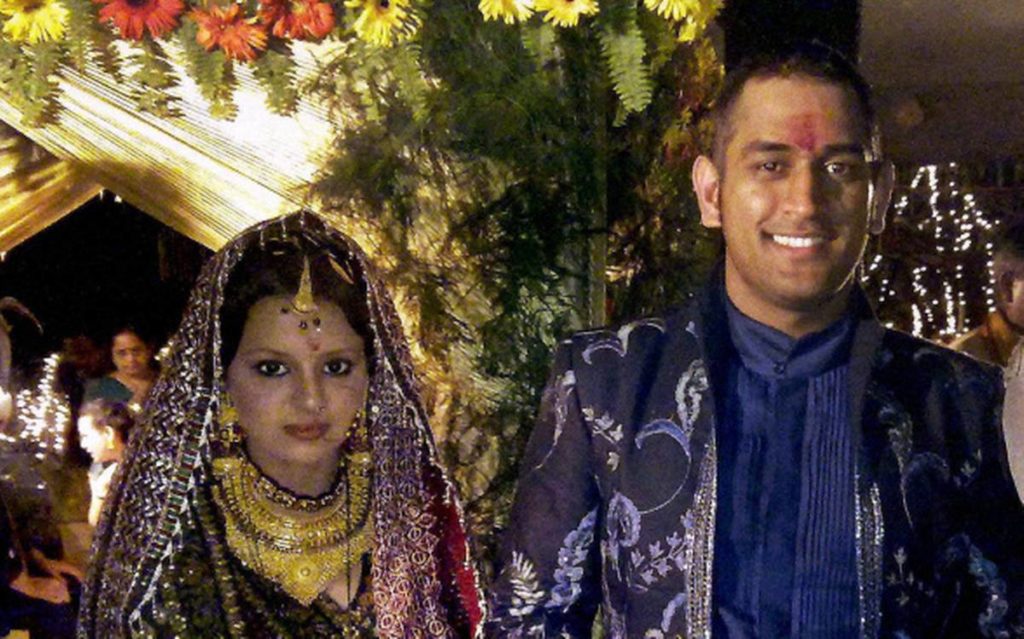 MS Dhoni and Sakshi Singh Rawat met for the first time in Taj Hotel in Kolkata in November 2007. He got to know about her through his manager, Yudhajit Dutta, who was friends with Sakshi.
Team India were due to play against Pakistan at Eden Gardens and, thus, were staying at Taj. Accidently, Sakshi was interning in the same hotel.
Dhoni's manager, who came to meet the former called Sakshi to join, to which, she nodded. This led to the start of a beautiful relationship between the former Indian skipper and Sakshi which ended in a successful marriage.
Dhoni asked his manager for Sakshi's number and even texted her first. Interesting conversations for a few months meant that the couple started dating each other in March 2008.
She even attended Dhoni's birthday party in 2008 and many more such occasions. The relationship grew manifolds and the couple eventually got married on 4th July 2010.
For MS Dhoni, his wife is the third most important thing in his life after his parents and his country.
"I love my country. I tell my wife she is only the third most important thing after my country and my parents, in that order. The point is that while I am an Indian cricketer I will devote myself to that cause. Cricket is not everything, not by any means, but it is a large part of who I am. Therefore, I want to play in all formats of the game and to play as much as possible because before long it will be over. Then I'll focus more on the Army!"
MS Dhoni lives in a big and marvelous farmhouse in Ranchi, named Kailashpati. The house is located at Ranchi's Ring Road and is built on seven acres of land. The house has every facility from an indoor stadium to a swimming pool.
MS Dhoni came into the Indian side as an aggressive batsman. He first showed his power-hitting skills when he struck his first ODI century against Pakistan. From there on he went onto play many more such knocks and became the face of Indian Cricket for over a decade.
In his illustrious career, Mahendra Singh Dhoni has accumulated a plethora of runs in International Cricket. To know about his complete journey from his junior cricket playing days to leading India to ICC titles: Click Here
While MS Dhoni enjoys a massive fan following on his social media handles, he prefers to stay away from it as much as possible. The former Indian skipper is known to have a reserved personality and likes to keep himself away from becoming a subject of controversy on social media.

However, his fans make sure whenever Dhoni post something on his social media handles, it goes viral in no time.