M. R Poovamma Biography: Indian sprinter, Machettira Raju Poovamma specializes in the 400 metres race. She has participated as a part of the 4* 400 m relay Indian team at Olympics 2016. She earned gold medals at the 2013 & 2017 Asian Championships and 2014 & 2018 Asian Games. In individual discipline, she won a silver medal at Asian Championships 2013 and a bronze medal at Asian Games 2014. The athlete's hard work & determination have paid off achievements & awards in return.
EARLY LIFE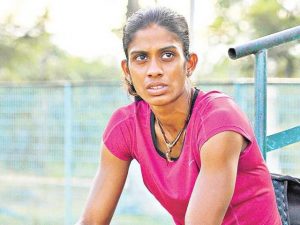 The talented athlete from Karnataka has been actively participating in sports since her childhood days. Poovamma's physical education teacher spotted an athlete inside her. He is the hand-holder of M.R Poovamma who guided her towards the world of sports. Once Poovamma made up her mind for sports, she got support from her family as well. From an early age, Poovamma was passionate about sports and devoted all her leisure time in practice to sharpen her skills.
PERSONAL LIFE
M.R Poovamma was born on 5th June 1990 in Gonikoppal, Karnataka, India. Her parents M.G Raju, who is an employee at Bajpe Airport and M.R Jaji are very supportive. Poovamma's parents encouraged her at every phase of her athletic career and allowed her to chase her dreams. Poovamma also has a brother, M.R Manju, who is an athlete by himself. M.R Manju has earned a gold medal (400 m hurdles) at the state level, a silver medal at Kantirava stadium, Bangalore in 400 m race. He has also participated in relay competition at the national level.
Poovamma has acquired her primary & higher education in Mangalore. She has completed her bachelor's education in business management from Shri Dharmasthala Manjunatheshwara College of Business Management in Karnataka.
Poovamma received success at the initial stage of his professional which helped her to participate confidently at the higher events.
PROFESSIONAL LIFE
When she was in the 6th standard, Poovamma's physical education teacher found a potential athlete inside Poovamma. Soon he took the responsibility to nurture her talents. Mr. Vasanth Hedge further motivated her to take part in a sports event at the district level. At that event, Poovamma showcased an extraordinary performance. Mr. Dinesh Kunder was surprised by her and hence invited her to Mangala Stadium to practice.
Dinesh's support led her to acquire gold, silver and bronze medals at different sports events at both national & international levels.
In 2008, the 29-year-old athlete earned silver (400m) & gold medal (4*400 m) at Commonwealth Youth Games.
In 2011, she won the 400 m title.
In 2012, she earned two golds & a silver medal at Asian Grands Prix.
In 2013, Poovamma represented India at the World Athletics Championships in Moscow.
In 2014, she acquired a gold medal (women's 4*400 m relay) at Asian Games in Incheon, South Korea with a clock time of 3:28:68 and broke the Games record.
In 2017, M.R Poovamma also participated with the winning team at Asian Athletics Championships.
Poovamma never forgets to shower applauds for her dedicated coach, Dinesh Kunder.
AWARDS
ACHIEVEMENTS
ASIAN GAMES
Gold: 2014, Incheon: Women's 4*400 m
Bronze: 2014, Incheon: 400 m
Gold: 2018, Jakarta: Women's 4*400 m
Gold: 2018, Jakarta: Mixed 4*400 m
ASIAN CHAMPIONSHIPS
Gold: 2013, Pune: Women's 4*400 m
Silver: 2013, Pune: 400 m
Silver: 2015, Wuhan: 400 m
Bronze: 2019, Doha: 400 m
Silver: 2015, Wuhan: Women's 4*400 m
Gold: 2017, Bhuvaneswar: Women's 4*400 m
Silver: 2019, Doha: Women's 4*400 m
Silver: 2019, Doha: Mixed 4*400 m
PERSONAL INFORMATION
Name: Machettira Raju Poovamma
Nickname: M.R Poovamma
Sport: Athletics
Events- 200-800 m
Father's name: M.G Raju
Mother's name: M.G Jaji
Brother's name: MR Manju
Coach- Nagapuri Ramesh
Personal bests- 200m- 24.31 (2018), 400 m- 51.73 (2014), 800 m- 2:09.24 (2017)
Height: 173 cm (5ft 8 in)
Weight: 60 kg (132 lb)
Eye colour: black
Hair colour: black
Date of birth: 05 June 1990
Age: 29 years
Birth place: Gonikoppal, Karnataka, India
Zodiac sign: Gemini
Nationality: Indian
Hometown: Karnataka
Religion: Hindu
CONTROVERSY
M. R Poovamma has always made headlines for her glorious performances and achievements. The dedication towards her sport kept Poovamma out of any such controversy.
NET WORTH OF M. R POOVAMMA  
NOT YET UPDATED.
SOCIAL MEDIA HANDLES OF M. R POOVAMMA
FACEBOOK- https://www.facebook.com/Poovamma-M-R-1380458705544046/
INSTAGRAM- https://www.instagram.com/poovamma.m.r/