Ganapathi Krishnan Biography: Ganapathi Krishnan is an Indian athlete who was selected in the 20 Kms Racewalk in the 2016 Rio Olympic. He has won the Silver medal in the National Championships held in 2016.
Early Life:

Brother- Thirupathy Krishnan (Indian Army)
Ganapathi Krishnan was born on 24th of June in the Kone Goundanur village of Krishnagiri district in Tamil Nadu. Ganapathi lived in a remote village where people had never heard about race walking. Ganapathi was the second of the three sons in his family. As a small boy, Ganapathi used to play Volleyball in his school.
Personal life: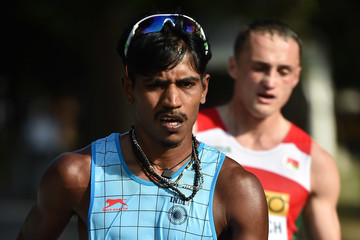 Ganapathi belongs to a very lower-middle-class family. Ganapathi in his earlier days used to climb the hills in a nearby forest in order to extract and collect honey. He used to do it regularly to sell those honey and make money for the family. His family still survives on barely ₹.5000 a month. Ganapathi's father is proud of his son's achievements. Ever since he starting competing in league around the world, Ganapathi had his eyes on bagging a medal in Olympics.
When he was selected for the 2016 Rio Olympics, he demanded ₹.2 Lacs from his father in a bid to prepare himself for the competition. His father had to helplessly take a loan of around Rs.3 lakhs from the bank. His brother who was in the Army supported him entirely and throughout his career. Ganapathi also joined Indian Army that allowed him to train more extensively.
Professional Life:
Ganapathi joined Indian Army after following his elder brother's footsteps. There he could train properly and extensively to achieve his dream. In less than six years since he joined the Army, Ganapathi was well prepared for the Olympics.
Gradually, he started winning medals in the International events. Ganapathi clocked 1:21:41 hours to earn 22nd rank in the World Championships held in Rome this year. His timing was not just the best among the Indians there but was good enough to make the cut for Rio. He won a silver medal at the National Championships followed by the fifth rank in the Asian Championships in 2016. He was selected for the Rio Olympics in 2016 but he didn't get any sponsors as he hardly made any news after his selection. Unfortunately, Krishnan was disqualified in the finals of the racewalking event in 2016 Rio Olympics. Wang Zhen of China, Dane Bird-Smith of Australia, Christopher Linke of Germany and Manish Singh of India his strong rivals in the race walking.
Physical measurement:
Date of Birth- 24 June, 1989
Age (as of 2019)- 30 years old
Gender- Male
Birthplace- Krishnagiri District, Tamil Nadu
Race- Brown
Zodiac sign- Cancer
Nationality- Indian
Hometown- Tamil Nadu
Residence- Kone Goundanur, Krishnagiri District, Tamil Nadu
School- Government School, Mekalachinnampalli
College- Not Known
Occupation-  Race Walker
Event- Race Walking 20 Kms
Net worth- Not Known
Qualification- Not Known
Height- 5'8" (1.8 meters)
Weight (approx.) – 64 Kgs
Eye Color- Black
Hair Color- Black
Religion- Hinduism
Ethnicity- Not Known
Sexual Orientation- Straight
Tattoo – NO
Smoking-  NO
 Social Media Profiles:

Instagram: @ganapathi.krishnan.756
Twitter:  Does Not Use
Facebook: https://www.facebook.com/pg/Ganapathi-Krishnan-1770189086592687/about/?ref=page_internal
Net Worth:
N/A
Achievements:
After his qualification in the Rio Olympics, a clip of a local news channel which ran the report of Ganapthi's Olympic qualification went viral across his village to transform his image amongst everyone in his home town. Now, this clip is a "must" have in the mobile phones of everyone in his village.
Silver Medal- 2016 National Championships (Race Walking)
Rank 5- 2016 Asian Championships
Rank 22- 2016 World Championships