Frenkie de Jong is a Dutch professional footballer who plays as a midfielder for the Netherlands National Team and Spanish club Barcelona. He started his professional career with Willem II in 2015, but was subsequently transferred to Ajax. He featured as a defensive midfielder and established himself as one of the most successful young players in Europe. Since his promotion on the youth side, he had appeared in 65 matches as a versatile player lining up as Central midfield, defensive Midfield and even centre-back. Frenkie is possessor of unnatural strength, calmness and awareness, his comfortness with the ball made him acquiring a place in one of his future team Barcelona on 1st July 2019 at a cost of 75 million Euros.
Frenkie de Jong Early Life
Frenkie was born on 12th day of May 1997, at Arkel in the Netherlands, the same place where the Brazilian star footballer Marcelo was born. His mother as well as his father were professional footballers, thus coming from a family with a rich professional background in football, Frenkie received the right training and guidance, since his childhood. He grew up playing football in his hometown team ASV Arkel, he used to juggle his academics and football nicely. In 2004 he joined the Willem II where he learned the traits that are characteristics of his present style of play which includes his effortless ability to make the hardest things look ridiculously easy.
Frenkie de Jong Personal Life
Frenkie has been in a relationship with the hockey player Mikky Kiemeney, the lovebirds just met and their relationship started. The reason was the charm and passion both carries with them for sports. Mikky has been with Frenkie since he was in the Youth System of Willem II. The couple is currently living in Amsterdam happily. One of the many factors upon which we can claim that the couple perfect is that both have almost identical smile, cute isn't.
Frenkie de Jong Professional Life
After joining the Club Ajax in 2016 he made his 15 appearances in January 2015-16 Eerste Divise, as a central midfielder in a three-man midfield, he bagged two goals and bagged three assists. In the next 2016-17 Eerste Divise's he was awarded Talent of the Season award for his performance in the tournament. He made his senior debut for Ajax against the Sparta Rotterdam. Ageing to 20 he had made 26 senior team appearances, featuring as a centre back, in back four, with his national teammate Matthijis de light, in the season he assisted 8 goals in 22 league appearances with two yellow cards.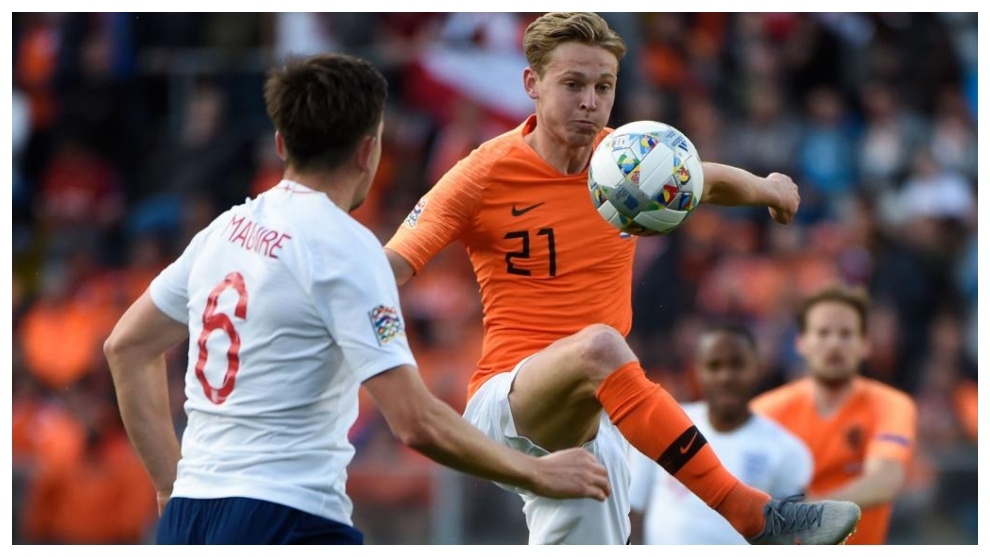 After joining his dream team Barcelona from 1st July 2019 for a fee of 75 million dollars he made his first competitive debut on 16th August defeating Athletic Bibao by 1-0. For his National team made his first debut for the Netherlands U19 team on 10th July 2015 against Germany. He made his international debut in a friendly match against Peru in a win by 2-1. After being a regular starter for the Netherlands, featuring in almost every game he scored his first senior international goal on 6th September 2019, equalizing the score in a UEFA Euro 2020 Qualifiers against Germany in Hamburg with a win 4-2.
| | |
| --- | --- |
| Clubs | Season |
| Willem II | 2014-16 |
| Jong Ajax | 2015-17 |
| Ajax | 2016-19 |
| Barcelona | 2019-20 |
Honours
Ajax:
Eredivisie: 2018–19
KNVB Cup: 2018–19
UEFA Europa League runner-up: 2016–17
Netherlands:
UEFA Nations League runner-up: 2018–19
Frenkie de Jong Achievement
Eerste Divisie Talent of the Season: 2016–17
Eredivisie Player of the Month: December 2018, February 2019
Eredivisie Player of the Season: 2018–19
Eredivisie Team of the Season: 2018–19
UEFA Champions League Squad of the Season: 2018–19
UEFA Midfielder of the Season: 2018–19
Dutch Football Talent of the Year: 2018–19
UEFA Nations League Finals Young Player of the Tournament: 2019
UEFA Nations League Finals Team of the Tournament: 2019
Physical Measurements
Height: 5ft 11in
Weight: 74kg
Eye colour: Blue
Hair colour: Regular Blonde
Frenkie de Jong Personal Details
Full Name: Frenkie de Jong
Date of Birth: 12th May 1997
Place of Birth: Arkel, Neitherlands
Playing Position: Midfielder
Nickname: De Jong
Education: Unknown
Relationships: Miky Kiemeney
Kids: None
Hobbies: Playing football
Controversy
Being defeated by the Real Madrid at the Champions League Frenkie de Jong made a controversial statement suggesting VAR is more likely to favour a "big Club" only, as his call for VAR was denied that leads an opening goal for Real Madrid.
Frenkie de Jong Net Worth
Frenkie de Jong's estimated Net Worth is $3 Million dollars
Social Media
Frenkie de Jong Facebook: https://www.facebook.com/DeJongFrenkie21/
Frenkie de Jong Twitter: @DeJongFrenkie21
Frenkie de Jong Instagram: @frenkiedejong