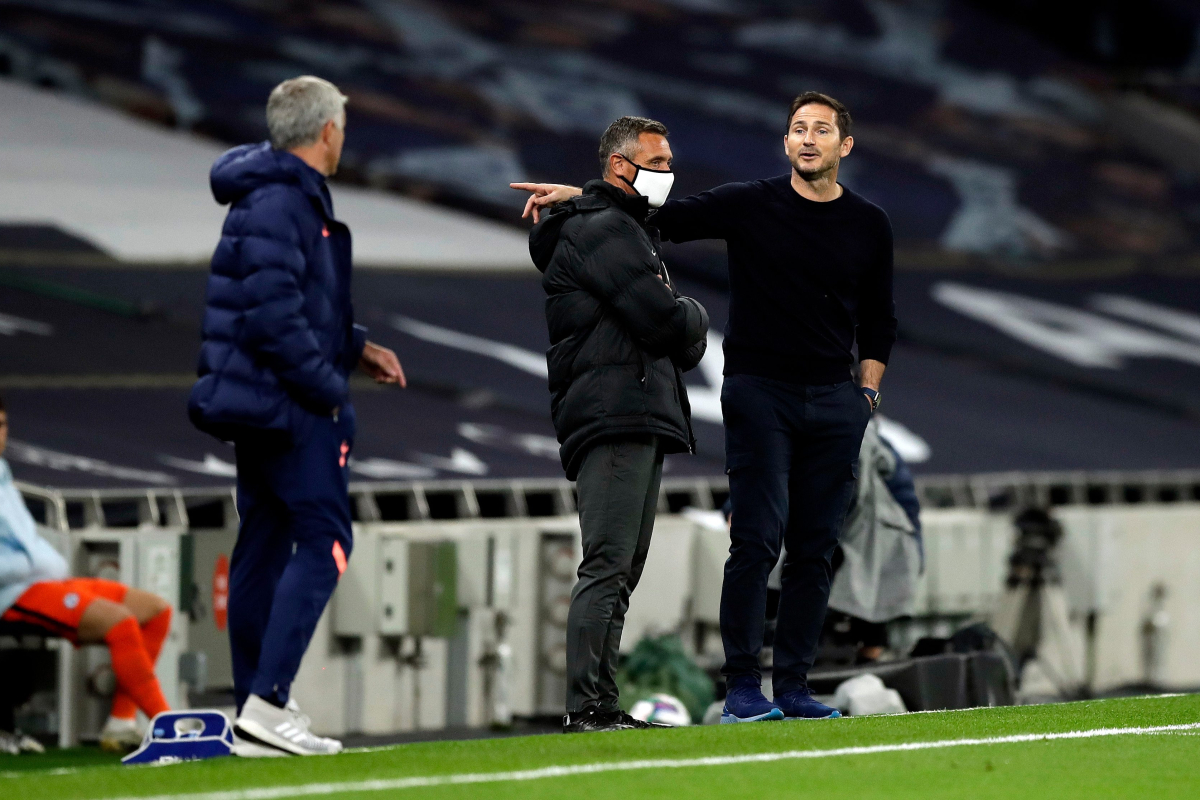 Chelsea boss was "not surprised" by Jose Mourinho's allegation that Chelsea players have attempted to win cheap penalties.
Mourinho alleged that Chelsea, Manchester United, Manchester City and Liverpool have attempted to con officials into awarding a spot-kick in his defence of skipper Harry Kane.
Tottenham boss was unhappy with the implication that Kane had deliberately backed into Adam Lallana to win a penalty in Tottenham's 2-1 win over Brighton and Hove Albion last weekend.
Speaking earlier this week, Mourinho said: "Kane? I think you are confused. 

"You could be speaking about some Manchester United players, some Man City players, some Liverpool players, some Chelsea players."
Chelsea have already had eight penalties this season but Lampard insists none of those were awarded for a player diving inside the box.
"I wasn't surprised by those comments," he said.

"There have been no incidents of diving at Chelsea this season that I've seen. 

"But I wasn't surprised by it, no. I think it's very normal that managers in and around the clubs challenging sometimes mention others with those statements. It didn't affect me."

He added: "I'm not going to tell Jose or any other manager how to do a press conference. 

"I think we all know when we watch these penalty decisions, we know what ones are penalties, what ones are dives, ones that are cleverly bought. I don't want to dwell on it."
Timo Werner successfully converted two penalties for Chelsea in Wednesday's 4-0 win over Rennes in the Champions League, extending their unbeaten run to six matches.
Chelsea kept clean sheet in five successive games for the first time since October 2010, with Thiago Silva and Kurt Zouma starting together in every game together. 
Lampard has frequently praised the experienced defender Silva, who he believes also helping out Zouma to gain more confidence.
"I've been really impressed with Kurt, his form and what he's giving us, scoring and defending from set-pieces, which is a big part of our game," he said.

"I think Thiago can affect people around him. I think of his status in the game and the way he plays it. 

"We talk about partnerships in the team. We can all think of great centre-back partnerships. With Thiago's quality it rubs off not only on Kurt but any player he is paired with.

"I think he's helped Kurt and we now need to sustain that level of performance and keep the good run of clean sheets we're ongoing. He's certainly affecting the others."
Thiago Silva was brought in on a free transfer after his Paris Saint-Germain contract expired at the end of last season – one of seven first-team players signed during a busy close season.
Lampard is grateful to have been heavily backed by owner Roman Abramovich and hopes the signing of Silva, in particular, can lead to silverware being won.