Best Players Of Bangladesh In IPL
Over the past few years, Bangladesh have successfully shed the tag of 'minnows' in international cricket and are now considered a formidable opponent by any team in the international arena.
This charge has been led by a pool of supremely talented cricketers who have taken Bangladesh Cricket to the next level. However, only a few of these players have ever made it into the Indian Premier League – in fact, only 6 have been picked up in the auction, and of these only 2 have played more than 1 game.
Top 5 Best Players of Bangladesh in IPL
However, for their exploits on the biggest stage of them all, here are the Bangladesh Best Players in IPL history.
5. Tamim Iqbal
One of Bangladesh's leading run-scorers in international cricket, Tamim Iqbal has made a name for himself by being an attacking opening batsman who takes the game to the opposition from the first ball itself. He happens to be part of a select group of batsmen to have scored at least one century in all three formats of the game, so his ability to score big is not in doubt either.
However, Iqbal is yet to play a single game in the IPL despite being contracted to the Pune Warriors India over the 2012 and 2013 seasons. Despite that, he still remains one of the best players of Bangladesh in IPL history – still an attractive pick-up for any IPL side and will be hoping to get a game sooner or later.
Read More: Best Bowling Performances of Rashid Khan in IPL
4. Abdur Razzak
A prolific left-arm spinner in his day Abdur Razzaq holds the distinction of being the first Bangladeshi cricketer to claim 200 wickets in ODI cricket. However, he ran into some problems related to the legitimacy of his action in 2008 and was only allowed to bowl in the international arena again in 2009.
Despite that, he was picked up by Royal Challengers Bangalore in the inaugural season of the tournament, making his debut in a losing cause against Rajasthan Royals. He was taken for 29 runs in his 2 overs and failed to score a run, a showing that prevented him from being selected in any of the subsequent matches.
Read More: Best Bowling Performances of Sandeep Sharma in IPL
3. Mashrafe Mortaza
The long-serving Bangladesh skipper and dependable player throughout his career, Mashrafe Mortaza will go down as a legend of Bangladesh cricket even though his IPL career didn't amount to much. An accurate and pacy bowler and a useful batsman to have lower down the order, Mortaza was at the forefront of Bangladesh's emergence as an international side to be reckoned with.
Despite his one match in the tournament being something of a nightmare, Mortaza is Bangladesh Best Players in IPL competition. Playing for KKR against Deccan Chargers in 2009, Mortaza was carted for 58 runs in his 4 overs, failing to defend 21 in the last over as his side ended up on the losing side.
Read More: Best Bowling Performances of Shahbaz Nadeem in IPL
2. Mustafizur Rahman
Mustafizur Rahman enjoyed a meteoric rise to stardom with his excellent performances in the international arena for Bangladesh, and it is this form that he brought to the IPL as well. A tall and pacy left-arm bowler, Mustafizur is known for his incredible accuracy, tormenting both left-handed and right-handed batsmen with his pace, bounce, and movement off the deck.
Mustafizur was drafted into the IPL in the 2016 season by Sunrisers Hyderabad and proved to be an inspired acquisition, as he took 17 wickets in 16 matches to help his side win the title. In 2018, he moved over to the Mumbai Indians, where he as featured less regularly but still remains one of the best players of Bangladesh in IPL history.
Read More: Best Bowling Performances of Khaleel Ahmed in IPL
1. Shakib al Hasan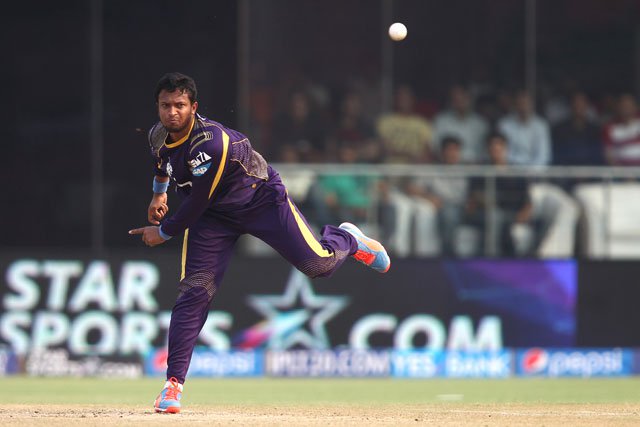 If there was ever any player to claim a spot atop this list of the Bangladesh Best Players in IPL history, it is their former skipper Shakib al Hasan. In fact, the experienced and talented all-rounder has a legitimate claim to be considered one of the best players (if not the best) in his country's history, such has been his contribution to the growth of Bangladesh cricket.
At one time, Shakib was the best all-rounder in the world as well, and he brought this form into the IPL too. He joined Kolkata Knight Riders in 2011 before moving to Sunrisers Hyderabad in 2018, enjoying success with both franchises. In all, he has played 63 matches in the IPL, scoring 746 runs at an average of 21.31 and taking 59 wickets.