India wins FIH Series Finals:- Team India displayed a clinical performance against South Africa in the FIH final, beating them by 5-0 on Saturday. Out of the five goals, four came from Penalty corners as the world number five, India was too good for South Africa to win the series finale.
India scored their first goal as early as in the second minute, with Varun Kumar converting the penalty corner into a goal. In the 11th minute, India was awarded another penalty corner and Harmanpreet Singh made no mistake in adding another goal to India's kitty.
Harmanpreet Singh scored his second goal of the match five minutes from half-time with another penalty strike, making it even worse for South Africa as scoreline went 3-0.
The change of ends didn't turn South Africa's fortunes as India kept dominating the game. After being set up a beautiful ball by Simranjeet Singh, Vivek Sagar Prasad made no mistake in scoring India's fourth of the match after just five minutes into the fourth quarter.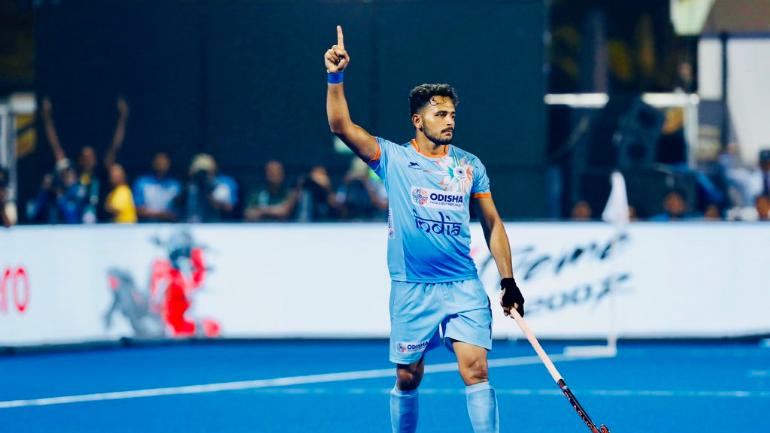 India wins FIH Series Finals:- India's fourth penalty corner in the 49th minute saw Varun Kumar adding the 5th goal to India's scoreline as South Africa were left clueless against the overwhelming favorites of the tournament.
South Africa finally had something to cheer about when they secured back-to-back penalty corners in the 53rd minute and from the second chance, Pautz deflected in Eustice's flick to reduce the margin to 5-1.
South Africa's poor show was on display till the final minutes when they handed India two more penalty corners, however, India failed to convert both into goals.
In all, Varun Kumar (2nd and 49th minute), Harmanpreet Singh (11th and 25th) scored two goals each, while Vivek Sagar Prasad scored one in the 35th minute of the match.
South Africa's lone goal was scored in the 53rd minute by Richard Pautz.
For those of you who don't know, India and South Africa had already quaified for the final round of the Olympic qualifiers after reaching the finals of the FIH series.
Meanwhile, in the match between Japan and USA, the Asian Games Champion beat USA 4-2 to claim the third position in the series.
Also Check: