Nilam Sanjeep Xess and Amit Rohidas to receive 10 Lakh INR from Naveen Patnaik
In a recent development, Odisha's Chief minister Naveen Patnaik who has helped in developing the state of our national sport in the country has offered INR 10 Lakhs to Odisha born drag flickers Nilam Sanjeep Xess and India's Vice captain Amit Rohidas as a token of appreciation for their contribution.
Both the players are going to have integral roles in the team as the host nation begins their WC campaign later today against Spain. Nilam and Amit had inspiring journeys before breaking into the Indian national team.
And Naveen Patnaik's gesture will boost their respective morale ahead of the marquee event. Both the defenders will be hoping to help India get past a tough group stage which has teams like England, Wales and Spain.
Amit Rohidas will have a imperative task, greater then Nilam's. Rohidas featured for India during their Bronze medal triumph at 2020 Tokyo Olympics. His form and performance will be important as he is an alternative choice for taking Penalty corners.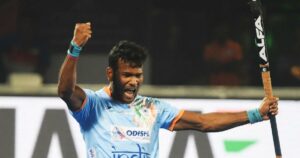 In 125 senior outings, Rohidas has found the back of the goal 18 times. His journey in the Indian team was full of ups since making his debut in 2013. Rohidas struggled to find a permanent spot in the team initially but after impressive performances he became a starter before being elected as the Vice-Captain.
Meanwhile, Nilam Sanjeep Xess who will be guarding the goal post has 5 goals in 30 International outings. When India takes the field against Spain, the crowd will get behind their homeboys whenever they touch the ball.
Before the World cup began, Naveen Patnaik had announced that he will be giving Rs. 1 Crore INR to each player if India wins the world cup at home and end their decade long drought.