Federer-Nadal Rivalry: Tennis has produced some of the biggest sports stars in the past few decades and whilst we have to list down few of them, Roger Federer and Rafale Nadal can certainly come over as the top two in the coveted list. Moreover, both of them has provided the tennis fans with some of the most memorable matches and magnificent performances over the years and it is because of their long standing rivalry in the tennis only, that the sport has gained immense popularity amongst millions of its fans across the globe.
Although Federer has always been quoted as the Best ever to play on the tennis court, even Nadal has produced some of the most breathtaking performances in the process and whenever these two meet each other in tennis clash, the temperature soars down to their limits. Therefore, as we have just talked about one of the biggest Tennis rivalries between two of the greatest players ever, let's take a look at 5 of the best matches played between Roger Federer and Rafale Nadal so far.
#5 ATP masters series finals, Rome (2006)
Image Source
Federer-Nadal Rivalry: Roger Federer did held his supremacy on almost every tennis tournament during his career but it was Rafael Nadal who has ousted everyone else in the tennis circuit when ti comes to dominate the clay court.it was all down to the ATP masters series finals between him and Roger Federer and although everyone did know that Federer is a class apart, they also knew about the fact that Clay court was always Nadal's backyard.
To everyone's surprise, Federer did push nadal to his limits and there were instances that Nadal has to save few of the match points in the whole process. Eventually, he came better of federer whilst securing a victory by 6-7 7-6 6-4 2-6 7-6, it was federer who made him realize that every supremacy has to confront some real test at certain point of times. Still this epic match can list down to no 5 spot in our list with all the nervy moments and amazing display of tennis on clay court.
#4 ATP Masters Series Finals, Miami (2005)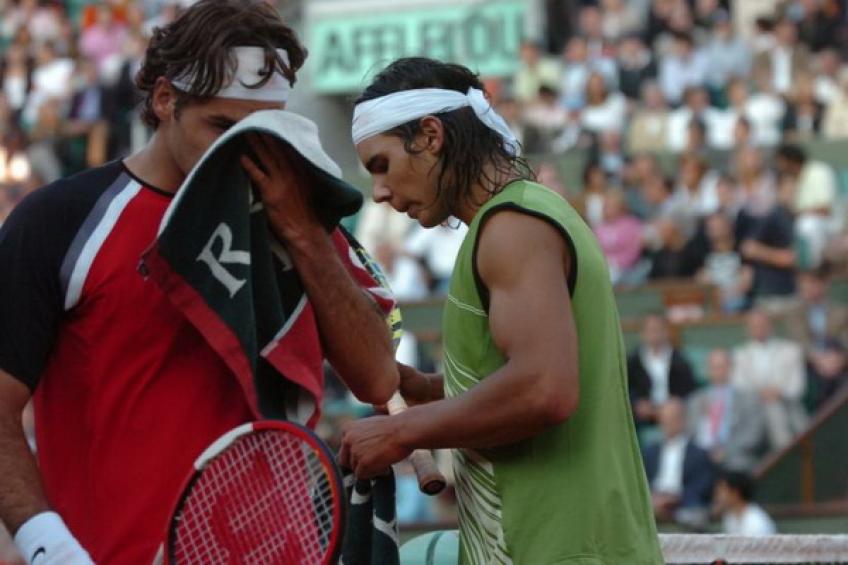 Image Source
Federer-Nadal Rivalry: It was the time when Nadal was a teenager who was trying to make his presence counted in the tennis arena and on the other hand, we did get the King Federer who was coming from his undefeated streak of 21 matches to this match with Nadal. Quite interestingly, it was the same series where Federer was beaten by Nadal a year back and seems like Federer was adamant to have the bragging rights this time against his rival.
Quite surprisingly, Nadal put Federer to edge after he took first two sets of the match away from Federer in closest of the finishes but it was once again down to that something special from Federer which restored his supremacy in the tennis court once again. Federer was down in the third set with 5-2 but he still snatched the victory out of the jaws of defeat from Nadal in one of the most epic clashes in the tennis history.  Federer won 2-6, 6-7, 7-6, 6-3, 6-1 in a close contest eventually.
#3 Australian Open Finals, Australia (2009)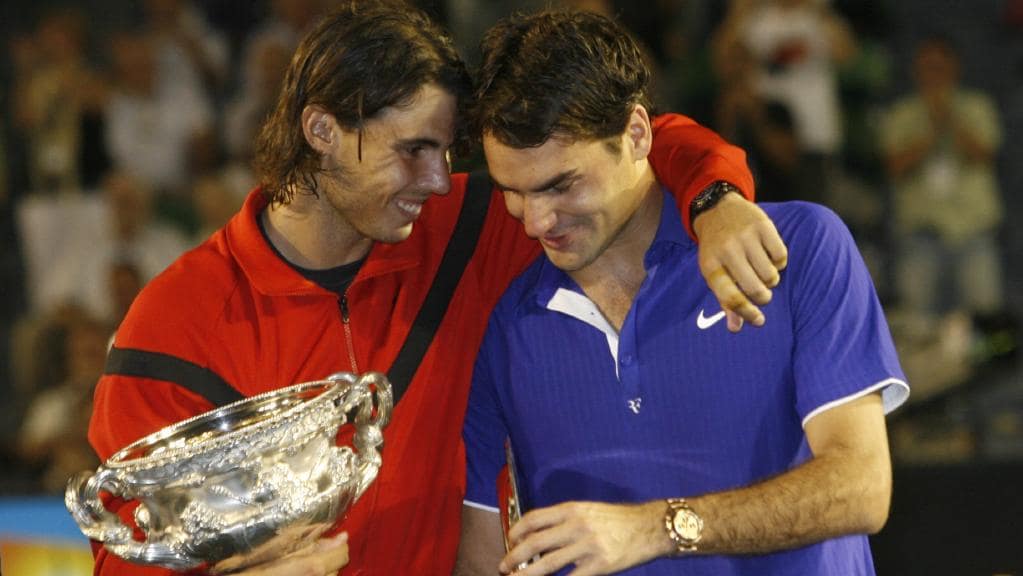 Image Source
Federer-Nadal Rivalry: This was the match where Nadal was looking for his first ever Hard court title victory and on the other side Federer was looking forward to square up Pete Sampras's record of 14 grand slams. The match witnessed all the twists and turns and each of the player came down to break serves whilst looking to take down the game in the process.
Nadal took the first set in a tie break but Federer roared back strongly by claiming the second one. It was then in the third set when Federer did enforced some unwanted errors and let nadal took the set by 7-6. The match was getting really close and it was Federer who once again broke Nadal's serve and claimed the fourth set 3-6 but as it was famous about the power punch of nadal, he came back strongly to claim both the set and the match quite convincingly. Nadal took match home by 7-5 3-6 7-6 3-6 6-2 and won his first every hard court title in the process.
#2 Federer-Nadal Rivalry Wimbledon Final (2007)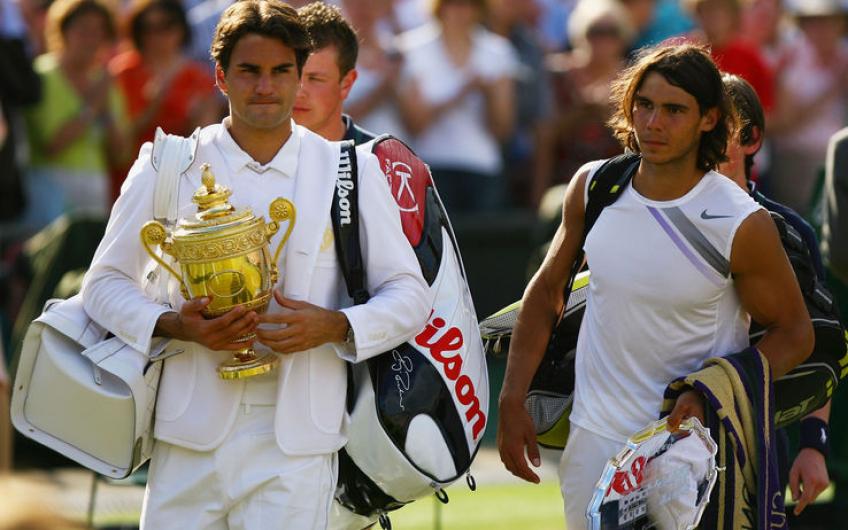 Image Source
Federer-Nadal Rivalry: Nadal and Federer have played some gem of the matches in their rivalries over the years but there were still few of the matches which have taken out extreme out of both of them in the process. The 2007 Wimbledon final was kind of the same contest between both where each and every one of them pushed to their limits in order to bring out some of the greatest close shaves of the Wimbledon history. The match went down till 3 hours and forty five minutes and both of the players did roar back after kneeling down in the contest between each of the sets.
The first set went to tie breaker and Federer won that in a close contest but it was Nadal who made an unbelievable come back by taking the second one 6-4.it was again down to third set and after numerous twists and turns, Federer once again clinched the third one. Seems like Nadal wasn't ready to give up as he once again pushed back Federer in the fourth set 6-2 but eventually, it was the excellence of great Federer which saw him clinching the fifth and final set along with the match in the process.
#1 Federer-Nadal Rivalry Wimbledon Final (2008)
Image Source
Federer-Nadal Rivalry: It was after one year of emotional breakdown (as been quoted by Nadal) from previous year's defeat, both of these Tennis icons were again up against each other for the coveted Wimbledon title. Still, this match didn't only came out to be an epic clash between both, it also turned out to be the best match till date of the Wimbledon history. It's worth mentioning here that Federer was beaten by Nadal earlier in the year in the French open and that was the reason he was eagerly waiting for this clash between them.
The match went on for 5 long hours and after numerous twists and turns, it was nadal who came out better off Federer after 5 sets and proved his dominance on the grass court after a long wait. The match got everything which an epic match should have and it was largely applauded and appreciated by most of the tennis greats as one of the best matches ever witnessed in tennis history. Although Nadal won 6-4 6-4 6-7 6-7 9-7, it was federer who gave him the toughest fight for every point he scored during this epic clash.
Also Check: