Virender Sehwag Social Media
| | | |
| --- | --- | --- |
| | Full Name: | Virender Sehwag |
| | Facebook ID: | /VirenderSehwag/ |
| | Twitter ID: | @virendersehwag |
| | Instagram: | /virendersehwag/ |
| | Facebook Followers: | 16 Millions |
| | Instagram Followers: | 23 Millons |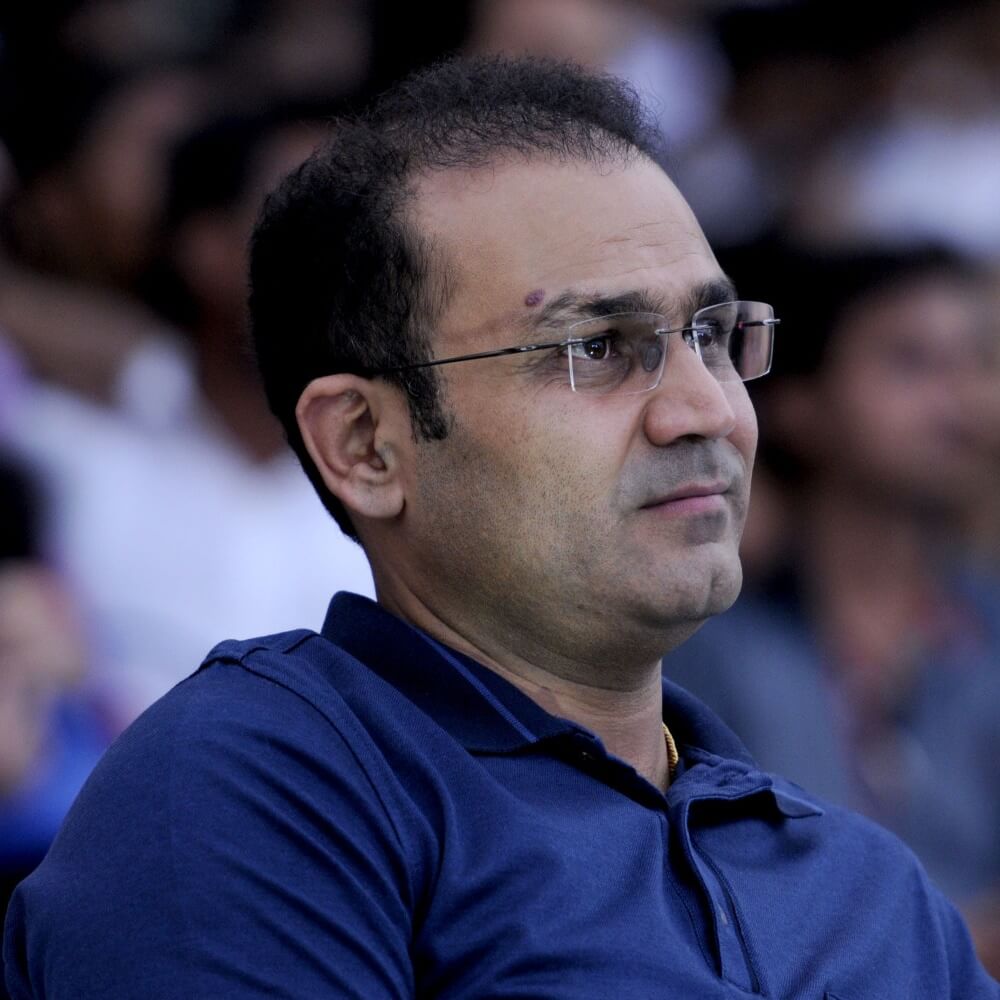 One of the most destructive batsmen to have played in cricket, Virender Sehwag will always be remembered for his fearless display of batting. It doesn't matter who the bowler is, you give him room, he will punish you with disdain. The Indian cricketer always played the game with utmost fearlessness and immense confidence. 
In his illustrious career, he has scored 8586 runs in Tests and 8273 runs in One-Day Internationals. He has scored 38 centuries and 70 half-centuries in his International career. 
Virender Sehwag announced his retirement from international cricket on 2nd March 2013. While he has stopped hitting sixes on the field, he still manages to do that off the field through his wonderful tweets. 
Virender Sehwag has extremely strong social media game. The destructive batsman comes up with the wittiest of tweets which more often than not go on to make the headlines.
Be it wishing birthdays to his teammates or promoting a brand or spreading awareness, there is no cricketer on social media who does that better than Virender Sehwag.
On that, we look at Virender Sehwag's social media handles: 
Virender Sehwag's Twitter Account
Virender Sehwag is one of the most popular cricketers on Twitter, thanks to his witty one-liners and entertaining videos. While the swashbuckling batsman joined Twitter in 2009, he started grabbing more attention after his retirement. His witty caption and uncanny social media posts make him one of the most talked-about names on the internet. 
Virender Sehwag has 20.6 million followers on Twitter. Till 2017, Virender Sehwag had 10 million followers on Twitter and within three years, the number reached 20 million. His sixes hitting ability on social media makes him one of the most hilarious men on Twitter. 
One would just wish he touches new heights on the social media landscape. 
Virender Sehwag has become a perfect example for all the retired cricketers who are looking for opportunities to make money.
Tweets by virendersehwag
Virender Sehwag's Facebook Account
Virender Sehwag joined Facebook on 27th May 2010. The destructive opener has over 16 million followers on Facebook. 
Here's a look at some of his recent activities on Facebook: 
https://www.facebook.com/VirenderSehwag/videos/680763282769126/ https://www.facebook.com/VirenderSehwag/videos/1011075219328534/
Virender Sehwag's Instagram Account
Virender Sehwag has a very strong social media game. He remains quite active on Instagram as well. The swashbuckling opener shares amazing pictures and videos to enthral his fans and keeps himself relevant on the internet. 
https://www.instagram.com/virendersehwag/
Sehwag's Funniest Social Media Tweets
1. When Ashwin won his seventh Man of the Series Award: In the three-match home Test series against New Zealand in 2016, India thrashed them 3-0, winning all three games. Ravichandran Ashwin played a stellar role in the series and went hammer and tongs in the final match where he picked as many as 13 wickets.
In the second innings of the last test, Ashwin claimed 7 wickets and bundled New Zealand out for just 153, and thereby helping the team win t.2he game on the 4th day itself.
To this, here's what Virender Sehwag tweeted: 
Congrats @ashwinravi99 for an incredible 7th Man of the series.
Only a married man can understand d urgency of going home early.#FamilyTime

— Virender Sehwag (@virendersehwag) October 11, 2016
2. This is how Viru hails Kohli: Virat Kohli is undoubtedly the greatest limited over's batsman of the current generation. A lot of young cricketers look up to him. Over the years, a host of critics has hailed Virat Kohli for his performances but nobody does it better than Virender Sehwag. Here's a look at one of his tweets on the Indian skipper
Haazme ki goli, Rangon ki holi,
Aur batting me kohli
Poore India ko pasand hain

— Virender Sehwag (@virendersehwag) October 16, 2016
3. Virender Sehwag's took a dig at people's obsession with social media: 
Aankhein band karne Se nahi,tension free hone Se nahi,thakne Se bhi nahi,
Aaj ke zamaane me to WiFi band karne Se hi neend aati hai

— Virender Sehwag (@virendersehwag) June 16, 2016
4. When Virender Sehwag wished MS Dhoni in a hilarious way: 
Happy Birthday @msdhoni .
May you keep doing Anhoni ko Honi.#NationalHelicopterDay pic.twitter.com/PGHp9M6gNT

— Virender Sehwag (@virendersehwag) July 7, 2016
5. This is undoubtedly counted as one of the best tweets on social media: 
Whoever wishes you with HBD HBD HBD on your birthday, just note their names and on their anniversary wish them HA HA HA#ViruKaGyaan

— Virender Sehwag (@virendersehwag) August 17, 2016
 To those who say, HBD HBD HBD, Beware!  
Sehwag's Social Media Controveries
1. Virender Sehwag's Communal Tweet: Virender Sehwag once sparked huge controversy when he named three Muslim named as the people who lynched tribal man Madhu in Kerala and ignoring the other 13 Hindus & Christians who're also suspected. He received a lot of backlash for promoting communal politics. He later apologized for his Tweet and deleted it. 
2. Virender Sehwag Tweet which said, "I did not score two triple centuries, my bat did." 
Apart from being popular for his funny tweets, Sehwag has often got himself involved in controversies. Sehwag once evoked controversy after posting a picture that said, "I did not score two triple centuries, my bat did."
3. Sehwag's tweet was a play on Gurmehar Kaur's viral tweet protesting against the ABVP's uproar at Delhi University, "I am a student of Delhi University. I am not afraid of ABVP. I am not alone. Every student of India is with me. #STUDENTSAGAINSTABVP,"
Sehwag's reaction invited a lot of reaction, positive as well as negative. 
Virender Sehwag: A short Bio
Virender Sehwag is counted among the most destructive batsmen the game has ever seen. Hailing from Haryana, Virender Sehwag was born on 20th October 1978. He is currently 41 years old. Coming from a joint family, Sehwag lived in with his three siblings, sixteen cousins, uncle, and aunts. After a few years of his birth, Sehwag family shifted to Najafgarh in Delhi where he attended his school and also enrolled himself into a cricket academy.
To know more about his personal life which includes his family members and his love story with his wife Aarti Ahlawat. Click Here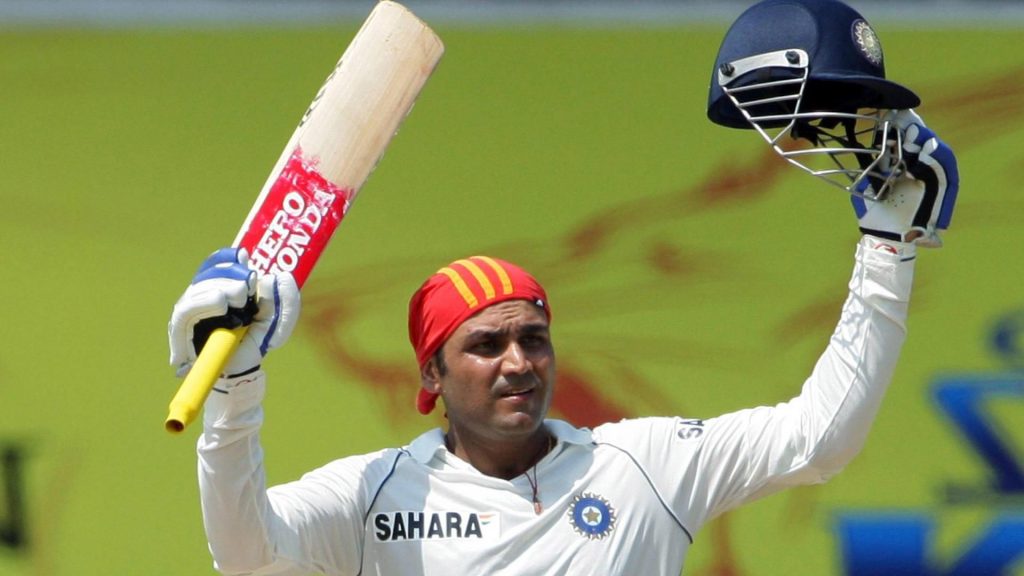 He started his career playing at lower middle order but became a phenomenon when started opening the batting. His fearless stroke play received admiration from various quarters. In a couple of years, Virender Sehwag became a mainstay in the Indian Cricket Team and there was no looking back after that. 
Virender Sehwag, in his outstanding career, has scored more than 15,000 International runs and hit 38 centuries. To know about his complete journey from domestic cricket to becoming a vital cog in Indian Cricket Team. Click Here