Shreyas Iyer's Career Stats
| | | |
| --- | --- | --- |
| | Full Name: | Shreyas Iyer |
| | Team: | India |
| | Club: | Delhi Captials (DC) |
| | Past Clubs: | Delhi Daredevils (DD) |
| | Jersey No.: | #41 (India), #41 (DC) |
| | Batting Style: | Right Handed Bat |
| | Bowling Style: | Right-arm legbreak |
| | Coach: | Pravin Amre |
| | ODI Debut: | 10th December 2017 (SL) |
| | T20 Debut: | 01st November 2017 (NZ) |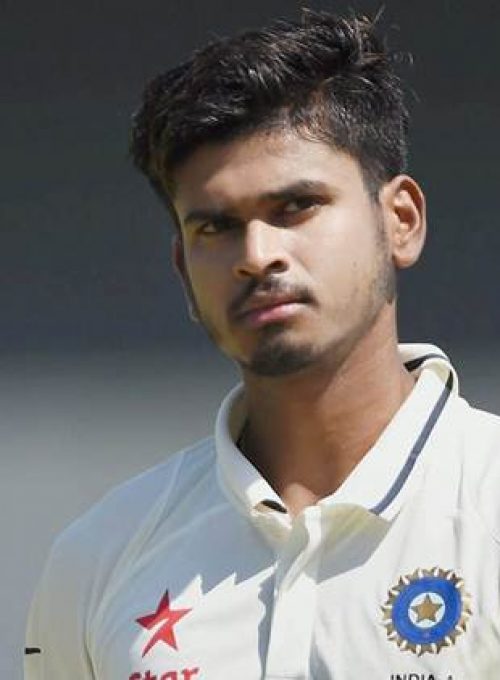 Shreyas Iyer's Cricket Stats
ODI Career
T20 Career
IPL Career
Domestic Career
ODI Career
# Batting Career Summary
| Match | Inn | Run | HS | Avg | SR | 50 | 100 | 200 |
| --- | --- | --- | --- | --- | --- | --- | --- | --- |
| 18 | 16 | 748 | 103 | 49.87 | 100.81 | 8 | 1 | 0 |
# Bowling Career Summary
| Match | Inn | Run | Wkts | Eco | Avg | SR | 5w | 10w |
| --- | --- | --- | --- | --- | --- | --- | --- | --- |
| 18 | 2 | 15 | 0 | 7.5 | 0.00 | 0.00 | 0 | 0 |
T20 Career
IPL Career
Domestic Career
He isn't a new block in the cricketing world. Shreyas Iyer has been making headlines since his junior-level days. However, increased competition at the highest level never allowed Shreyas to get him a lot of chances and cement his position in the Indian National Team.
However, this didn't deter Iyer's willpower and motivation to make it to the top level as he kept on piling runs in the domestic circuit. Come 2019 West Indies tour, Iyer left everyone in awe with his flamboyant display of batting. Iyer has been on a stupendous run of form ever since and, today, has cemented his position as the designated number four batsman in the Indian team.
Shreyas Iyer Jersey Number: #41
Here's a look at Shreyas Iyer's stats in domestic as well as International cricket:
Early Days of Shreyas Iyer
Shreyas Iyer was just four years old when he first picked up a bat. His parents could see his love towards the game and as he grew older he became more inclined towards the game.
Seeing the passion with which Shreyas held the bat and played the sport, they enrolled him into the famous Shivaji Park, Gymkhana Cricket Stadium. Pravin Amre, the former Indian cricketer, spotted the talent of the natural stroke maker in Shreyas Iyer and immediately decided to focus on him. He eventually bore fruits as he got selected for India's under-19 team.
Playing for the Gymkhana cricket club, Shreyas piled on tons of runs across various tournaments and also scored his first-ever hundred in junior cricket. Shreyas Iyer's road to success had started!
He was then selected for the under-13 tournament while playing for the Shivaji Park Gymkhana Club. Much to the delight of everyone in the family, Iyer was selected for Mumbai under-13 team.
Shreyas Domestic Cricket Career
# 2014-15 Ranji Season: Shreyas Iyer made his first-class debut in 2014-15 Ranji season. Turning up for Mumbai, he accumulated 809 runs in his debut season at an average of 50.56. He struck two centuries and six half-centuries and was the seventh-highest run-getter that season.
# 2016-17 Ranji Season: Shreyas Iyer came up with an even better performance in the following season and ended up as the highest run getter. He accumulated 1321 runs in 11 matches, averaging 73.38.
# 2017-18 Ranji Season: For the second consecutive time, Shreyas Iyer scored the most runs for Mumbai in the 2017-18 season. He amassed 725 runs in 10 matches at an average of 42.64. He struck two centuries and 2 half-centuries in the tournament.
Shreyas Iyer played only three matches in the 2018-19 season. He scored 319 runs in six innings at an impressive average of 53.16, which includes one century and one half-century.
Shreyas International Cricket Career
Shreyas Iyer made his one-day international debut against Sri Lanka in December 2017. He then played in January against South Africa but cemented his place after the 2019 World Cup. Shreyas showcased two scintillating performances against West Indies, scoring 71 and 63 in the second and third ODI respectively. Since then he has become an integral cog in India's squad.
Iyer has played 18 one-day internationals and 22 T20 internationals in his career so far in which he has scored 748 and 417 runs respectively.
Shreyas Iyer has scored 8 half-centuries and one century in his career so far. He currently averages 49 and plays at a strike rate of 100. With 748 runs under his name in 18 one-day internationals, Iyer would be looking to soon surpass the 1000-run mark in One-Day Internationals.

Maiden ODI Century: Since making his comeback after 2019 World Cup, Shreyas Iyer has been scoring consistently for the side in both one-day internationals and T20s. In the 2020 New Zealand tour, Shreyas Iyer notched his maiden hundred in the first one-international. He scored 103 runs off 107 balls, including 11 fours and one six. He added 136 runs for the fourth wickets and propelled India to 340 runs in 50 overs.
Shreyas Iyer's ODI career has currently been skyrocketing as he would look to keep the momentum going and scale great heights.
Indian Premier League (IPL)
Shreyas Iyer's IPL career has huge role to play in making him an Indian cricket star. After exhibiting rollicking performances in the domestic circuit in 2014, Shreyas Iyer was snapped by Delhi Daredevils for 2015 edition of the Indian Premier League for a whopping price of 2.6 crores. He lived up to their expectation as he accumulated 439 runs in 14 matches at an average of 33.76 and a strike rate of 128.36. He was awarded as the emerging player of the 2015 IPL.
He enjoyed another successful season in the 2017 edition of the league where he amassed 338 runs in 12 matches at an average of 33.80 and a strike rate of 139.09.
Impressive performances in a couple of seasons helped him become the captain of Delhi, replacing Gautam Gambhir in the 2018 edition. At 23 years and 142 days, he became the youngest captain to lead Delhi Daredevils in the history of IPL. 2018 turned out to be his best season, having scored 411 runs in 14 matches at an average of 37.36.
Iyer struck three half-centuries last season and led Delhi Capitals to reach the playoffs for the first time after 7 years. He played 16 matches in 2019, scoring 463 runs at an average of 119.94.
Shreyas Iyer's Personal Life
Shreyas Iyer's father, Santosh Iyer, is a businessman, while his mother, Rohini Iyer, is a housewife. Iyer's father himself is a huge cricket lover and played cricket till college level but did not pursue any further. Iyer made sure his son represent India one day and make the nation proud.
Shreyas Iyer's parents played a pivotal role in making him a Indian national cricketer. To know more about his Shreyas Iyer's personal life: Click Here
Shreyas Iyer's Social Media
Shreyas Iyer comes among the most stylish looking men in Indian cricket. Iyer has a huge following on his social networking platforms. He stays quite active on his social platforms and keeps his fans engaged with entertained videos and heart-warming pictures.
To know more about Shreyas Iyer's social media activities: Click Here