Early Life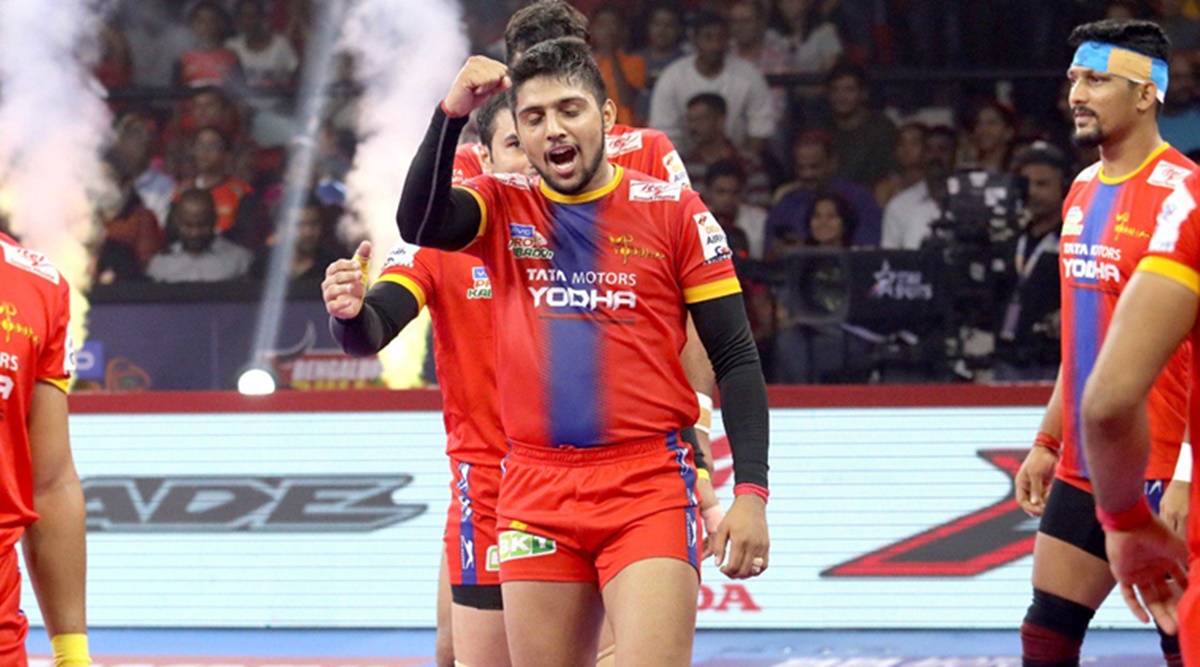 Nitesh Kumar was born on August 12th 1997. Nitesh Kumar's father, Sanjay Kumar a former defender himself with years of experience in the sport, has been contributory in guiding Nitesh onto the path that would eventually bring him to the Future Kabaddi Heroes programme. Raised in a family with a history of kabaddi, Nitesh started playing the sport from 7, with support and necessary encouragement from his father and uncle.
https://www.instagram.com/p/BkHJKMggidT/?utm_source=ig_web_copy_link
Nitesh's work ethic and dedication to kabaddi is second to none and the youngster credits his father for inculcating those values in him. Sanjay Kumar passed on the knowledge of kabaddi to his son, guiding him into the VIVO ProKabaddi and AKFI-launched Future Kabaddi Heroes (FKH) Programme, where Nitesh further developed as a modern player of the sport.
https://www.instagram.com/p/BsTCH6DAy8D/?utm_source=ig_web_copy_link
---
Nitesh Kumar Pro kabaddi Career:
Nitesh Kumar is an Indian kabaddi player who made his debut in Pro Kabaddi Season 5, playing for UP Yoddha. However, his breakthrough season was Pro Kabaddi Season 6, where he took the world by storm, becoming the first player to score 100 tackle points in a single Pro Kabaddi League Campaign.
https://www.instagram.com/p/BsRw39igTqa/?utm_source=ig_web_copy_link
Nitesh was drafted into the New Young Players' pool for the Season 5 auctions and was top contender picked up by UP Yoddha for their debut campaign. 
Season 7 (UP Yoddha)
The only defender in vivo Pro Kabaddi history to have amassed a 100 tackle points in a single season, Nitesh Kumar once again showed his class in Season 7 by scoring 75 tackle points and finishing third in the race for the best defender of the season. Seen in a captain's role this time around, Nitesh picked up 122 total tackles and had an average of 2.91 tackle points per match to go with his 8 Super Tackles and 6 High 5s.
https://www.instagram.com/p/B3ZH9mTFRai/?utm_source=ig_web_copy_link
Nitesh Kumar tops the list with becoming the first player in the Pro Kabaddi League history to score 100 points in a single season. He touched the magical figure of 100 tackle points during the second qualifier after making 6 successful tackles.
UP Yoddha made its debut in Pro Kabaddi Season 5 and since then, has made its place in two consecutive playoffs in 2017 and 2018 respectively, but lost in the eliminator round, missing the final by just one match. 
He was the main reason behind UP Yoddha 8 wins in a row, he had a brilliant average of 4.5 tackle points per match at an impressive tackle SR of 78 including 4 High 5s. Nitesh Kumar will continue to play for U.P Yoddha in Pro Kabaddi Season 8.
---
Personal Profile:
| | |
| --- | --- |
| Full Name | Nitesh Kumar |
| Date of Birth | 12 Aug 1997 |
| Age | 23 years old (as in 2020) |
| Nationality | Indian |
| Father's name | Sanjay Kumar |
| Coach | Jasveer Singh |
| Weight | 74kg |
| Height | 5'8 ft. |
| Position | Defender, right corner |
| Signature Move  | Ankle Hold |
| Current Club | U.P. Yoddha |
---
Teams Played for
| | |
| --- | --- |
| Seasons | Teams |
| Season 5 | U.P. Yoddha |
| Season 6 | U.P. Yoddha |
| Season 7 | U.P. Yoddha |
---
Statistics
| | |
| --- | --- |
| Total Matches Played | 67 |
| Total Earned Points | 224 |
| Most Points in a match | 8 |
| Not out percentage | 72.72% |
| Total raids | 11 |
| Successful raids % | 18.18% |
| Super 10's | 0 |
| Total raid points | 2 |
| Average raid per match | 0.02 |
| Total tackles  | 367 |
| Number of super tackles | 17 |
| Total tackle points | 222 |
| Average tackles per match % | 3.05 |
| Tackle strike rate % | 60.49 |