Lalit Chaudhary is an Indian kabaddi player. He was born on November 22, 1997. He is a young and a remarkable talent who made his debut in Season 6 of the VIVO Pro Kabaddi League. 
Lalit Chaudhary played for Gujarat Fortune Giants in which he played only 3 games. But experts say that he would be an emerging player and will soon make it to the national team in the coming years. 
Known for his remarkable raiding skills, Lalit has been retained by Gujarat Fortune Giants and will represent the same team in the upcoming season of VIVO Pro Kabaddi League.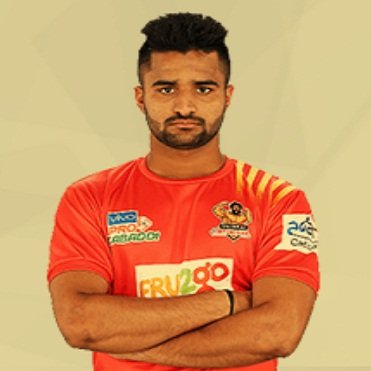 Personal Profile:
Date of Birth: November 22, 1997
Nationality: Indian
Weight: – 77Kgs
Height: –
Position: Raider
Teams Played for
Season 6: Gujarat Fortune Giants
Season 7: Gujarat Fortune Giants (yet to play)
Statistics
Matches Played: 3
Total Points: 7
Career Best Points in a match: 5
Raid Points: 3
Total Raids: 7
Successful Raids: 1
Unsuccessful Raids: 4
Empty Raids: 2
Successful Raid Percentage: 42.85
Raid Touch points: 1
Raid Bonus Points: 2
Super Raids: 0
Super 10's: 0
Tackle Points: 4 
Tackles: 4
Successful Tackles: 3
Unsuccessful Tackles: 1
Super Tackles: 1
High 5's: 0
Green Cards: 0
Yellow Cards: 0
Red Cards: 0
Season Wise Stats:
Raiding
| | | | | | | | | |
| --- | --- | --- | --- | --- | --- | --- | --- | --- |
| Season | Team | Matches Played | Total Raids | Successful Raids | Unsuccessful Raids | Raid Touch Points | Raid Bonus Points | Total Raid Points  |
| PKL 6 | Gujarat Fortune Giants | 3 | 7 | 1 |           4 | 1 | 2 | 3 |
| PKL 7 | Gujarat Fortune Giants | – | – |       – | – | – | – | – |
Tackling
| | | | | | |
| --- | --- | --- | --- | --- | --- |
| Season | Team | Matches Played | Total Tackles | Successful Tackles | Total Tackle Points |
| PKL 3 | Gujarat Fortune Giants  | 3 | 4 | 3 | 4 |
| PKL4 | Gujarat Fortune Giants | – | – | – | – |