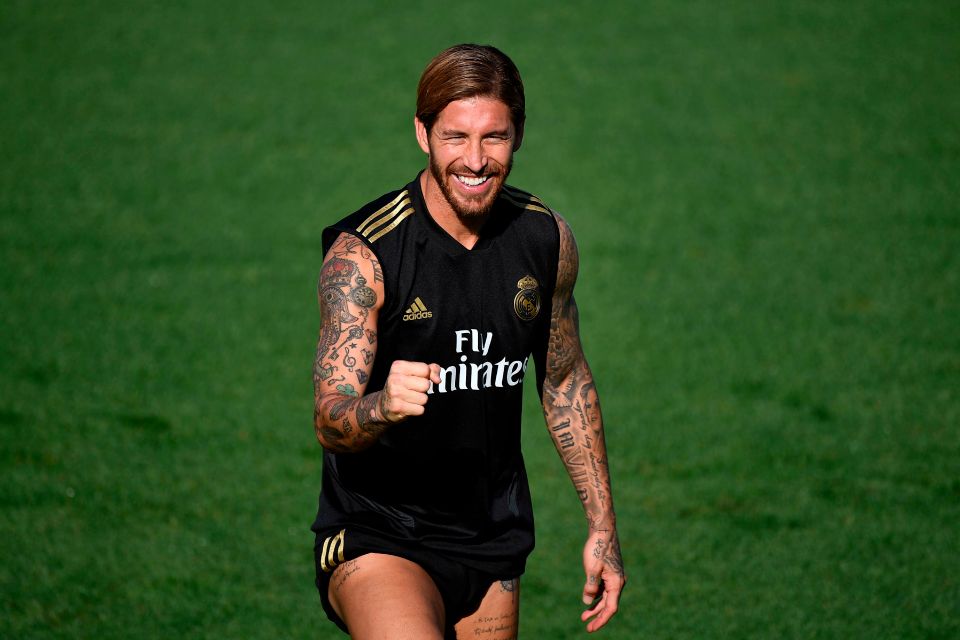 Sergio Ramos is a Spanish footballer who plays and captains Spain's national team and the Spanish club 'Real Madrid'. He is considered one of the strongest defenders in the present-day football, he also plays at the position of right-back time-to-time. Raised in Andalusia, Spain he joined Sevilla a local club as a defender at the age of 14. His performances and passion for football acquired him a place in the main squad of the club. Eventually, he started to grow more and more in football which resulted in him being acquired by the Real Madrid in 2005. At the initial period he wasn't performing well, his performances were average, but no sooner he analyzed his weak points and start working upon him, within few months he became one of the mainstays for the Real Madrid, under him the team won 20 major titles like the La Liga (four times) and UEFA Champions League(four times). For the Spanish national team, Ramos had represented in four world cups and three European Championships, He was also the part of the team that won the 2010 FIFA World Cup and the UEFO Euro in 2008 and 2012.
Early Life: Sergio Ramos was born on 30th March 1986 in Camas Seville to Jose Maria Ramos and Paqui Ramos, young Ramos love to play football but always inspired to become a bullfighter, which is a very sport in Seville. Ramos soon was talked out of a career in bullfighting by his parents as it was very dangerous, his elder brother in order to divert his attention from bullfighting, was introduced to football. His parents provided him a private trainer and were very with Ramos decision. Ramos joined a football club named 'FC Camas ' from where he learned the basics traits of football, within the club he was also able to explore his ability and talents, he won many Man of the Match awards at such a small age due to which he also gained some attraction from the Media. At the age of 14, he was accessed by the local Club Sevilla FC, Ramos joined Sevilla through their youth program, he made his place at the first-team on 1st February 2004 as a substitute in La Liga, later in 2004, he was shifted in the main squad where a successful career awaits. Playing in the main squad Ramos appeared in 41 games in which he played crucial role at the matches against Real Sociedad(2-1) and Real Madrid(2-2) for the UEFA Cup, he scored his first continental goal, to register a win against the CD Nacional at the Estadio Ramon Sanchez Pizjuan in the first round by 2-0. Seeing his performances in the 2004-05 season he got an offer from Real Madrid in 2005, which was the biggest turning point of his life.
Personal Life: Sergio Ramos married famous model, TV journalist and presenter Pilar Rubio in 2012, the couple is blessed with two sons Sergio and Marco. Ramos has been previously being in multiple relationships before meeting Pilar. He is great fan of bullfighting and sometimes has been caught enjoying seeing the fight in the arena. In the free time Ramos like to play guitar and sing songs, he has written his own song named Romantic at heart.
Professional Life: In 2005, Ramos was signed by the Real Madrid for 27 million Euros, he became the only Spanish player who was bought during Florentino Perez first stint as Real's President, He was assigned the jersey number 4, previously worn by Fernando Hierro. Playing for Real Madrid, Ramos netted his first goal at the UEFA Championship League group stage match in December, the team lost the match but not due to Ramos performance. The first four seasons with Real Madrid didn't go well as it was expected as he was playing as an emergency midfielder afterward, however, after the return Christoph Metzelder and Pepe in 2007-08, he started playing at the right-back position, from where his goal-scoring chances increased, unlike other defenders who struggled to score goals from that position, Ramos faces no difficulty. This capability of him was highly impressive, in the initial four seasons he netted 20 goals for the club.
Despite his nice performances his anger and aggressive nature remained a cause of concern for the team and the management. He got four red cards in his first season and five more in the following three seasons. The nature of Ramos leads the team from a tragic time where only nine players were allowed to play on the field in August 2008. The 2008-09 season was very hard for Sergio and Real Madrid, but both picked up their winning momentum very soon. Ramos achieved the 21st spot in the European Player of the Year nominations in 2008, he also made a place in UEFA Team of the Year and FIFA FIFPro World XI team. In 2009-10 he became one of the four captains of the team after which in the season he netted four goals in 33 matches, he also achieved the milestone of playing the  200th game in 2010. As a captain of the team, Ramos lead his team to win various crucial matches, at an individual as well as at League level In 2012-13 season his tea defeated Barcelona under his leadership, in 2014 he lead his team to win the finals of Champions League against Bayern Munich, In 2015 he lead his team to a record of 10-2 victory in a La Liga match, he lifted his first UEFA Champions League trophy for the first time in 2016 by defeating Atletico Madrid in finals. On 26th May 2018 under Ramos Capitancy the real Madrid won the European Champion's club Cup. For the national team he has represented in four World Cups and three European Championships, He had been the part of the team that on the 2010 FIFA World Cup and 2008, 2012 UEFA Euro he was named under the FIFA World Cup Dream Team.
| | |
| --- | --- |
| Clubs | Season |
| Sevilla B | 2003-04 |
| Sevilla | 2003-06 |
| Real Madrid | 2005-20 |
Honors:
La Liga: 2006–07, 2007–08, 2011–12, 2016–17

Copa del Rey: 2010–11, 2013–14

Supercopa de España: 2008, 2012, 2017

UEFA Champions League: 2013–14, 2015–16, 2016–17, 2017–18

UEFA Super Cup: 2014, 2016, 2017

FIFA Club World Cup: 2014, 2016, 2017, 2018
Achievements:
·         La Liga Breakthrough Player of the Year: 2005

·         FIFA FIFPro World XI: 2008, 2011, 2012, 2013, 2014, 2015,            2016, 2017, 2018

·         UEFA Team of the Year: 2008, 2012, 2013, 2014, 2015, 2016, 2017 2018

·         FIFA World Cup Dream Team: 2010

·         La Liga Best Defender: 2011–12, 2012–13, 2013–14, 2014–15 2016–17

·         UEFA Euro Team of the Tournament: 2012

·         FIFA Confederations Cup Dream Team: 2013

·         UEFA Champions League Squad of the Season: 2013–14, 2015–16, 2016–17, 2017–18

·         FIFA Club World Cup Golden Ball: 2014

·         FIFA Club World Cup top scorer: 2014

·         UEFA Ultimate Team of the Year: 2015

·         La Liga Team of the Season: 2015–16

·         UEFA La Liga Team of the Season: 2016–17

·         ESM Team of the Year: 2007–08, 2011–12, 2014–15, 2016–17

·         UEFA Defender of the Season: 2017, 2018

·         IFFHS Men's World Team: 2017, 2018

·         Castrol Performance Index: 2010 FIFA World Cup Castrol Index Winner

·         Castrol Performance Index: UEFA Euro 2012 Castrol EDGE Index Winner

·         EA Sports FIFA Team of the Year: 2016, 2017, 2018

·         Luis Aragones Award: 2016
International Awards:
Spain U-19
    UEFA European Under-19 Championship: 2004
Spain
    FIFA World Cup: 2010

    UEFA European Championship: 2008, 2012

     FIFA Confederations Cup: Runner-up 2013; Third place 2009
Physical Measurements:
Height: 6ft 0in
Weight: 82 kg
Eye color: Dark Brown
Hair color: Light Brown
Personal Details:
Full Name: Sergio Ramos Garcia
Date of Birth: 30th March 1986
Place of Birth: Camas, Spain
Playing Position: Centre-Back
Nickname: Tarzen
Education: Not known
Relationships: Pilar Rubio
Kids: Sergio and Marco
Hobbies: Playing guitar
Controversy:
In November 2010 he was shown one of the most infamous rd cards of his career after he kicked Lionel Messi in a match against FC Barcelona
Networth:
Sergio Ramos networth calculated around $80 Million Dollars.
Social Media:
Facebook: https://www.facebook.com/SergioRamosOficial/
Twitter: @SergioRamos
Instagram: @sergioramos