Sandeep Sharma Introduction
Sandeep Sharma is a right-arm medium-pace bowler. He is one of the few players to be included in two Under 19 World Cups in 2010 and 2012. Sandeep can swing the ball and trouble opposition batsman.
Sandeep Sharma Early life
Sandeep started playing cricket at a young age in his school. His coach Kamaljit Singh used to make him practice more. He was then spotted by his fielding coach Munish Bali who was fielding coach of Indian women's team and trained him further. He hailed Bharat Arun role to mentor him to mould Sandeep Sharma career.
Personal life
Sandeep Sharma was born on 18th May 1993 in Patiala, Punjab. His father name is Balwinder Sharma, mothers name Naina Wati, Shatrughan Sharma, Ranjeet Sharma and Jagdeep Sharma are his brothers. Tasha is his finance who is a jewellery designer and now married. He is engaged to her on 7th June 2018.
He is currently 26 years of age. Sandeep teammates call him Sandy. Sandeep is coached by Kamaljeet Singh. The right arm pace bowler loves to listen to music and swimming. He is an avid dog lover. His favourite destination to go in Goa. His zodiac sign is Taurus.
Sandeep Sharma Professional life
Sandeep played a key role for India in 2010 Under 19 World Cup. He performed brilliantly in the 2010 World taking 6 wickets before being eliminated by Pakistan in the quarterfinals. During that tournament, he also won a man of the match award.
He returned to domestic cricket after that and was given a chance to represent India in 2012 Under 19 World Cup. He took 12 wickets in that tournament including a 4-wicket haul during finals against Australia and helped India lift the title.
After that match, he was signed by Kings XI Punjab franchise in 2013. He made his international debut for India in Zimbabwe in 2015. During that match, he failed to take any wickets in the first T20I which India won.
Sandeep Sharma has played 56 IPL matches so far and taken 71 wickets. He played for Kings XI Punjab from 2013-2017. Since 2018, he has been a part of the Sunrisers Hyderabad franchise.
In the 2017 edition of IPL, Sandeep Sharma claimed the famous trio of Chris Gayle, AB de Villiers and Virat Kohli with figures of 3/22 in four 4 overs against Royal Challengers Bangalore. Sandeep is most the successful bowler for Kings XI Punjab after Piyush Chawla who played for 5 or more seasons.
He has played 79 IPL matches and taken so far 95 wickets with best figures of 4/20. In the 2019 edition of IPL, Sandeep Sharma featured in 11 matches with 12 wickets with an economy of 8.25 runs per over.
In the 2019/20 Vijay Hazare Trophy, Sandeep impressed with his bowling taking 17 wickets from 8 matches (8 innings) with best figures of 7/19. Punjab reached the quarterfinals of that tournament losing to Tamil Nadu.
Sandeep Sharma Achievements and awards
Sandeep took 3 wickets giving away 21 runs in his debut IPL match against Sunrisers Hyderabad in 2013. After coming back from an injury, he returned to Punjab team and emerged as the highest wicket-taker for Punjab Cricket Team during Ranji Trophy.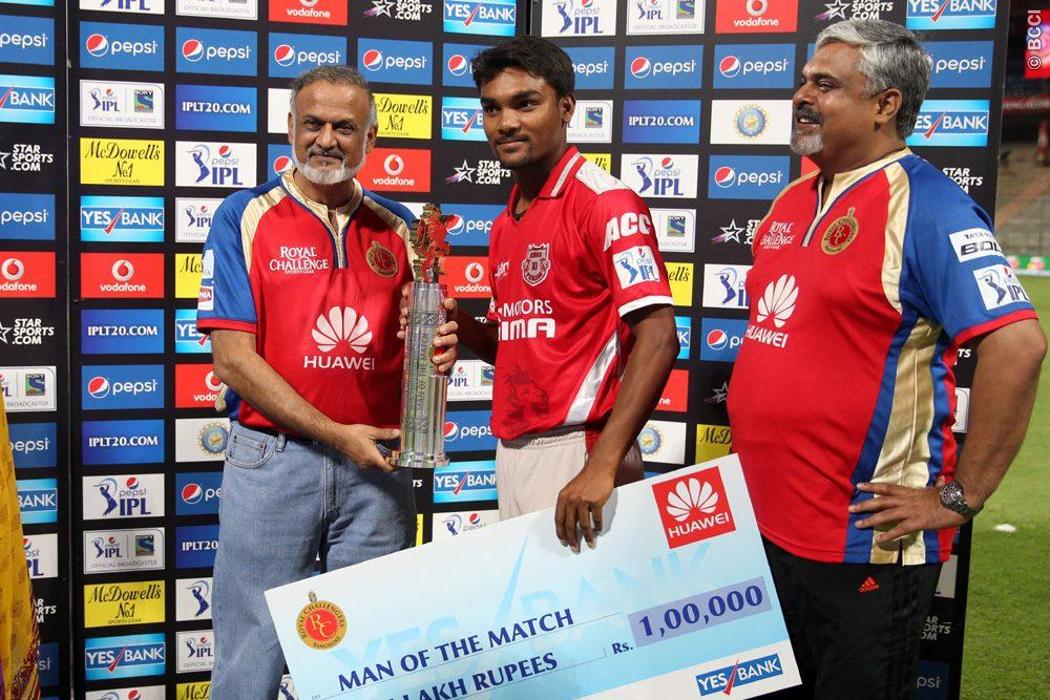 He went on to play for India National Cricket Team in 2015. In the 2014 edition, he had a great season with 18 wickets from 11 appearances. The biggest achievement for Sandeep was to pick the wicket of Rahul Dravid in the nets.
Sandeep Sharma Physical measurement
Sandeep Sharma is 168 cm tall which is 1.68 m. He weighs about 61 Kgs which is about 134 LBS. He chest in 39 inches, 31 inches waist and 12.5 inches biceps. His eyes are dark brown and hair colour is black.
Sandeep Sharma Net Worth
Sandeep Sharma estimated net worth is 87 million as of 2020 from IPL.