Ronaldinho is a former Brazilian footballer who is best known for his techniques, tricks, overhead kicks and dribbling. HE was labelled magician by many. He was the member of Brazil's 2002 World Cup winning team. Playing his first ever World cup in 2002, where he scored a historical goal at the quarter- final match against England. Born as the son of a small-time footballer, he developed keen interest in football since childhood, and played his first match with the local clubs just at the age of eight. He was caught by media when being just a 13-year-old boy, and he scored all 23 goals in a 23-0 victory against a local goal. He has also been a part of Spanish side FC Barcelona, and achieved great success by winning back-to-back FIFA World Player of the Year awards in 2004 and 2005.
Ronaldinho  Early Life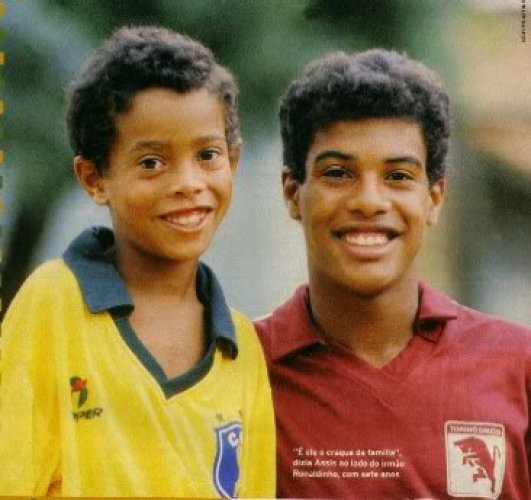 Ronaldinho was born on 21 march, 1980 in the city of Porto Alegre, state capital of Rio Grande do Sul,, Brazil. His father Joao de Assis Moreira was a shipyard worker while her mother Dona Miguelina Eloi Assis dos Santos was a salesperson. His passion for football was inherited from his father who unfortunately died when he was just eight. In 1997 he got selected for the Brazil's Under 17 national team, he helped the team to won the FIFA Under -17 World Championship in Egypt.
Ronaldinho Personal Life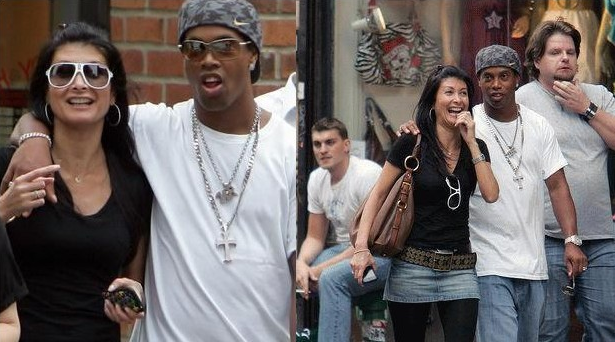 Ronaldinho married two women Priscilla Coelho and Beatriz Souzaat at a private wedding ceremony in August to form a rare three-person civil union, Ronaldinho adaptation of polygamy divided his family, his sister refused to attend his wedding at  upmarket Barra da Tijuca district in Rio, where he has lived since 2015. He is very close to his siblings. He has a son who he has named after his late father. He acquired his Spanish Citizenship in 2007
Ronaldinho Professional Life
Ronaldinho signed his first professional contract for Gremio, he made his senior debut in 1998 Copa Libertadores. In 2001 he signed a five year contract with French side Paris Saint-Germain, he played a crucial role in taking his team to semi-finals in the 2001-02 edition of Coupe de La Liga where the team unfortunately got eliminated by Bordeaux. In 2002 he was the part of winning FIFA World Cup 2002 with legends Ronaldo and Rivaldo. In 2005-06 he helped Barcelona to win their first Champions League title in 14 years. During this season he performed well with a carrier best 26 goals in 7 Champion League. In 2006 November he netted his 50th career goal against Villarrea. He spend quite good and decent time with Barcelona, On Feb 2008 he netted his 200th career goal despite he was plagued by injuries for most of the 2007-08 season.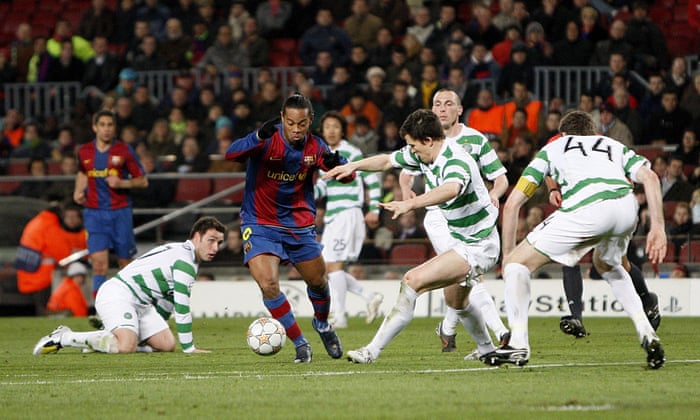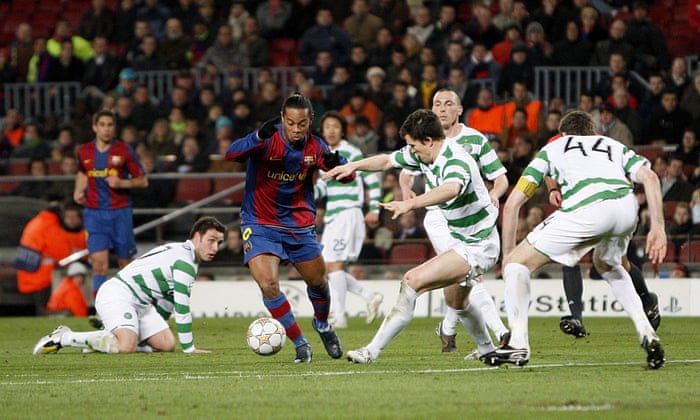 In July 2008 he signed a three-year contract with Milan, playing for Milan he netted 10 goals in 32 appearances. In 2012 he moved to Atletico, signing a six-month contract. He also played for the Mexican club Queretaro on a contract for two year, signed in September 2014. Ronaldinho for had received many prestigious titles for his contribution in football, few of the honourable awards are La Liga Foreign Player of the year-Don Balon Award in 2003-04 and 2005-06, FIFA player of the year award in 2004 and 2005, FIFPro world Player of the Year in 2005, in the same year he was also named European Footballer of the Year, he was Featured in the FIFA 100 a list of the world's greatest living players complied by Pele. Despite football Ronaldinho is also one of the world's most popular sportsman who have been the face of some popular brands like Nike, Pepsi, Coca-Cola, EA Sports and Gatorade.
| | |
| --- | --- |
| | Season |
| Gremio | 1998-2000 |
| Paris saint-Germain | 2001-2003 |
| Barcelona | 2003-2008 |
| Milan | 2008-2011 |
| Flamengo | 2011-2012 |
| Atletico Mineiro | 2012-2014 |
| Queretaro | 2014-2015 |
| Fluminense | 2015 |
Honours
Paris Saint-Germain
Barcelona
La Liga: 2004–05, 2005–06
Supercopa de España: 2005, 2006
UEFA Champions League: 2005–06
Milan
Flamengo
Campeonato Carioca: 2011
Taça Guanabara: 2011
Taça Rio: 2011
Atlético Mineiro
Campeonato Mineiro: 2013
Copa Libertadores: 2013
Recopa Sudamericana: 2014
Ronaldinho Achievements
FIFA Confederations Cup Golden Ball: 1999
FIFA Confederations Cup Golden Shoe: 1999
South American Team of the Year: 1999
Bola de Prata: 2000, 2011, 2012
FIFA World Cup All-Star Team: 2002
Ligue 1 Goal of The Year: 2003
La Liga Best Foreign Player: 2003–04, 2005–06
Trofeo EFE: 2003–04
FIFA World Player of the Year: 2004, 2005
UEFA Team of the Year: 2004, 2005, 2006
World Soccer Magazine World Player of The Year: 2004, 2005
UEFA Club Forward of the Year: 2004–05
FIFA Confederations Cup Bronze Ball: 2005
Ballon d'Or: 2005
Onze d'Or: 2005
FIFA Club World Cup Bronze Ball: 2006
FIFA World Player of the Year Bronze award: 2006
Golden Foot: 2009
Sports Illustrated Team of the Decade: 2009
Serie A top assist provider: 2009–10
Campeonato Brasileiro Série A Team of the Year: 2011, 2012
Campeonato Brasileiro Série A Best Fan's Player: 2012
Campeonato Brasileiro Série A top assist provider: 2012
Bola de Ouro: 2012
Copa Libertadores top assist provider: 2012, 2013
South American Footballer of the Year: 2013
UEFA Ultimate Team of the Year (substitute; published in 2015)
FIFA 100
Brazilian Football Museum Hall of Fame
A.C. Milan Hall of Fame
Ronaldinho Personal Details
Name: Ronaldo de Assis Moreira
Date of Birth: 21 March 1980
Age: 39
Place of Birth: Porto Alegre, Brazil
Playing position: Attacking midfielder / Forward
Education: Colegio Santa Teresa de Jesus
Relationships: Priscilla Coelho and Beatriz Souzaat
Spouse: Joas Mendes(João de Assis Moreira)
Hobbies: Playing Football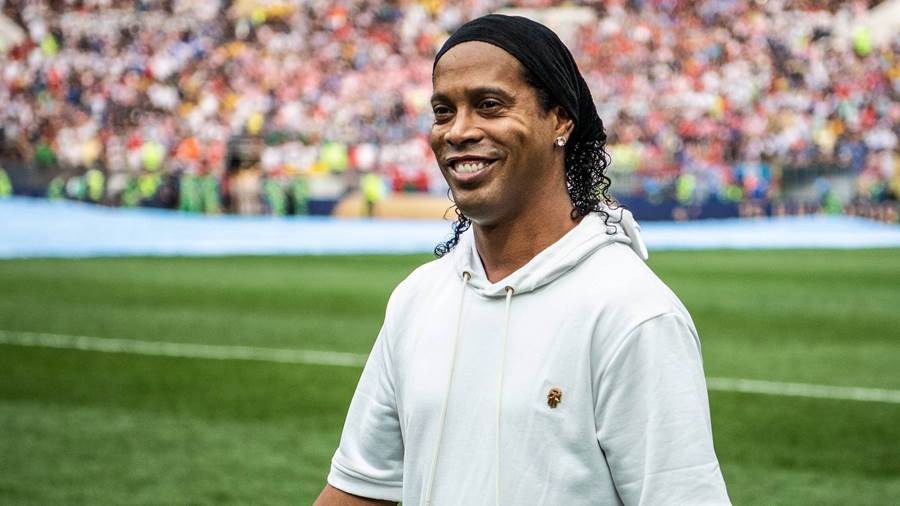 Physical Measurements
Height: 5ft. 11in
Weight: 80kg
Eye color: Black
Hair color: Black
Ronaldinho Controversy
Ronaldinho's adoption of Polygamy created a high Voltage drama in the Media and in his family, despite him mentioning in an Interview that he is not adopting it. But according to a Brazillian columnist Leo Dias, the women received matching engagement rings as part of the footballer's alleged January 2017 proposal. Hence, it is still doubtful that he is in a polygamy relationship or not.
Ronaldinho Net Worth
Ronaldinho's Net Worth is estimated to be $90 Million dollars
Social Media Profiles
Ronaldinho Facebook: https://www.facebook.com/ronaldinho/
Ronaldinho Twitter: @10Ronaldinho
Ronaldinho Instagram: @ronaldinho