Rohit vs Virat captaincy

:-
Both Virat Kohli and Rohit Sharma display immense skill when it comes to Cricket. But there are a few reasons as to why Rohit Sharma is better than Virat Kohli.
Rohit vs Virat Captaincy |

Balanced Emotional Quotient
It is very evident that Virat Kohli belongs to the team of aggressive players who wear their heart on their sleeves. He is an inspiration to many other young players, and they follow his lead. You can always see him displaying his emotions both on and off the field when he gets a critical boundary or catches the ball, or even when his team is failing. He is very emotional, and he sure does display it. Aggression is an excellent emotion to show when done correctly or positively, but sometimes Kohli does get a little out of hand, and it harms his reputation as well as the reputation of the team.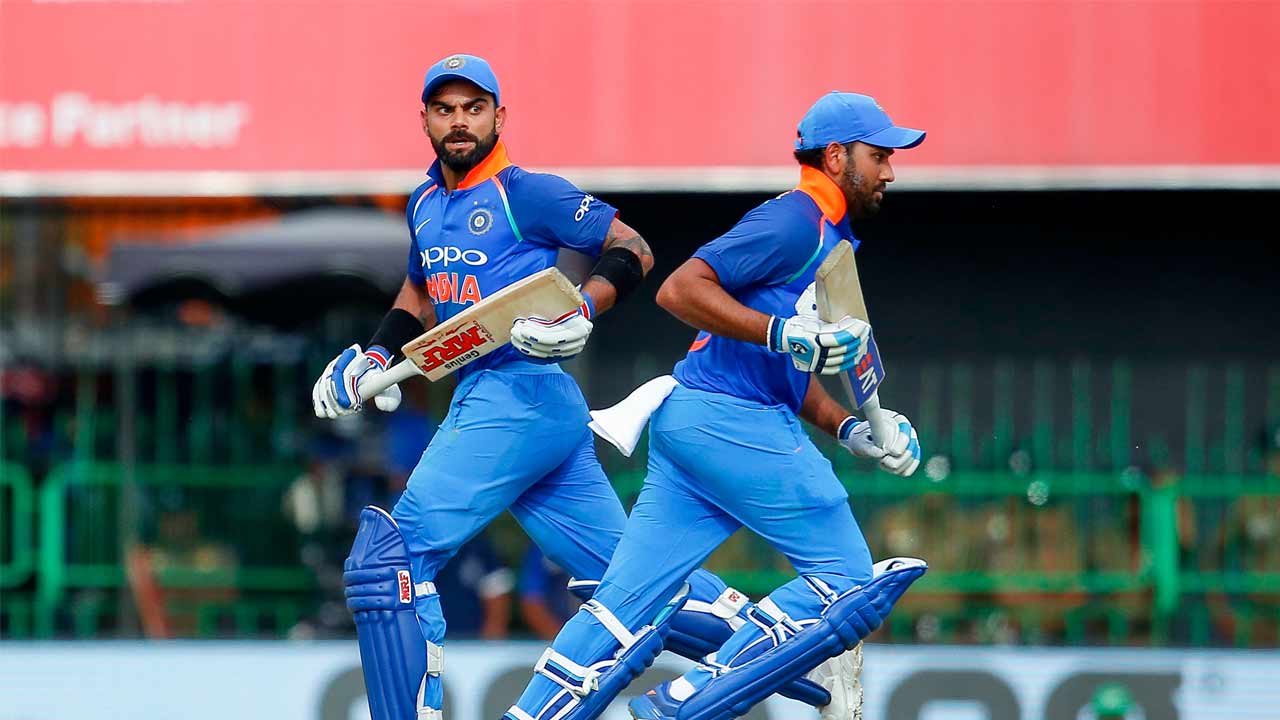 When they had a tie against the Kolkata Knight Riders when Tim Southee was being whacked by Andre Russell in the second last over of the innings, Virat was very angry and making signals which could demoralize a bowler. Unlike Rohit, Kohli never fails to show his frustration on the bowlers as well as the opposing team players when they bowl a poor over which can be detrimental to the entire game. Of course, being emotional does show how passionate he is about his game, but this comes at the cost of displaying the fact that he does not have a cool head, and sometimes loses it.
As captain of the team, he needs to perform well under pressure, and he should be the one gearing up the team for a positive experience. Sometimes even the slightest gesture of putting a hand on your teammate's shoulder can give them reassurance. This is what Rohit does. He is calm and composed and does not display his emotions in an aggressive manner, which comes to his advantage and hence is one of the significant reasons why Rohit Sharma is much better than Virat Kohli.
#Reason 1 Efficient Use of Players
Rohit vs Virat captaincy :- In the year 2007, the men in blue won the T20 World Cup under the splendid captaincy of Dhoni. Nobody expected him to take the team to victory, considering how young he was at that time. The main reason for this victory was how well he analyzed the strengths of each of his players, and how he placed them on the field.
Image Source
He was good at boosting the confidence of every player and used them as per the requirements. But if you look at Royal Challengers Bengaluru, on the other hand, they have sadly not bagged the IPL title despite having some of the best players in the world.
The main reason behind their debacle is the leadership skills that they possess. One of the primary jobs of a good skipper is to assign a proper role to a player. If he is not able to judge the strength of a player, he cannot utilize that player correctly and to his maximum talent. Virat is hands down one of the greatest batsmen the world has ever seen, but he, unfortunately, fails to get the best out of his teammates. On the other hand, Rohit Sharma is known for leading a team of average players, but he uses them efficiently and according to their strengths and weaknesses and knows how to toggle each player. That's why the incredible Mumbai Indians have won the title thrice.
#Reason 2 Rohit Sharma has way more IPL titles than Virat Kohli
Rohit vs Virat captaincy :- Virat Kohli has unfortunately seen failures thrice in the Indian Premier League finals.  The Royal Challengers Bangalore have always been so close to the title, but due to unfortunate reasons they just never get to grasp the trophy that they have been longing for ever since the first season of this beautiful tournament.  They have been finalists for three times, once under the captainship of Virat Kohli in IPL 2016.
If you look at the Mumbai Team, called the Mumbai Indians, they have struggled to win the title, but it all changed when the Mumbai Team hand handed the team over to the young and talented captaincy of Rohit Sharma in the 2013 season and have therefore gone on to become the winners three times in the year 2013, 2015 and 2017 seasons and even in the latest 2019 season.
image source
The Royal Challengers Bangalore have always had the very best batsmen, bowlers, and spinners in their teams. Players like the talented Anil Kumble, the firing batsman AB de Villiers, the aggressive Virat Kohli, the amazing Mitchell Starc and many others who have been a part of this team ever since the year 2008, but none of them have been able to win the championship title.
#Reason 3 Rohit Sharma has Three IPL Titles To His Name As a Captain.
Rohit vs Virat captaincy :- Mumbai, on the other side, has built a team around their captain Rohit Sharma and with players like the amazing Pollard, the Pandya brothers, and Jasprit Bumrah, and have managed to defend their title this season.
Rohit Sharma has become even more responsible and is known to be a natural captain and a leader of the Mumbai cricket team, without necessarily been flashy and aggressive beyond what is needed, something Virat Kohli has to learn and include in his captaincy if he is willing to do well for his team and leading them with integrity.  
#Reason 4 Trusting the Very Core of the team
Rohit vs Virat captaincy :- The current Indian skipper is an admirable cricketer, but cricket requires a team effort and is supposed to be a team sport where each player is to be trusted equally. While pulling off the gorgeous blue jersey, Virat always has faith in his players, but to everybody's surprise, he forgets it while playing for the Royal Challengers Bangalore franchise. After becoming the skipper of the team, he has never had the same set of players for two continuous seasons which will always result in a few failures looking far into the future.
In the most recent season, Shimron Hetmyer should have been the X-factor for the Bangalore team in the middle-order, but after a few bad outings, he was unfortunately dropped later on in the season. In the same scenario, Rohit has always trusted the leading core players, and the prime example is of Kieron Pollard's inclusion in the team during the Indian Premier League 2018 when he was going through a bad patch. In this season he has repaid the faith showed in him and has won matches for them on is own, taking the entire team on his back. Kohli should try to stick with a particular set of players, as some players will definitely bloom after enough confidence is put into them.
#Reason 5 Selecting the team
Image Source
Rohit vs Virat captaincy :-  Khaleel Ahmed, who had taken four wickets in his first ever match and turned the tables for India, was not taken into the side in favor of Bhuvneshwar Kumar who did not do well against Hong Kong. The Meerut born pacer has taken a mere three wickets against Pakistan and conceded just 15 overall runs and was also made the man of the match.
Rohit Sharma continuously backed Bhuvneshwar and had given him support, and of course, he repaid his faith. But, Kohli falls on the other side of the coin, he is seen by many as less patient with the players' in his team's performances. Virat Kohli's team selection in the series against South Africa raised quite a few eyebrows and was very weird; it was one of the main reasons why India performed very severely both in South Africa as well as in England.
#Reason 6 How they Handle Tough Situations
Rohit vs Virat captaincy :- Rohit Sharma has always proved himself even in the toughest of scenarios, that he can handle stressful situations, and his decisions in crucial stages have helped turn the tables for his well put together team. On the other hand, Kohli often looks to lack patience and composure in situations that are pressurizing and detrimental to their performance. It can be said that the current Indian captain needs someone like the captain cool MS Dhoni as a mentor or a helper in ways to field at times and on the field at times and one needs to know that this Ranchi born wicket keeper-batsman may not always be around to father the team, considering how close he is coming to his retirement age.
#Reason 7

Rohit Sharma is Calmer in Pressure Situations than Virat Kohli
Rohit vs Virat captaincy :- Virat Kohli has reignited the kind of aggression that was seen in the Indian team during the times of Sourav Ganguly. Indian team gave everything back in kind to the opposition, verbally and on the field with their performances. His aggression sometimes crosses the boundary and enters the over-aggressive area. Virat sometimes takes undue risks as captain in the name of aggression.
image source
Rohit vs Virat captaincy :- Rohit Sharma, on the other hand, has shown calmness in terms of decision making when it comes to captains. The best example of this happened in the Indian Premier League series that took place in 2017 finals when they had to start defending a massive target against a formidable team and in RPS batting. Rohit kept calm and wisely made significant bowling decisions, which ultimately led to Mumbai Indians lifting a record third IPL title which is the result of Rohit Sharma's ethical decision making and reliable captaincy.
The difference between aggression and controlled aggression is what   Virat Kohli needs to understand and hopefully does so soon because it is affecting his reputation both as a captain and as a team player.
#Reason 8 Virat's Weak form in England
image source
Rohit vs Virat captaincy :- In the year 2011 as well as in 2014 Test tour in England, Virat Kohli had failed very badly. If the captain of this side fails in almost every game, then it will affect the entire team's reputation and position in the tournament.  So definitely handing over the baton of Test captaincy to Rohit Sharma will help Virat to score runs and help the team just like how Sachin Tendulkar did when Sourav Ganguly was the captain of the Indian side. If the team steadily starts to lose then Virat Kohli batting form will also be majorly affected, so it is better to hand over the current captaincy to the batsman who can take in the pressure and play a crucial inning.
#Reason 9 Good Cricketing Brain
Rohit vs Virat captaincy :- Virat Kohli is hands down one of the most driven cricketers the team has, and under his captaincy, India has become one of the most dominant forces in the cricketing scenario. While captaining Men in Blue Kohli always had one of the pillars of Indian cricket, MS Dhoni alongside him, and that helps him in pressurizing situations, but in the case of the Royal Challengers Bangalore team, he looks almost like a lost child in desperate need for help. He is a great leader when things are going well for him, but he is not a witty player who can change the course of a game with his out of the box thinking.
Virat Kohli has worked with some of the best brains in the cricketing circuit like Dhoni, Gary Kirsten, and Anil Kumble but has unfortunately not picked any qualities from them. On the other side, Rohit has grasped a lot of things from Dhoni, Adam Gilchrist and Ricky Ponting which has made him a great leader. It is necessary to have the right cricketing brain to win laurels, and that's why Virat Kohli has a winning percentage of only a mere 45 in IPL while Rohit has a win rate of 60%.
image source
In the entire history of IPL smart leaders like Shane Warne, Gilchrist, Dhoni, and Rohit have won multiple IPL titles, but Virat  Kohli, unfortunately, hasn't won even a single one, and that says a lot about both the players.
There is without a doubt that Virat Kohli is the ultimate player in the current Indian set-up, but as a leader, he must learn and pick up a few things from his teammate Rohit Sharma which will definitely benefit the Indian Cricket Team as well as the RCB franchise immensely.
Hence, both of them have qualities that a captain should possess, but Rohit Sharma displays empathy, patience, and excellent decision-making skills which have proved time and again has come handy in him leading the team to multiple victories.
Also Visit :